Finding the Sweet Spots Between Growth & Sustainability with Tech-Led Transformation
Posted August 31, 2022
| Technology |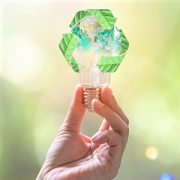 Sustainability will drive future business success, making it a vital topic of conversation among CEOs and board members. Examining business through a sustainability lens enables leaders to identify impacts, risks, opportunities, and costs, helping to ensure resilience and relevance for the future. As companies grow, many will question current practices, extend responsibilities, and reallocate capital, and these changes will result in significant business model transformation. Companies can't choose between growth and sustainability — they must have both.
But what kind of technology-led business model transformations will ensure the fine balance between the pursuit of growth and sustainability? Organizations need technology to deliver at sweet spots to ensure economic viability and environmental protection, while positively influencing social equity. 
Leveraging the Convergence of Technology Advancements
Technology-driven transformation will help make the difference in how value proposition, value creation and delivery, and value capture are aligned to sustainability objectives. In addition to several new innovations in industry-specific core technologies, the convergence of previously unavailable exponential technology innovations (e.g., artificial intelligence [AI], 5G, Internet of Things, cloud, and blockchain) will accelerate this progress in some of the following ways:
Capitalize on data to reveal new insights and underpin new solutions to existing problems.

Help change business practices and drive the emergence of the "sustainable enterprise."

Support a new level of public, private, and not-for-profit collaboration to forge a new governance model for the environmental imperative.
Combining available data with exponential technologies creates opportunities to generate insight and apply it to activities, processes, and decision making. The same exponential technologies that are bringing data and insight to bear on the environmental imperative are also reshaping the very nature of business operations and business models. Businesses are not just becoming digital; they are applying exponential technology, AI in particular, to create new business platforms on which to compete and collaborate. They are implementing intelligent workflows to drastically improve their operations and customer experiences. These technologies augment the capabilities of their people and improve the employee and customer experiences of their organizations.
Creating Ecosystem-Driven Value Creation for Stakeholders
The success of technology-led transformation from traditional to sustainable business models hinges on enabling ecosystem-driven value creation for the different stakeholders involved. Participants, including businesses, consumers, partners, and suppliers, should increasingly experience and appreciate the value in adopting new paradigms that ensure a positive impact on an organization's sustainability vision.
Investments stimulated by digitally conscious consumers and digitalization-driven new business model configurations enhance economic performance, allowing businesses to address environmental and societal issues. The effective use of contemporary digital technologies can help companies create digital ecosystems to offer an interconnected set of services, build end-to-end solutions both to serve business customers and improve operational efficiency, examine data monetization opportunities, and generate revenues from new sets of sustainable products and services.
CIOs and CTOs thus must steer their organizations toward the right technology portfolio to effectively realize sustainable business models while generating value for stakeholders. Their role in continuously assessing, designing, and implementing sustainable business models by engaging effectively in a sustainable business model canvas (SBMC) can ensure a future-fit business, which will take organizations closer to a zero or negative impact on socio-ecological systems (see "The Sustainable Business Model Canvas" below for an example).
​
The Sustainable Business Model Canvas
The SBMC (see Figure A) supports the development of an idea into a viable business model. It follows a holistic approach regarding the relationships within and outside the business. In addition to economic criteria, the SBMC focuses on the ecological and social consequences of the activity. It aims to maximize positive impacts and minimize negative impacts on society and nature, integrating sustainability into the core business. The visualization on the canvas fosters coherence of the concept and clarification among the various stakeholders, including communication with third parties, and prepares for a solid business plan.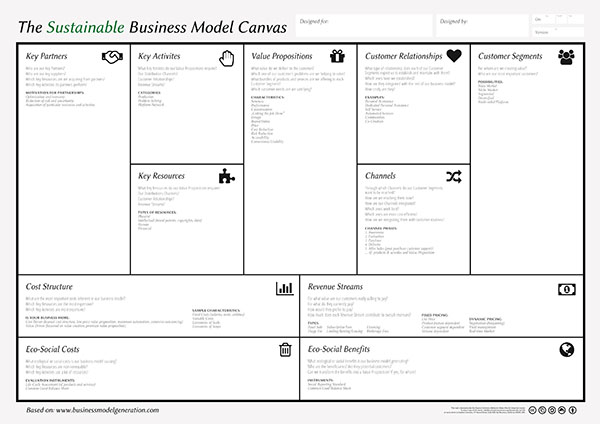 ​Technology Portfolios in Sustainable Business Model Adoption
Sustainable technology adoption and digitalization by industries plays a major role in contributing to the UN's Sustainable Development Goals (SDGs). Without transforming existing businesses so they can leverage new core technology innovations and digitalization, it is clear that the economic and environmental challenges of the future cannot be solved sustainably. Having the right technology portfolio is an important key success factors in this endeavor.
However, even if they are prototyped, not all technological options and alternatives are available for timely deployment. Alternatives often are more expensive or less economical, but there are other forces working against them as well, as shown in the technology trajectory in Figure 1. Even today, many firms do not implement technologies aimed at waste reduction and minimization because such technologies are not viable. If we look closely at trajectories that define the growth and evolution of technologies, it is sometimes impossible for organizational decision makers to obtain a technology option to implement a sustainability-aligned opportunity. Incentives, legislation, and other compelling factors may limit or impede technology availability and realization.
 


Building and managing an optimal technology portfolio aligned to enable and smoothly operate the sustainable business model can be a formidable if not impossible task. A sustainable enterprise must be built on the bedrock of core industry technology innovations coupled with smart processes as well as applications and analytics enabled by a digitalized business model using exponential digital technologies.
[For more from the author on this topic, see: "Balancing Growth & Sustainability: Technology-Led Business Model Transformations."]