The Fintech Arms Race
Posted January 21, 2019 in
Business Agility & Software Engineering Excellence, Business Technology & Digital Transformation Strategies, Data Analytics & Digital Technologies Cutter Business Technology Journal
---
CUTTER BUSINESS TECHNOLOGY JOURNAL  VOL. 31, NO. 11/12
  
This article looks at the fintech "arms race," reporting country rankings in several foundational areas. It explores the areas of AI, blockchain, and cryptocurrency, and how countries are faring in the fintech arms race as measured by their investments in, and adoption of, these three fintech baskets. It also looks at their national digital infrastructures. For countries to compete, they must invest in these baskets. If they fail to invest and adopt, they cannot compete in the global fintech arms race, and if they fail to compete in the fintech arms race, they will suffer economically, politically, and militarily. 
Before we discuss the state of the fintech arms race, let's first establish a working definition of fintech. According to Investopedia, fintech is:
New tech that seeks to improve and automate the delivery and use of financial services. At its core, fin­tech is utilized to help companies, business owners, and consumers better manage their financial operations, processes, and lives by utilizing specialized software and algorithms that are used on computers and, increasingly, smartphones.
Companies and countries are implementing fintech tools and techniques at a surprisingly fast pace. Indeed, we are witnessing an ever-growing array of fintech methods, tools, and techniques, including artificial intelligence (AI), cryptocurrency, blockchain, insurtech, smart contracts, regtech, robo-advisors, cybersecurity, open banking, and underbanked services.
But three are foundational to fintech adoption: AI, blockchain, and cryptocurrency (see Figure 1). Let's look at these three and how well (or poorly) countries are faring in the fintech arms race as measured by their investments in, and adoption of, these three fintech technology baskets, as well as their investments in the readiness of their national digital infrastructures.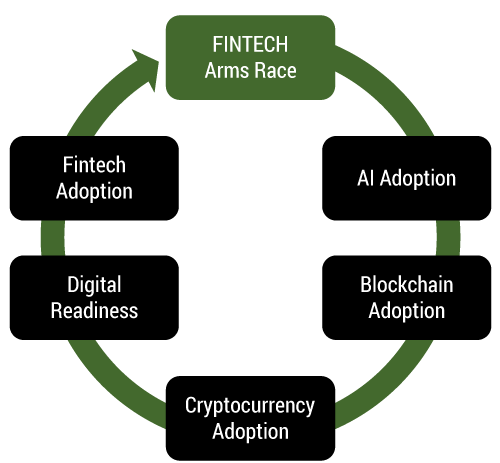 AI and Fintech
Cryptocurrency, blockchain, insurtech, smart contracts, regtech, robo-advisors, cybersecurity, open banking, and underbanked services all require digital intelligence to operate. Some, like smart contracts, robo-advisors, regtech, and insurtech, require massive amounts of digital intelligence, while some require a little less. However, in time, all fintech technologies and appli­cations will rely heavily upon AI.
While there are myriad fintech drivers, AI powers, amplifies, and supersedes them all. AI is foundational to fintech. This is because it's more than one technology. In fact, it's a family of technologies. AI is also foundational because its fintech application potential is so wide. Moreover, it satisfies ROI models of all shapes and sizes.
AI includes machine learning (ML), deep learning, image recognition, robotic process automation, natural language processing, text mining, vision systems, speech systems, neural networks, and pattern recognition, among other methods, tools, and techniques that enable and amplify fintech technologies and applications. All the major technology companies are heavily invested in the technology, but the most important investment portfolios belong to countries that have declared AI as a strategic national objective. China, for example, defines AI as one of its core industries.
The Economist Intelligence Unit ranks countries according to their automation and AI readiness. There are three broad categories (mature, developed, and emerging) in ranking order below:
Mature countries — South Korea, Germany, Singapore, Japan, and Canada

Developed countries — Estonia, France, UK, US, Australia, Italy, China, and United Arab Emirates

Emerging countries — Malaysia, Turkey, Russia, Argentina, India, Brazil, Colombia, Saudi Arabia, South Africa, Mexico, Vietnam, and Indonesia
This index is important because it describes each country's ability to succeed with AI and automation. Indeed, as suggested by the Economist Intelligence Unit:
The Automation Readiness Index measures countries' preparedness for the coming wave of intelligent automation. The index provides a snapshot across a set of 25 countries of current government-led efforts to anticipate the resulting changes and shape the outcomes of technological progress…. It measures policies that promote technological progress, the creation of new businesses, [and] the development of skills and policies that can help manage transitions in the labour market.
The World Economic Forum provides other rankings, including share of global AI startup funding in 2017 (where China leads the US and all other countries):
China (48%)

US (38%)

Other (13%)
PwC identifies the countries and regions most likely to benefit from AI as measured by the potential positive impact AI will have on GDP:
China (26.1%)

North America (14.5%)

Southern Europe (11.5%)

Developed Asia (10.4%)

Northern Europe (9.9%)

Africa, Oceania, and other Asian markets (5.6%)

Latin America (5.4%)
Given fintech adoption rates and the role that AI plays in the overall fintech adoption process, national governments should strategically commit to AI. This means that the national research laboratories, including the US's National Science Foundation, should receive additional funds to pursue a broad program of R&D that assures a global presence in the development and application of AI. China appears to have gotten the message:
China's next-generation AI plan, released in 2017, declared AI as a strategic national priority for the country and showcased the top leadership's vision for a new economic model driven by AI. Unlike the US, the Chinese government is putting this plan into practice…. The country is already strong in AI. Baidu, Alibaba, and Tencent are among the global AI leaders. Chinese programmers recently won the ImageNet AI competition. And its leading ecommerce companies are using highly sophisticated AI in their warehouses and across the business…. [While] other countries also have innovative engineers, universities, and companies … China stands apart in the extent to which its government is prioritizing AI.
Blockchain and Fintech
Blockchain is another foundational fintech technology that solves many of the most vexing technological, professional, and personal financial transaction prob­lems we face, especially security. In fact, blockchain will rewire whole industries, especially the financial services industry. Initial blockchain applications occurred with cryptocurrency, but the real power of blockchain lies in its transactional versatility. While blockchain enables cryptocurrency transactions, it's by no means limited to currency exchanges. Blockchain is transaction-agnostic.
Remember that the world today works with lots of hands in every process and transaction. Whole industries such as banking, real estate, and mortgage lending are built upon millions of small pieces of managed transactions — that is, "managed" by value-extracting "intermediaries" who validate and verify transactions (for a fee). But are they always necessary? No, and the adoption of fintech generally and blockchain specifi­cally accelerates the elimination of intermediaries across a broad range of financial transactions.
Blockchains are transparent ledgers that validate and verify transactions (which only sometimes involve cryptocurrency); the application range of blockchain technology is much broader than initially suspected. There are already compelling indicators of extensibility.1 All this interest is the result of conceptual and actual applications, and the possibilities around transaction seamlessness. Fintech application areas already include at least the following: 
Financial services — asset management (trade processing and settlement), insurance (claims processing), payments (cross-border payments)

Smart property — unconventional money lenders/hard money lending, car/smartphone, blockchain Internet of Things (smart appliances, supply chain sensors)

Smart contracts — blockchain healthcare, block­chain music, blockchain government, public value/community, vested responsibility, blockchain identity
In addition to the growing number of blockchain application domains, we can expect AI and ML to fuel blockchain's basic architecture. Intelligent transaction validation is also well underway.
When we look at the adoption of blockchain, perhaps surprisingly more and more local, regional, and national governments are adopting blockchain or approving blockchain investments. For example, blockchain is being widely adopted in China and Asia in general across multiple vertical industries, such as insurance and agriculture. Australia's Data61, a research network of the Commonwealth Scientific and Industrial Research Organisation (CSIRO) has formed "a consortium with international law firm Herbert Smith Freehills and IBM to build Australia's first cross-industry, large-scale digital platform to enable Australian businesses to collaborate using blockchain-based smart legal contracts." Moreover, the European Union (EU) has made blockchain "a priority for trade and business." Other countries and territories are making similar commitments to blockchain, including Dubai, Estonia, Gibraltar, and the US, among other government offices and agencies. Latin America, in parti­cular, is also aggressively pursuing blockchain, as demonstrated in Mexico, Argentina, Brazil, Chile, and Columbia, among other countries. Finally, advisor and entrepreneur David Freuden adds a handful of geographical areas to the growing list of blockchain adopters: Canada, Georgia, India, Indonesia, Singapore, Sweden, Switzerland, UK, Ukraine, US state of
Delaware, US state of West Virginia, and Venezuela.
Cryptocurrency and Fintech
There are still large challenges (and undefined oppor­tunities) around cryptocurrency. Let's start with the features of cryptocurrency accelerating its adoption:
It's transaction-agnostic.

Identify theft is essentially impossible.

Governments cannot control it, though they can and will regulate and tax cryptocurrency once standard blockchain architectures and platforms emerge.

More and more businesses are accepting it (because many of them have no choice).

It's securely exchanged on blockchains with cryptography.
Cryptocurrency provides a safer and cheaper way to transact. Its organic adoption growth will eventually stimulate governmental and nongovernmental institutional interest and offerings. Even payment system incumbents will eventually champion cryptocurrency. It's inevitable because it's anonymous, secure, and cost-effective. For those and other reasons, incumbents will have no choice but to adopt cryptocurrency — or lose business.
But timing is unpredictable because whenever an established process — in this case, payment systems — can be replaced by another better/faster/cheaper one, there are repercussions, and some of them are not so savory. Why, for example, would anyone laundering money, stealing/selling data, or just hiding financial activity of certain kinds not use cryptocurrency? 
Cryptocurrency adoption rates are much, much trickier to discern because countries have: (1) slowly accepted cryptocurrencies like Bitcoin, (2) flat out rejected Bitcoin, or (3) just explored the use of government-backed cryptocurrencies. Some countries are open to the use of Bitcoin and other cryptocurrencies, though nowhere is it a substitute for, or tied to, a country's legal tender — yet. As reported by Investopedia, the US is open to the possibilities of cryptocurrency, as are Canada, Australia, EU, Finland, Belgium, Switzerland, Malta, Cyprus, Bulgaria, UK, and Germany. Some countries, such as China, Russia, Vietnam, Bolivia, Ecuador, and Columbia, have essentially banned Bitcoin and cryptocurrency, though several of these countries have a lot of blockchain and cryptocurrency startup activity within their borders. As Table 1 illustrates, some rankings of "Bitcoin-friendly" countries have begun to emerge. While the definition of "friendliness" is loose, it's nonetheless important to track over time as more and more countries wrestle with the challenges and opportunities Bitcoin and cryptocurrency offer.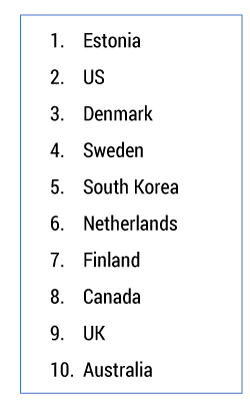 The major questions around Bitcoin and cryptocurrency are about future adoption based on what countries decide over time. The general position is that cryptocurrency will be impossible to "stop" in any conventional way, which leaves governments no option but to accept its use through a set of initially soft regulations that permit its specialized use. Will cryptocurrency replace "legal tender"? Unlikely for a variety of deeply rooted, vested financial interests. Will there be alternative national digital currencies? Yes, eventually.
Digital Infrastructure Readiness and Fintech 
In addition to investments in AI, investments in blockchain, and the acceptance of cryptocurrency, a country's ability to participate in the fintech arms race depends upon the readiness of its digital infrastructure. Digital readiness provides an assessment of the condition of a country's overall digital infrastructure and its ability to adopt fintech. Countries that have well-developed digital infrastructures, such as Sweden and Norway, are able to leverage fintech — as long, of course, as they are inclined to do so. For countries to leverage fintech, they must possess basic and always-improving digital infrastructure capabilities (e.g., broadband, cloud, big data, cybersecurity) because fintech requires a modern digital infrastructure.
Several organizations and companies collect data about digital infrastructure readiness and apply a scoring mechanism. The scores reflect a direct measure — digital infrastructure readiness — of a country's abil­ity to participate in the fintech arms race. The World Economic Forum, for example, developed the Network Readiness Index (NRI), which assesses:
Countries' ability to capitalize on the digital revolution and their preparedness to benefit from the emerging Fourth Industrial Revolution…. The Index aggregates data from 53 indicators…. Networked readiness rests on whether a country possesses the drivers necessary for digital technologies to unleash their potential."
Table 2 displays the top-25 digital readiness rankings from the World Economic Forum; on the flip side, Table 3 shows the bottom 10.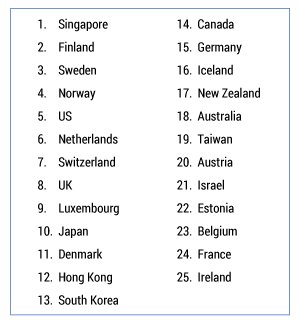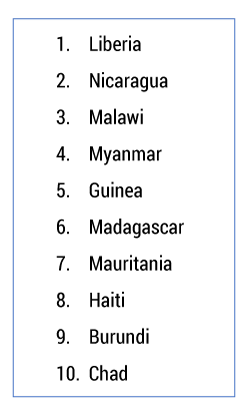 Another source is the Digital Evolution Index (DEI) developed at the Fletcher School at Tufts University (with help from Mastercard and DataCash). Yet another is Cisco's digital readiness scoring methodology, which identifies three stages of digital readiness: activate, accelerate, and amplify.
Fintech Adoption Rates  
Overall fintech adoption rates, which include AI, blockchain, and cryptocurrency adoption, also suggest that the fintech arms race is well underway with some clear leaders and laggards. In its top-20 fintech adoption rankings, Ernst & Young (EY) reports that China is way ahead, while some surprising countries like Japan and Canada are lagging (see Table 4). This set of rankings speaks directly to the priority many countries place on fintech readiness.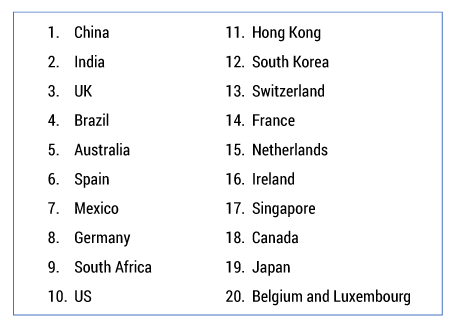 Conclusion
The fintech arms race is on full steam ahead. While there are myriad fintech methods, tools, and techniques, three baskets — AI, blockchain, and cryptocurrency — are perhaps the most important indicators of commitment to fintech adoption and, ultimately, readiness. For countries to truly compete, they must invest in these three baskets as well as in their overall digital infrastructure. They should also show a commitment to fintech adoption.
If countries fail to invest and adopt, they will not have the ability to compete in the global fintech arms race, and they will ultimately suffer economically, politi­cally, and militarily. As the saying goes, "Watch this space." Countries that invest heavily in their digital infrastructures, AI, blockchain, and cryptocurrency — and adopt fintech — will fully participate in the fintech arms race. Those that fail to invest in these and related fintech areas will find themselves falling in the fintech adoption rankings and, therefore, lagging in the fintech arms race. Some of the early rankings discussed in this article should serve as a wake-up call to countries that for whatever reasons are losing the race.  
---
1One indicator is the prototype platforms/applications already deployed. Another is the continuing investments in blockchain by venture capitalists. Yet another is the development of applications platforms, and, finally, the formation of consortia and partnerships. IBM is working with European banks to develop a blockchain platform, and the R3CEV consortium came about to advance blockchain technology (primarily in the financial domain). In addition, the major cloud computing providers are offering "blockchain as a service" products and services.