4 Cornerstones for Blockchain Implementation
Posted November 5, 2020 in
Business Technology & Digital Transformation Strategies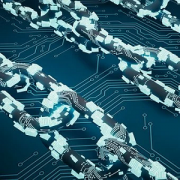 Since coming into prominence within financial services applications via technologies like cryptocurrencies and digital asset exchange, the race to find breakthrough applications in blockchain in other industries has been intense. However, despite major investments in knowledge, proofs of concept (PoCs), and pilots, the results and value generated from these efforts remain modest.
These modest gains have led to a change in attitude. Rather than asking when and where predicted disruptions will happen, many are now questioning if they will happen at all. As clear uses cases have yet to emerge, it remains unclear whether blockchain technology really is the silver bullet that companies have hoped for. This is particularly true in the transport industry, identified early on as a promising area for blockchain applications due to its large number of independent but linked players, decentralized nature, and need to deal with issues like verifying authenticity and improving traceability and transparency, all while reducing transaction costs.
Our research1 and experience tells us that it is now time to move beyond the hype and the get-rich-quick schemes toward a more rational and less euphoric approach. This recommendation holds especially true for exist­ing players operating in transport, but it is applicable for organizations in many other industries. As shown in Figure 1, we recommend that executives follow four cornerstones:
Assessment of suitable use cases. We suggest that organizations in the transport industry first assess the potential impact of use cases instead of striving for first-mover advantages by rushing quickly into blockchain applications. Typically, only 10% of emerging use cases are likely to be implemented. Hence, investigation of the strategic fit with core competencies, addressed pain points, and feasibility are critical. In addition, development of practical PoCs within selected parts of the blockchain infrastructure is an effective method to avoid waves of repeating failure.

Creation of technological foundations. Within our case work, we often experience organizations rushing quickly into piloting projects without establishing the requirements for successful application. We advise firms first to establish the necessary foundations for blockchain technology — be it end-to-end process digitization or more transport-specific options, such as implementation of tagging technologies (e.g., barcodes or RFID to provide real-time and accurate data capture). Blockchain will not help if the underlying data is inaccurate or incomplete.

Establishment of expertise/skills. Blockchain expertise is not easy to find. Upon validating promising use cases, organizations should strive to educate or hire tech-savvy and quick-to-learn individuals who can understand new applications in context — instead of only trying to recruit blockchain experts. In addition, organizations should seek collaboration with academic and specialist technical institutions to help shape the technology R&D agenda as well as to gain access to key expertise. Finally, the organization itself needs to be suitably adapted to ensure that the necessary blockchain expertise, whether internal or external, is connected and accessible to the key business functions.

Collaboration and development of standards. The major advantage of blockchain is its network effect. Simply put, the benefits increase with size of network and ecosystem. A manufacturing company is not adding value with the technology if its business partners are not connected. Organizations need to make efforts to explain to their partners how the system works (e.g., how to upload data on the blockchain application by using an onboarding system). Moreover, collaboration in a blockchain network is the right first step, but it is not sufficient on its own. Ultimately, organizations will only reap significant benefits when there are suitable standards and a policy framework in place, covering, for example, privacy standards, data sharing and storage, taxonomies, and access rights. Organizations need to collaborate and support the industry in developing these standards and policies.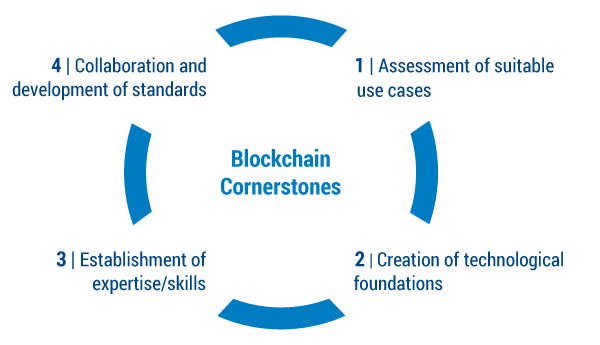 With the hype around blockchain having subsided somewhat, we believe large-scale, near-term application is now more likely than ever before. This holds true not only for the transport industry but also for other sectors, provided that companies adopt the right approach as set out in these cornerstones. Still, investments in blockchain (and related projects) remain costly and ROI is often uncertain. First movers are exposed to the risk of ultimately ending up at a disadvantage.
We recommend that companies undertake a robust assessment of the market — commercial and technical factors as well as their own capabilities with regard to blockchain — before jumping into an implementation that may fail to deliver. Several factors, including value-chain fragmentation, supply chain power, existing skills, and company-specific use cases must all be taken into account to create a bespoke blockchain strategy.
1 In October 2019, Arthur D. Little (ADL) and Blockchain in Transport Alliance (BiTA) conducted an online survey with more than 100 companies within the transport industry about current perceptions and adoption of blockchain technology. The survey aimed to evaluate the technology's potential, assess the current degree of adoption, and explore the factors that could be driving or preventing further acceptance.
[For more from the authors on this topic, see "Awaiting Blockchain Breakthrough in Transport."]