Implementing Sustainability Initiatives with an Architectural Approach
Posted July 14, 2021
| Sustainability | Technology | Amplify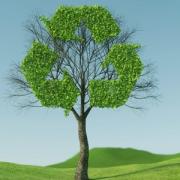 Sustainability does not exist in isolation. As we explore in this Advisor, we must understand how it fits into an overall enterprise perspective. We do not want to optimize a process or policy for sustainability at the expense of suboptimizing the overall enterprise. So, first, we need to understand how sustainability fits into our enterprise strategy. Is it consistent with the overall strategy? How does it enhance or conflict with business and operating models and value streams? Are the goals for sustainability consistent with achieving the overall strategy? Do we have to update the strategy, goals, or models to be consistent with our sustainability commitment?
Next, we want to see how we can leverage our efforts toward the circular economy and sustainability across the enterprise. What will the impacts of new materials and supply chains be on the overall operating model? Can the extraction of byproducts lead to new products and services as well as reduce waste? Can parts be designed for remanufacturing? How will a shift to a service model affect financials and human resources? What new relationships will we need to establish with customers, suppliers, partners? What new markets and uses can be established for end-of-life products? How can these changes be leveraged across multiple products, services, processes, and resources to maximize synergies and return?
What Exactly Do We Need to Do?
Once we understand the motivations, goals, and objectives; have identified a variety of options for achieving them; and have examined them in the context of the overall enterprise, it is time to decide on exactly what actions will be taken.
Here we need to evaluate all the different options and understand the implications and dependencies. How will the business and operating models be changed? What new value streams will be introduced? What capabilities will require uplifting or acquisition? What are the reporting and compliance implications? Exactly what systems, processes, and applications will change or be acquired and how? What technology will need to change or be acquired and how? What new policies will need to be put in place? What are the priorities? What are the dependencies? What resources are available to apply to the transition?
What Does It Mean for Our Organization?
Hopefully, you can see that this is a complex, multidimensional problem. And, like any other transformation, the biggest challenge is likely to be organizational change. How will middle-level management be incented to make those changes, especially if they threaten the status quo?
Also, we need to recognize that different parts of the organization will be interested at different levels and in different aspects of sustainability. For example, operations will be interested in eliminating hazardous waste and reducing waste and power consumption in general. Development will be concerned with new products and remanufacturing options. HR will be concerned with DEI goals. Business units will be concerned with a shift to a service model and new customer engagement models. Procurement will be concerned with buying more ecologically suitable products. Facilities will be concerned with recycling and energy usage in the building. Corporate relations will be concerned with public relations aspects of the enterprise initiative … and so on.
To facilitate organizational change, we need to understand the big picture, the roles that different groups play, and their motivation and resistances. Understanding what the transition to sustainability means for the organization is as important in the overall transition as developing the list of what to do.
How Do We Make It Happen?
With the identification of tactics and organizational issues out of the way, it's finally time to put a roadmap in place to implement the transition. Roadmapping is a standard activity for enterprise architects. Value streams provide an understanding of the value created, delivered, and captured by different options, and capabilities identify what the organization needs in order to achieve that value. So, first, understand the current as-is situation. Next, describe the end game, or to-be vision, and perform a gap analysis. Capability-based planning then helps to prioritize the activities, understand dependencies and what can be done in parallel, account for resources, identify intermediate milestones, and develop a roadmap that ties initiatives to business drivers and identifies the projects, processes, systems, and technology implications.
How Do We Know If It's Working?
After all that, we're still not done. How do we know if it's working? How do we measure progress? What objective information do we have to make midcourse corrections? How do we report the results to leadership?
As part of our business analysis, we should have identified key goals and objectives. And, with our value stream analysis, we should have identified specific value items that are required to deliver our value proposition. These will lead us to a first pass of metrics that we need to collect. One aspect of architecture is the specification and use of standards. So this is also a good time to ask ourselves: are there standards, metrics, or recommended methods of monitoring the progress of circularity and sustainability? We will want to take advantage of any industry standards that exist and that will allow us not only to measure our own success in a standard way but also to compare ourselves against industry benchmarks and other organizations.
Having identified key performance indicators and metrics, we will need to instrument applications and put processes and systems in place to collect the metrics. Finally, we can develop reports and dashboards to present progress and perform real-time and ad hoc analysis as required.
[For more from the authors on this topic, see: "An Architectural Approach to the Circular Economy and Sustainability."]