How to Succeed with LC/NC Solu­tions
Posted February 11, 2021
| Leadership | Technology |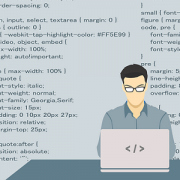 One of the biggest strengths of low-code/no-code (LC/NC) platforms is that they allow us to take advantage of the innate problem-solving skills of human beings by removing at least a significant portion, if not all, of the barriers to implementing software solutions in today's softwarized world. Simply put, LC/NC enhances the potential of innovation. 
In this Advisor, we explore five important priorities companies should consider to ensure success in their LC/NC solu­tions.
1. Establish Business Value-Add and Link to Strategic Objectives
Before embarking on any implementation, it is important to understand the value that the LC/NC application will deliver to your business and how it links to your strategic objectives. Spending time in a discovery phase will not only validate whether you need an LC/NC solution in the first place, but also contribute to a shorter development phase later on, which will lead to savings across the lifecycle. Next, you need to consider the type of application that best fits your organization and, finally, the organizational changes required to implement for success. This is not just about having the right tool, but also knowing how to engage stakeholders and streamline processes, roles, and responsibilities for them to contribute.
Determining how LC/NC tools can best serve your strategic objectives will depend on your organization's capabilities and enterprise architecture. Traditionally, there has been tension between IT and business departments. The former is incentivized to retain tight control over the application landscape to ensure stability and maintainability (which often leads to a rise in "shadow IT"), while the latter prioritizes speed of development and cost control.
2. Put the Right System Architecture in Place
The appropriate architecture and organizational structure can help facilitate the introduction of LC/NC solutions and relieve the tension between IT and business departments. The introduction of a tiered architecture can help separate the technical and nontechnical aspects of a system. IT users can then focus on the technical details of the application, while others make use of LC/NC tools that focus on business logic. LC/NC tools can make use of the functionality offered by technical components of the system without being concerned with how they were implemented. Figure 1 highlights how this can be achieved with a three-tier architecture.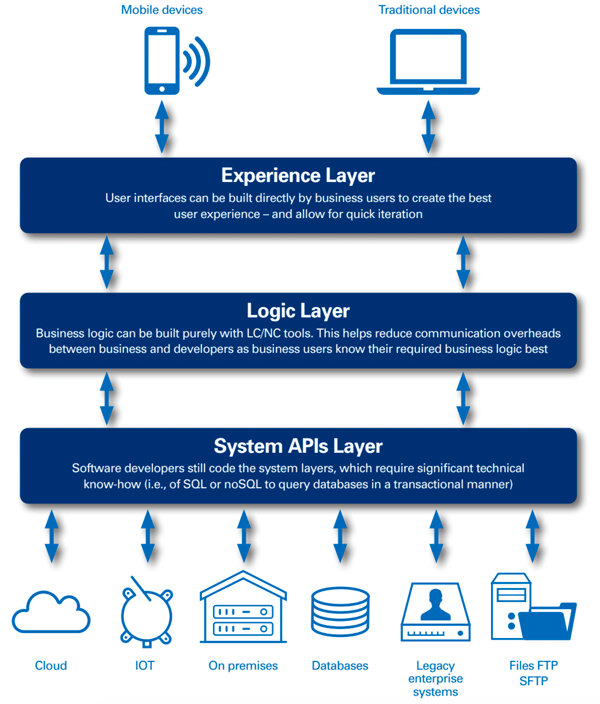 The system APIs layer will hide the complexity away from users further upstream. Developers and technical resources with intimate knowledge of databases, servers, and other important components are responsible for this layer. The team responsible for building and maintaining the system APIs layer will also have the tools necessary to safeguard critical systems from improper use by applications further upstream.
The logic layer will make use of the functionality offered by system APIs without being concerned with com­plex concepts such as database queries and cache management. Business users could plug into system APIs with LC/NC tools to rapidly create new applications based on their knowledge of user requirements. New insight and value can be created just by combining existing data and capabilities. The logic layer is where LC/NC tools shine because they allow for quick creation of complex business logic by the people who know it best. The logic layer is effectively protected, as the system APIs — created by technical people — provide the guardrails for performance and security.
Last, but not least, the experience layer allows users to create the UIs/UXs they need.
3. Use Good Change Management Practice
Statistics show that between 60%-85% of digital transformation projects fail due to lack of good change management practice and technical skills to execute. Researchers have highlighted how critical change man­agement is in driving a successful outcome. They stress the importance of communication and prioritization, especially during the setup and pilot phase. Simplifying development to offer productivity gains and speed of delivery will require introducing corporate development to non-IT roles, which can be a significant change and cultural hurdle. Without the right training and governance structure, IT will be quickly overwhelmed with pro­duct quality and management challenges, and maintenance will become unsustainable. Tools should enable incremental learning, but it is also important to conduct training sessions to teach and enforce good practices. An organization might need to update some of its devel­opment guidelines to accommodate non-IT roles within the software development lifecycle and make the business accountable for the quality and success of the solutions implemented. Collaboration between business and IT is key — CIOs should act as enablers and champions of change by consolidating commu­nication tools, piloting and encouraging new ways of working, and streamlining processes to foster closer collaboration.
4. Use Minimum Standards Initially
When working with LC/NC platforms for the first time, the organization's focus should be on meeting the minimum operational process and quality standards early on. A faster pace will follow as applications shift from traditional development approaches, in which IT is fully responsible, to a model in which the business is at the center and realizing objectives is in the hands of the people on the operational front line, who have a better understanding of business functions.
5. Adopt an Agile Development Approach
If an IT capability already exists in the organization, the introduction of LC/NC does not need to disrupt the delivery framework. As an example, in an Agile scrum, the principles, processes, and ceremonies will still be followed, but benefits will be maximized by combining the fast decision making of Agile with the fast devel­opment speeds of LC/NC. Small adjustments will need to be made to adapt and improve the processes that come from this new way of developing, in which demands on non-IT stakeholders will increase, requiring collaboration to be tighter and more frequent. The same quality assurance rigor that is applied to traditional development should still apply. Apps need to follow the mandatory development lifecycle to include testing, security checks, and controlled deployments before going live.
[For more from the authors on this topic, see "The Age of the 'Citizen Developer': The Power and Simplicity to Build Software."]