Keeping the Digital Train on Track
Posted December 19, 2019 in
Business Technology & Digital Transformation Strategies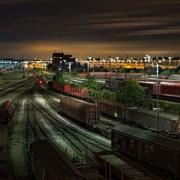 It is self-evident that good hygiene and discipline are critical to staying healthy, including in an organiza­tional context. We also know complexity adds a tax on practically everything we do. At the same time, we live in a diverse world with many good, sometimes com­peting ideas for how to carry out the various missions we serve. If an organization is serious about becoming digital, it must be diligent about maintaining the health of its portfolio, avoiding non-value-adding complexity and capitalizing on diversity. While the organization is pursuing new digital capabilities, management must ensure policies, principles, and decisions avoid build­ing (and stress removing) unnecessary cost, risk, and barriers to innovation and execution. "Good to great" organizations govern their portfolio following three major disciplines:
Simplification — keeping things simple. If something does not reduce cost, mitigate risk, or add value, it is not in the portfolio. That something could be a skill, activity, or technology.

Management of technical debt — ensuring technologies in use continue to be fit for purpose and fit for use. Anything that is no longer a fit is replaced or retired; otherwise, it is well-managed to ensure business continuity.

Freedom within the governance framework — enabling innovation, local relevance, and cost optimization while ensuring organizational alignment and avoiding silos. Many corporations have established enterprise-wide standards and policies. While "one size fits all" may be great from the point of view of standardization and achieving economies of scale, adaptive sizing is often the more practical approach to leveraging local strengths and variations for speed and acceptance. Let's not forget that time is money, and adaptation is a prerequisite for any benefit realization. Therefore, establish a governance framework that capitalizes on favorable local conditions and controls local variations that create discontinuities.
Savvy and well-governed organizations have adopted many of the following practices, which enable organi­zations to keep the digital train moving with minimal friction, cost, and effort:
Simplification

One in, two out. (For every technology introduced, two are retired/replaced.)

Maintain and publish a portfolio of capabilities (business and technology services) and list of technologies used for each capability. Decisions are made everywhere, every day — not just in review meetings. The more we know about our portfolio, the better we will be at making informed decisions. This is core to enabling self-governance.

Leverage what we have and be willing to accept what may not be perfect but works; get 80% of what is needed at 20% of the time and cost of a new solution.

Search for and use an existing technology/process within the portfolio when seeking a similar capability. Require a valid justification for using multiple technologies or processes to perform similar activities and create similar outcomes.

Establish systems of record for highly dependent information — at enterprise and functional levels.

Avoid proliferating copies of data; require justification for any data that is copied and persisted.

Minimize custom engineering; leverage out-of-the-box solutions and public infrastructure (e.g., using vendors' standard software images, Windows updates, and the Internet rather than creating your own private network).

Management of technical debt

Maintain technology at the current or next-most current version. Don't allow anything older than that for technologies that support core business operations.

Have an exit strategy for each technology, process, or skill — know when and how to get out of it.

Practice risk-based portfolio and lifecycle man­agement — maintain multiyear budget plans incorporating business, technology, and vendor risks.

Understand value contribution, cost of ownership, and cost of change for each technology, process, and skill to enable optimal prioritization and planning.

Freedom within the governance framework

Define the governance framework — establish which decisions are negotiable, and which are non-negotiable (e.g., users can have their choice of devices but can't purchase or build a solution that may not integrate with other solutions in the future).

Publish standards and leverageable "common" components and services — make it easier and cost-effective for people to adopt something rather than buy/build.

Architect solutions for change. Current leading-edge solutions should not become barriers to innovation and competitiveness tomorrow. Organizations must be able to adopt and integrate new, different, or cost-effective alternatives at the right time at the right cost.
[For more from the author on this topic, see "Achieving Digital as an Organizational Capability."]