Learning to Lead Collective Creativity from Miles Davis
Posted January 21, 2021 in
Business Technology & Digital Transformation Strategies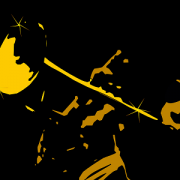 When you watch live video recordings of jazz legend Miles Davis, he walks among the assembled musicians on stage during performances, guiding the focus or center of gravity of the music that they collectively create; he performs leadership. The dramatic sweeping gestures we are accustomed to associate with dynamic business leadership style are rarely displayed. It seems more appropriate to describe Davis's leadership style by adopting a term from art criticism: minimalist. The energy of his presence, in the form of both his shifting physical proximity and his attentiveness to individual musicians, serves to reinforce choices they are making, both as they happen and as they are about to happen. He moves the center of intensity by himself listening intensively to the music as it is made, and by walking from one colleague to another to indicate when he would not mind if they took the lead in a particular section of the music. Performing becomes a relational act, between colleagues. Creating happens collectively, on stage, within the act of making music, out of which emerges a coherent and utterly unique ensemble creation.
Implications for Leadership
New forms of engagement with creativity and innovation characterize our postindustrial economy. Within this, given the increasing complexity of the tasks we face and the possibilities we envision, as well as the IT- and network-enabled access we have to talent both local and global, the focus has shifted from leading creative individuals toward leading creative groups.
Organizational creativity being social and collective and, increasingly in many cases, interdisciplinary and open, new kinds of organizations are emerging simultaneously. These organizations form dynamically in response to projects at hand, and often co-evolve in collaboration with other individuals and organizations for the purpose of enacting more effective or complex innovation processes. As one's belonging gets more distributed in networks, relations become key to achieving collective creativity. Leaders are challenged to develop within their teams the capability to act and respond as one entity greater than the sum of their parts — to sound with one voice.
In response to the developments sketched above, we see a growing tendency in business organizations to turn to the practices involved in the collective creation of artistic expressions for examples from which to learn. Which is one reason we turn to the example of Miles Davis.
We suggest that leaders in business today might draw inspiration from Davis's style. You might, for instance, pay attention to how well you are listening and consider what you hear: What is the "sound" of your organization, group, or team? How do their actions "resonate" with the themes and rhythms at play in their innovation networks? How well are the central objectives and ideas of your work "articulated" in the outcomes you collectively produce? Do a cacophony of solo voices from skillful individuals compete for attention, or does the group achieve an ensemble-sound, distinctly collective and at the same time perfectly "one"?
Following Davis's example, leaders capable of accomplishing presence — deep listening and attentiveness — are well positioned within their organizations to direct the focus or center of gravity, modify the intensity of the work, and invite individuals to take the lead.
Furthermore, leaders can open a space for play. Innovation leaders know we become (more than we are) when we practice, that we know by doing. Davis opens space for other musicians to play — to exhibit their talents and ideas — by listening to their choices and responding to what delights him, encouraging further exploration. Experience is never enough, and is sometimes a hindrance, when imagining, sensing the "nextness" of what needs to be created, or finding the right tune. Agility serves the ambidextrous: being a responsive, adaptive character oneself, the agile one responds to the rhythm, sound, and style of the many. Davis acknowledges this by letting the event unfold and encouraging agility in terms of passing leadership and the possibility that the focus will move at any moment. In this way, he allows opportunity for "ensemble" — the ability to act as one coherent responsive entity, greater than the sum of its parts — to grace the collective with its presence like an event, bestowed upon those who have earned it. At that point, there is neither one (leader) nor many (group), just sweet music.
In future Advisors, we plan to elaborate on our concept of ensemble and to explore in what ways arts and business might fruitfully interact. We welcome your comments. Please send your insights on innovation and enterprise agility to us at comments@cutter.com.