A Logical Information Architecture That Works for All Your Vs
Posted January 17, 2020 in
Business & Enterprise Architecture, Business Technology & Digital Transformation Strategies, Data Analytics & Digital Technologies Cutter Business Technology Journal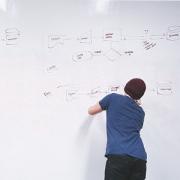 So how do you put context-setting information at the center of your data architecture? Adrian Jones illustrates how to do this by putting Cutter Consortium Senior Consultant Barry Devlin's architecture into practice. He stresses the importance of context-setting infor­mation by pointing out the increased vulnerability to which we are exposing ourselves. We produce and use more and more data. In the backs of our minds, we know that data governance is of growing importance, but we don't act in the right way on this knowledge. The problem with data governance is that it is never part of a data architecture but rather addressed as a separate process. If our data architectures are not aware of the vulner­ability being introduced, accidents are just waiting to happen. Jones hands you the recipe for avoiding these accidents.
Not a member?
Gain Access to the Cutter Experts today —
register now to read select open-access articles.