Mastering Strategic Capability Management
Posted November 19, 2020
| Leadership | Technology |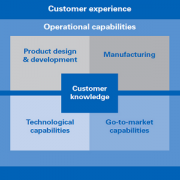 Businesses have traditionally organized themselves to ensure optimal effectiveness in each of their business functions. In today's business climate, however, shorter product lifecycles, demand for customization, rising consumer expectations, and the growth of automation and data challenge this model. This Advisor describes the building blocks of generic capabilities and describes three categories of capability-based players seeking competitive advantage.
Not a Cutter Community Member?
Sign up today to read this and all other articles.