Meeting Current & Future Challenges with Innovative Leadership
Posted September 22, 2022
| Leadership |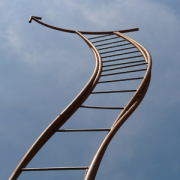 Today's leaders have a more significant impact on the future than in previous eras. Because we live in a globally interconnected world, decisions and actions increasingly ripple across the world and affect the next generation, especially with regard to issues like climate impact. Unfortunately, too many good people who work hard in leadership roles use skills that have depreciated, or are simply outdated. While most of us wouldn't think of using a 10-year-old computer, many of us work with leaders who use the same approach they used 10 or even 20 years ago with mediocre results. Organizations must redefine what effective leadership is and elevate the quality of their leaders to meet current and future challenges. Innovative Leadership offers a framework for earnest leaders to advance themselves and their organizations.
What Is Innovative Leadership?
Innovative Leadership originates from the idea that we must regularly innovate how we lead as our organizations change in a continually more complex and faster-paced world. When we talk about innovating leadership in more concrete terms, we look at the latest research, trends, global conditions, and the challenges we face. Then we determine how our individual and organizational leadership must change. As with contin­uous improvement, leaders who follow Innovative Leadership regularly elevate their leadership to meet current and anticipated conditions, challenges, and opportunities. 
Drawing from the book Innovative Leadership for Health Care:
"Innovative Leaders deliver results by blending:
Strategic leadership that inspires individual intentions and goals and organizational vision and culture

Tactical leadership that influences individuals' actions and the organization's systems and processes

Holistic leadership that aligns all these dimensions: individual intention and action and organizational culture and systems."
The Difference
The most effective leaders have always been self-aware. But self-awareness is more important than ever today, and it's a critical aspect of leader development. It requires internal self-awareness (awareness of our values, personality, style, strengths, biases, etc.) and external self-awareness (how others perceive us).
As management guru Peter Drucker pointed out, Innovative Leaders work with their followers like conductors and musicians in an orchestra. Everyone works together to create the product: music. The music's quality depends on the cohesiveness, commitment, and coordination of all orchestra or organization members, not just their skill.
The most talented conductors are themselves part of the performance, and they inspire their musicians to produce exceptional performances. Good conductors are technically skilled; brilliant conductors embody the music. The magic happens when the conductor and the musicians merge into one interconnected being — that gestalt touches and captivates the audience.
The best leaders in the world create beautiful results with their teams and organizations, given the proper practice, conditions, frameworks, tools, and followers. This type of performance requires a different focus on leadership than an average one: to be world-class, all contributors must work together every time they perform. This requires an intimate connection with the "self" as the leader as well as trust between team members and followers.
Do you want to become a world-class leader? Are you willing to do the work? Are you ready to help your followers become world-class teams and organizations?   
[For more from the authors on this topic, see: "Innovative Leadership: Leading Post-Pandemic & Beyond."