mHealth: The New Frontier in Healthcare — An Introduction
Posted October 21, 2020
| Industry | Technology | Amplify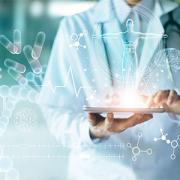 In his 1995 book The Road Ahead, Bill Gates wrote, "We always overestimate the change that will occur in the next two years and underestimate the change that will occur in the next ten." COVID-19 has inverted this otherwise normally true maxim, especially as it relates to healthcare.
The necessity of providing healthcare even in, and especially during, a global pandemic has meant that pent-up innovations in telehealth, remote patient monitoring (RPM), and remote chronic disease management have gone from "nice to have" to "must have." Simply put, there has been no choice during this past pandemic but to leverage technology to better connect physicians with patients virtually. Such innovations include triage bots, RPM and remote patient management technologies, dedicated healthcare video consultation platforms, and commodity Web call platforms with scheduling integration into electronic health records. The recent US $18.5 billion mega-merger deal between Teladoc Health/Livongo has created what many market commentators believe to be the first true digital health provider, combining RPM and remote patient management with a range of telemedicine services, including virtual consults. Moreover, some major US healthcare systems have seen shifts in telehealth usage across departments from percentages in the low single figures to more than 50%, with some departments as high as 80%.
However, while the opening of the innovation floodgates has produced many benefits — including capabilities for clinicians to diagnose and monitor patients outside of clinical settings, as well as further value for patients in terms of convenience and access — new challenges are emerging, such as the following:
These new challenges, while significant, are opening up further innovation opportunities — especially with mHealth, a subset of telehealth. mHealth uses mobile technology and wireless devices to help achieve healthcare goals both remotely (e.g., via RPM) and within hospital settings. Not only does mHealth have the potential to address fundamental diagnostic challenges caused by the lack of physical engagement necessitated by COVID-19, but innovations from neuroscience to clinical trial operations hold the prom­ise of improving on current in-person-based health outcomes and economics. 
For example, if we consider some of the challenges highlighted above, first there is the basic challenge of obtaining vitals data remotely to support the typical consult. In addition to data from smart watches, we are seeing exciting innovations in using visual detection as a proxy for what would otherwise have been done with a medical device in a clinical setting. For example, Binah.ai uses smartphone video images to measure changes in the skin's light absorption properties; infor­mation that is reflective of the patient's physiological condition. Such changes are captured within the pixel values of a camera image and converted into various physiological vitals, including variable heart rate, respiration rate, oxygen saturation rate, and blood pressure.
Another example of how to remotely obtain physio­logical data is from a pioneer in the implantable RPM field, Canary Medical. CEO Bill Hunter and his team are leading in the field of "tweeting devices" — smart medical devices that self-report on function, diagnostic information, patient activity, side effects, and treatment failure, including its "talking" knee.
In This Issue
So how can mHealth support the new challenges and opportunities of telehealth? In this issue of Cutter Business Technology Journal (CBTJ), we present some stimulating articles that illustrate the impact now, and the future direction, of mHealth.
Sean Lorenz starts us off with a focus on brain health and neuroscience. He describes how technology is helping us better assess our brain health journeys with remote detection, diagnosis, and treatment tools. Given the issues surrounding the current pandemic, Lorenz explores the urgent need that requires the healthcare system to actively look toward telehealth and RPM.
The next article moves us further up the healthcare value chain by highlighting the impact that COVID-19 has had on clinical trials. Cutter Consortium Senior Consultant Ben van der Schaaf and Pan Xi describe the current state of mHealth along with technology innovations that forward-looking R&D leaders in pharmaceuticals are deploying. Knowing that the current shift will not be temporary, the authors urge healthcare organizations "to adapt and be in the right place at the right time … to prepare for this imminent change."
Next, Levie Hofstee, cofounder of Neurocast, describes advancements made by his company. Neurocast is a later-stage startup gaining traction in using mHealth to provide real-world data on patients suffering from chronic disease, such as multiple sclerosis, both to aid new discoveries and to support 24/7 data collection during clinical trials. The company has developed an innovative Neurokeys keyboard to gather keystroke dynamics (a great example of the type of proxy data that will be used in the entirely new field of brain-recording technology) combined with noninvasive physical sensors, including those from Kernel.co. (Kernel.co is worth a dedicated mention at this juncture. In Q2 2020, the startup Kernel announced commercial availability of its Neuroscience as a Service [NaaS] platform, enabling noninvasive brain imaging and recording. NaaS neural data acquisition can be used for discovery of biomarkers of cognition and brain health, as well as for other non-health-related appli­cations; for example, insights into the neuroscience driving consumer and social choices.)
Finally, Heléne Spjuth takes a step back to examine the economics of mHealth and the resulting challenges and opportunities for all stakeholders in the healthcare ecosystem. In defining the healthcare ecosystem and its various reimbursement models, she shows the "unique circumstances that will serve either as barriers to, or enablers of, mHealth's efficient implementation."
A key question for health innovators is how long Gates's assertion will remain in reverse: for how long will we be underestimating rather than overestimating the change that will occur in the next two years? Which of the most promising mHealth innovations will be adopted to solve today's clear and present challenges? 
While healthcare as a practice and an industry has, to date, been notoriously slow to embrace system-wide innovation — though not without some good reasons — healthcare professionals worldwide have again shown their commitment, dedication, and inventiveness when faced with previously unimagined constraints. The best innovators and technologies of mHealth can help these efforts and improve the practice of medicine in the here and now, as well as lay foundations to serve future needs. I hope you find the articles in this issue of CBTJ an interesting window into some of this significant potential.
Stay tuned: an upcoming article by Gillian Christie, an active thought leader in health policy and management from the Harvard T.H. Chan School of Public Health, will add to our discussion with an overview of the implications that COVID-19 has had on the healthcare industry, with particular attention on managing chronic conditions.