Nature-Based Solutions to Build Coastal Resilience
Posted December 21, 2022
| Sustainability | Amplify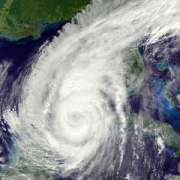 AMPLIFY  VOL. 35, NO. 12
  
ABSTRACT
Rob Campbell-Watt explores the Gulf Coast in Louisiana and highlights a set of co-benefits resulting from restoring coastal wetlands. In this case, a restoration effort becomes a nature-based solution that in turn becomes a carbon offset, achieving a positive ROI. Campbell-Watt lays out the reasons coastal restoration is a sound investment and shows how, with verification and measurement, the investment can turn a profit by being monetized as an offset.
Areas of the US Gulf Coast are increasingly being impacted by storm damage, storm surge, erosion, and subsidence. Nature-based, green infrastructure solutions are an often-overlooked option to improve resilience, helping to mitigate and even prevent these types of climate risks. This article looks at how coastal and wetland vegetation is being used on the Gulf Coast to that end.
Work done by consultancy GHD in Texas, builds on previous work done in Port Fourchon, Louisiana, demonstrating that nature-based solutions designed to mitigate coastal climate risks can generate positive cash flow from carbon offsets.1 The key limitation is scale: net present value (NPV) for developing nature-based, green infrastructure is dependent on the available area for vegetation growth, with smaller areas taking longer to achieve a positive ROI.
In addition to protection from climate risks, benefits from nature-based solutions include improved water quality, habitat protection for aquatic and land-based species, and enhanced cultural/recreational (including fishing) amenities.
In the Port Fourchon pilot project, GHD found the following:
When saltmarsh growth is blended with wetland vegetation like mangrove, growth and carbon offsets are maximized.

The most relevant carbon-offset methodology for the saltmarsh and mangrove combination is Verra Verified Carbon Standard (VCS) methodology VM0024 (Methodology for Coastal Wetland Creation), which is used to generate carbon offsets through a registry managed by Verra VCS.

A project to develop nature-based solutions can generate positive cash flow through carbon offsets under VM0024. Earning financial returns while mitigating coastal climate risks is possible with sufficient scale.
Threshold Questions
Companies, public bodies, and private individuals that own or operate along the Gulf Coast should ask the question, "Are we prepared for climate events?" If the answer is "no" or "I do not know," they should ask:
Are we prepared to allocate coastal and wetland areas to nature-based solutions as part of our plans to address climate risk?

Are we interested in the potential to reduce carbon emissions from other activities in doing so?
For those who answer questions one and two affirmatively, GHD recommends investigating nature-based solutions.
Approach & Method
The feasibility of a nature-based coastal planning project should begin with the following objectives:
Prevent coastal erosion.

Improve storm resilience.

Provide opportunities for expanded wildlife habitat.

Improve amenities associated with other land- and water-use activities.

Produce a positive ROI.
In port operations, "beneficial use" is a term used for the application of dredged material (from construction or maintenance of waterways) to uses with other benefits, rather than just as waste material. Beneficial use is important to nature-based climate risk solutions in port areas, with the potential to generate new wetland areas.
To meet the objectives above, the following were determined to be the best nature-based solutions for the project area:
Coastal vegetation options, including (1) saltmarsh growth blended with wetland vegetation (like mangrove) to maximize growth potential; and (2) mangrove, specifically black mangrove (Avicennia germinans), as a species growing across much of the Gulf Coast

Beneficial use of wetland development in a port area
Importantly, we also assessed relevant voluntary carbon-offset methodologies for coastal nature-based projects. 
We found a blend of saltmarsh with mangrove to be the optimal solution because saltmarsh species are more tolerant of extended freezes and lower elevations with strong tidal fluctuations. Annual growth of the saltmarsh species provides ground cover and carbon-offset potential in areas where mangroves have not yet expanded or are unable to do so.
Mangroves take several years to reach maturity but can successfully vegetate the higher elevations, where saltmarsh species are not as successful. Studies have shown that mangrove has encroached into saltmarsh areas; however, this dominance has shifted several times throughout time due to climate preferences of each species. The blended approach allows for a more resilient marsh system.
Assessing Carbon-Offset Potential
In general, a carbon offset refers to the reduction or removal of carbon dioxide (CO2) or other greenhouse gas (GHG) from the atmosphere that mitigates emissions produced elsewhere (measured in CO2 equivalent, or CO2e).
Carbon-offset projects can range from renewable energy projects, energy efficiency, and forestry (afforestation, reforestation, or avoided deforestation) to methane capture/avoidance and waste management. Surrounding this concept are a multitude of protocols, methodologies, standards, and registries that evaluate, track, and monitor the progress of projects developed specifically for this purpose.
The term "blue carbon" is used to describe carbon stored in marine and coastal ecosystems, including seagrass meadows, salt marshes, tidal marshes, and mangroves that can sequester and store more carbon per unit area than terrestrial forests, establishing them as significant carbon sinks.
Although coastal wetlands cover less than 2% of the total ocean area, they account for approximately 50% of all carbon stored within ocean sediments. Consistent efforts are needed to ensure that such ecosystems are neither degraded nor damaged. This would result in the loss of their carbon-sink capacity, resulting in the release of large quantities of CO2 into the atmosphere. Projects to conserve, manage, and/or restore coastal ecosystems are essential to preventing this.
Blue carbon activities are one type of nature-based solution that have the potential to achieve most of the emission-reduction targets to keep warming levels below two degrees. Unfortunately, they lack sufficient funding, receiving only 3% of total global climate investments.2 For this reason, project proponents with coastal access are an essential part of developing this offset type and protecting these areas.
To develop a carbon-offset project, proponents undertake a series of assessments to determine viability of the project and calculate carbon-offset potential. Figure 1 shows the steps involved in establishing an offset project and the processes required before offsets can be generated and claimed under a project registry.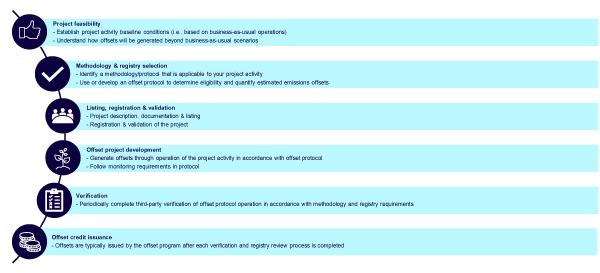 Proponents first determine whether the project area and activities will meet the criteria of the project methodology; then a baseline scenario is developed. The baseline scenario reflects the activities, GHG emissions, and sequestration that would occur at the project site should no project activities take place.
Next, proponents map out the project activities and the respective carbon reductions that would be achieved by the project. Proponents then develop the project scenario in line with a selected methodology to ensure that project outcomes do not vary excessively from the feasibility phase to the implementation phase.
In the case of this project, offset methodology VM0024 was identified as the most suitable option for consideration.
Similar projects were identified that have used or propose to use the selected methodologies and were assessed for their relative carbon-sequestration potential and costs. Specifically, an in-development project registered with VCS as Bonos del Jaguar Azul (also within the Gulf of Mexico, in Yucatán, Mexico) showed the potential for success.3
The Bonos del Jaguar Azul project showed emissions reductions of 48,250 tCO2e (tonnes of CO2 equivalent) for 2020. The estimated annual emissions reductions by 2046 (end of the project life) will be 158,986 tCO2e. The difference in values is due to the rate of biomass generation, in which plant growth continues to increase the carbon-sequestration potential. Table 1 shows the applicability to this type of project for the Gulf Coast.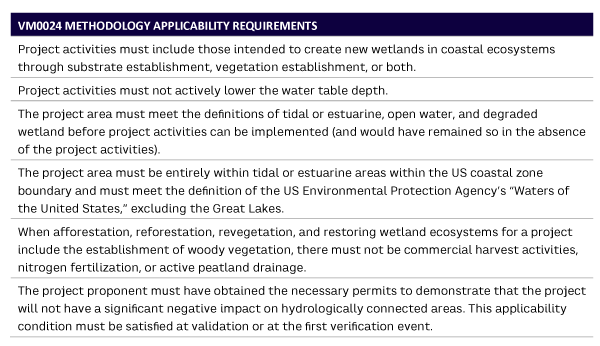 In addition to meeting the methodology applicability requirements, a carbon project must satisfy an additionality requirement to ensure that the project would not have occurred in the absence of carbon market incentives or as part of business-as-usual activities. For the purposes of the project options, the additionality is assessed on whether project activities are mandated by law, statute, or another regulatory framework.
Carbon-Accounting Approach
The carbon benefits of project activities are subject to an accounting of what additional carbon storage occurs in the biomass and the soil organic carbon pool from the conversion of current state (baseline) to shoreline and tidal wetland.
Carbon benefits are calculated based on the difference between emissions in the baseline and those "with project," meaning net sequestration after growth and wetland creation occur. The project GHG accounting considers changes in soil and biomass stocks, plus any emissions of methane and nitrous oxide emissions caused by project activities.
Table 2 identifies assumptions in the baseline and project case. The unit of measurement accounts for GHG with global warming potential, measured in CO2e.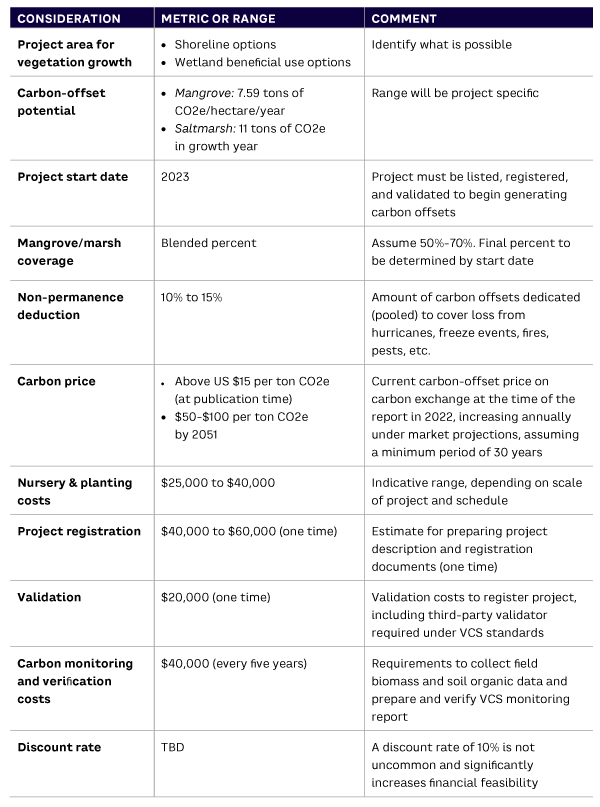 The VCS registry and other voluntary carbon-offset registers require project proponents to demonstrate carbon ownership by a right of use. Given that this is a land-use project, a right of use can arise through property rights in land of the project area or by an enforceable and irrevocable agreement with the landowner that transfers such rights to the project proponent. This means the project proponent can enter into agreements with surrounding landowners for the purposes of this project to expand the project area if needed.
When carbon-offset projects are developed on land with multiple owners, agreements are signed for the landowners (or a project developer) to receive the carbon offsets from the project and distribute the carbon revenues. Discussions with landowners and interested parties should include a discussion of the opportunity and costs, as well as the process and responsibilities associated with those carbon-offset rights. There are many examples of standard form agreements between landowners and for such transactions.
Financial Feasibility Analysis
The financial feasibility of a potential project can be determined using analysis like the one shown in Table 2.
The analysis shows that the project can achieve more carbon offsets, faster cash flows, and positive NPV as the land area increases and as mangrove coverage increases (due to higher biomass accruals than saltmarsh coverage).
Several grants and incentives have been set up to support nature-based solutions along the Gulf Coast, including:
The National Fish and Wildlife Foundation's (NFWF) National Coastal Resilience Fund.

US Federal Emergency Management Agency (FEMA), with grants associated with hazard mitigation assistance submitted through/with the state hazard mitigation officer or a FEMA regional office.

NFWF's Resilient Communities grants.

FEMA's Flood Mitigation Assistance and similar hazard-reduction grants.

US National Coastal Zone Management projects from the National Oceanic and Atmospheric Administration (NOAA), awarded based on merit.

US Environmental Protection Agency (EPA) and Department of Interior (DOI) grants.

State programs like the Coastal Conservation Association (CCA) of Texas, which funds research and hatcheries projects.

Investment funding through Green Bond, Climate Bond, or Resilience Bond issuance. The International Capital Markets Association (ICMA) and other international financial associations and organizations have developed principles and avenues to market for issuance of bonds to finance environmentally beneficial initiatives. Public bodies, private companies, and organizations like the Conservation Fund are actively participating and enabling the funding of projects through bond issuance, public-private partnerships, and structured financing of resilience projects and similar financial instruments.
Benefits & Stakeholders
Apart from carbon sequestration through wetland vegetation, coastal ecosystems provide services such as food security for coastal species and communities, protection and resilience against storms and rising sea levels, and grounds for establishing healthy fisheries. As a result, it is important that project proponents engage meaningfully with stakeholders and community groups surrounding the proposed project area, including potential partners, regulators, federal agencies, and surrounding landowners.
Should any of these groups become involved in the project development, monitoring, or maintenance, they must be identified as being part of the project-development process. Any subsequent land ownership involvement must have legal agreements detailing environmental attribute ownership, permanence stipulations, and protection agreements to ensure the longevity and health of the project area.
Potential benefits from this engagement include a common understanding of the project and benefits identified, greater insights and learnings, opportunities for community engagement and support (e.g., volunteer planting days), and enhanced use and enjoyment of the project areas
References
1   Allison, Mead, et al. "Partnership for Our Working Coast: Port Fourchon Phase 1 Technical Report: Beneficial Use Optimization, Subsidence, and Blue Carbon." The Water Institute of the Gulf, 20 August 2018.
2    Klein, Jessie. "Blue Carbon Will Be the Next Frontier of Carbon Crediting." GreenBiz, 9 November 2022.
3  "Bonos Del Jaguar Azul." Verra, 20 August 2021.