One "Thing" at a Time: Let's Take a Pragmatic Approach
Posted December 31, 2014 in
Business Technology & Digital Transformation Strategies, Data Analytics & Digital Technologies Cutter Benchmark Review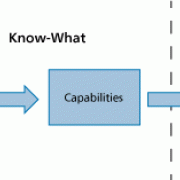 As you will see in the practitioner article in this issue of CBR, our co-contributors Cutter Senior Consultant Claude Baudoin and Matt Ganis demonstrate the scale of innovation potential and the complexity surrounding the Internet of Things (IoT).
When 20th-century German Physicist Theodor Kaluza decided to learn to swim, he is famously said to have read a book on swimming, and then jumped into the sea. For most people, the flaws of such a strategy are obvious: there is a big difference between skills-based knowledge and other forms of understanding.
Not a member?
Gain Access to the Cutter Experts today —
register now to read select open-access articles.