Optimizing Hybrid Work Environments
Posted November 18, 2021 in
Business Agility & Software Engineering Excellence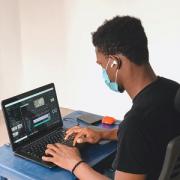 COVID-19 has had a major impact on organizational work. While it remains to be seen how the post-pandemic future will look, it is clear that employee workspaces as we knew them will not be the same as we move forward. Many employees who worked in traditional offices pre-pandemic have now had the opportunity to work remotely. This experience has drastically changed employee work expectations and preferences. Whether they love it or hate it, employees have now seen what it is like to work from home (WFH). While some workers are looking for oppor­tunities to continue their WFH lifestyle on a full-time basis, others are excited to head back to the office. However, in both cases, employees look to take advantage of the affordances of collaboration technologies that allow flexibility regarding their workspace location. Over the course of the pandemic, employees and managers have developed their knowledge and skill sets related to virtual work and now look to optimize the benefits of virtual work post-pandemic.
This Advisor includes three steps for hybrid success that organizational leaders can consider as they iden­tify what adoption of — and reliance on — flexible, hybrid work may look like in the post-pandemic world. The intent is to prepare employees and managers for success as they seek to create the best of both worlds of working from the office and WFH.
Step 1: Focus on Outcomes
At the start of the COVID-19 pandemic, employees and managers alike expressed concern about imminent productivity declines as employees left their office spaces and established their WFH plans. Notably, many employees and managers found their concerns unfounded as organizations in a variety of industries have reported both anecdotal evidence and perfor­mance measurement data illustrating increased productivity. This evolution was not without growing pains, though. While some companies were already using performance metrics focused on outcomes, others were still using behavioral measurements. However, for flexible work practices to be effective, organizational leaders need to focus less on whether they can "see" work taking place and instead focus more on measuring performance by providing employees with clear tasks and outcomes.
Reliance on clear directives and outcomes allows employees the flexibility and space to design their work to meet key objectives while also providing them with confidence that the work they are doing is on track and recognized. This step is particularly important, as one of the greatest concerns for remote workers is whether their work is acknowledged and thus leading to upward mobility in their organization, a key indi­cator of employee satisfaction and turnover. Over­all, the primary focus of this step is to ensure that employees are clear on leader expectations as well as how those expectations will be measured.
Step 2: Accommodate Adaptable Workspaces
After personnel costs, investments in office space rank as one of the largest budgetary line items for organizations. Many COVID-19 office closures showed organizational leaders that more office space is not necessarily better. Post-pandemic, leaders have the opportunity to rethink their office space needs and investments as organizations shift to flexible, hybrid work arrangements, where employees have the ability to work both from the office and remotely. Going forward, organizations will want to ensure their workforce is fully supported both onsite and remotely. For large organizations, this may require adapting existing facilities and workspaces to allow for flex seating or neighborhood plans that support flexibility and collaboration for employees in the office. In fact, several organizations have successfully adopted the neighborhood approach, including Google, Groupon, Principal Financial Group, Uber, and Yelp. Meanwhile, smaller organizations may end up closing their physical doors and utilizing community workspace options (e.g., WeWork) for any face-to-face employee or client meetings. This solution is a particularly interest­­ing trend to consider. Indeed, the Global Coworking Unconference Conference (GCUC) suggests there are over 10,000 coworking spaces available around the world.
Along with physical workspace changes, organizations of all sizes will want to ensure they provide technology resources (e.g., hardware, software, networking, and data) and technology support for their employees, regardless of their work location. Additionally, if they have not done so already, leaders will want to address the redesigning of any workflows and processes dependent on being physically in the office (e.g., check printing, new client meetings, employee onboarding and training). Ultimately, the goals of this step are to make thoughtful ROI decisions that accommodate and support the flexibility of employees and work practices.
Step 3: Support Employee Engagement
The third tip suggests that organizational leaders need to be intentional in creating and supporting employee engagement. Over the course of the pandemic, COVID-19 challenged the development of social connectedness and organizational culture in general. Decades of remote work studies conducted pre-pandemic identified this challenge, but it was exacerbated by quarantine and social distancing guidelines during the pandemic. Research suggests high-performing teams who use technology to work together need to pay extra attention to the development of work culture and trust, which can be successfully accomplished through regular, synchronous connectivity. While this foundation can be developed and nurtured in a virtual format, face-to-face connections (if available) can certainly make this easier and are recommended in studies of hybrid collaboration.
As organizations move to a hybrid work environment, leaders need to make intentional decisions about how and where to invest in the employee lifecycle for optimal returns related to employee engagement and the development of organizational culture. For example, it may make sense for new employee onboarding to take place in the office. Specific departments, teams, or workgroups could identify predetermined face-to-face collaboration days in office, rotating with other teams. Alternatively, face-to-face project kickoff events or quarterly meetings can be held in central locations for teams who work in primarily remote settings. Whatever the organizational direction, plans need to be intentional and implemented to optimize in-person contact time for individual employees to get together for brainstorming, problem solving, spontaneous conversations, and even the development of social connections.
Relatedly, leaders need to recognize that the adoption of a flexible work arrangement allows an organization to be more diverse and inclusive across a range of dimensions, from location and time zones to demographic characteristics, suggesting that accessibility standards, team building, and team development may need to be a focus for employee consideration. COVID-19 provided employees who had not worked remotely before with an expanded perspective, one previously shared by a minority of employees who knew what it was like to work remotely. Going forward, this shared perspective may be beneficial, particularly if many different employee roles are able to move ahead with a flexible, hybrid work arrangement. Either way, the intention of this step is to ensure that intentional employee engagement is happening in a way that supports employee work and the development of organizational culture.
[For more from the author on this topic, see "The Best of Both Worlds: 5 Steps for Hybrid Work Success."]