Orlando's Digital Twin Has Potential to Influence Regional Planning
Posted April 30, 2023
| Technology | Amplify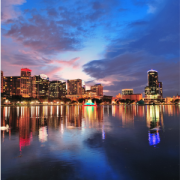 AMPLIFY  VOL. 36, NO. 4
  
ABSTRACT
Tim Giuliani discusses how digital twins are being used for regional planning by the city of Orlando, Florida, USA. Here, digital twins are employed via virtual reality to offer an immersive environment so users can experience the impact of various scenarios. The article shows how organizations are bringing together vendors and partners to integrate data, digital twins, and emerging technologies.
The Orlando, Florida, USA, region is thinking big when it comes to economic and community development. It recently unveiled a digital twin that uses 3D technology to map 800 square miles of the region, recreating 40 square miles in high fidelity. One of the most comprehensive regional representations in existence, the project began in 2021 and is now in use by the Orlando Economic Partnership (OEP) to demonstrate the area's value proposition to companies considering the four-county Orlando region for relocation or expansion.
Orlando as a Simulation Hub
Orlando's long history with simulation made it an ideal candidate for a digital twin project. Before becoming the theme park capital of the world, Orlando, with the help of its top aerospace and defense companies, developed the ultimate thrill ride: flying to the moon. Not surprisingly, the Orlando region remains an important hub for Florida's aerospace, defense, and modeling, simulation, and training (MS&T) industries.
In 1957, Lockheed Martin built its Orlando plant in anticipation of increased activity at Cape Canaveral's rocket-launch site. In 1986, the University of Central Florida opened with the mission of producing a workforce to support the growing space program at the Kennedy Space Center and Cape Canaveral Space Force Station (formerly known as the Cape Canaveral Air Force Station).
Today, Orlando is recognized as the MS&T capital of the world: five US military branches have significant MS&T procurement activities in Orlando.1 Every year, local companies compete for more than US $6 billion in MS&T contracts that flow through the region, many commissioned by the Army, Air Force, and Navy simulation centers located in Orlando.2
Simulation-based technology touches many of Orlando's core industries and drives innovation in sectors from aerospace and defense to education, healthcare, and gaming. The city established itself as a leader in digital simulation as far back as 1968, when the US Navy opened the Naval Training Center.3 Orlando's MS&T ecosystem supports collaboration between academic institutions, business partners, and the military thanks to organizations like the National Center for Simulation and Team Orlando. The city of Orlando also hosts the Interservice/Industry Training, Simulation and Education Conference every year, the world's largest MS&T event.
Selecting Technology & Partners
OEP wanted to showcase the strength of the region's innovation ecosystem, create an immersive way to engage developers in Orlando's story, and highlight the features that establish the region as a business destination. OEP leaders made the decision to create a high-tech marketing center in the organization's new office in downtown Orlando.
To deliver an immersive experience for business leaders interested in Orlando as a business location, OEP leaders decided to create a digital twin of the region instead of a traditional model. The decision was based on marketing benchmarks and lessons learned from other organizations with marketing centers, including the Water Street Marketing Center in Tampa, Florida. But instead of a 3D-printed physical twin of a small portion of downtown like Water Street's, OEP leaders opted for an experience true to Orlando's digital roots.
Having followed digital twin development by innovative Orlando companies like Oracle, Siemens, and BRIDG (Bridging the Innovation Development Gap) — a public-private partnership bringing advanced microelectronics research to market through the fabrication of silicon wafers — Orlando leaders decided to develop a digital twin that would serve as a dynamic, versatile representation of the region.
For insight on how to move forward with such a project, OEP convened a task force in the fall of 2021. The task force included executives from Electronic Arts, Duke Energy, University of Central Florida, Full Sail University, Universal Orlando, and the Orlando Utilities Commission who worked to identify potential hardware, software, and technology platforms for use in creating its digital twin.
The group selected San Francisco, California, USA-based Unity Technologies as the lead technology partner for the project. Unity had experience building digital twins for other organizations, including Tyndall Air Force Base, and its open source gaming platform was important to the type of digital twin OEP wished to build. One important feature was its ability to ingest a large number of data types from a variety of sources.
The high-resolution graphics, images, and photogrammetry provided by Unity give Orlando's digital twin an extremely realistic look — viewers get an immersive experience and a comprehensive understanding of the Orlando region's geography and landscape (see Figure 1). Because the platform is open source, companies can plug their own data into the digital twin to create an even richer model and simulations related to climate change and infrastructure planning, including new transit routes to connect Floridians with areas of high job growth.4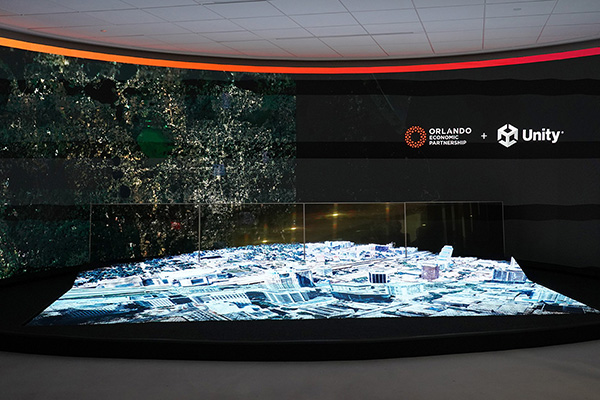 OEP has invested more than $1 million in the digital twin's hardware and software. That includes a partnership with visual design and production studio DCBolt to create the hardware for the digital twin and with digital development studio 302 Interactive for the virtual reality (VR) companion application. Since the digital twin was unveiled in October 2022, it's been used in nearly 100 demonstrations for executives, consultants, community partners, and organizations.
Virtual Orlando
The 160-square-foot digital twin incorporates holographic elements to highlight priority areas for economic development in high resolution. Economic development project managers offer business executives demonstrations of the twin, controlling the experience via a tablet and providing a unique experience to each visitor. OEP staffers are trained to navigate the digital twin to present relevant data layers and information, including demographics, infrastructure, quality-of-life amenities, utilities, and transportation. The twin incorporates data sets owned by OEP, licensed from others, and public data from a variety of sources.
The digital twin can also be viewed and interacted with using a Meta Quest VR headset (see Figure 2). This device gives OEP staffers a way to bring the digital twin on the road, allowing executives to see, without leaving their offices, what it would be like to live and work in Orlando.5 Reactions to the VR demonstration have been overwhelmingly positive, with executives noting the contrast between viewing data-filled PowerPoint slides and looking at a virtual representation of the region.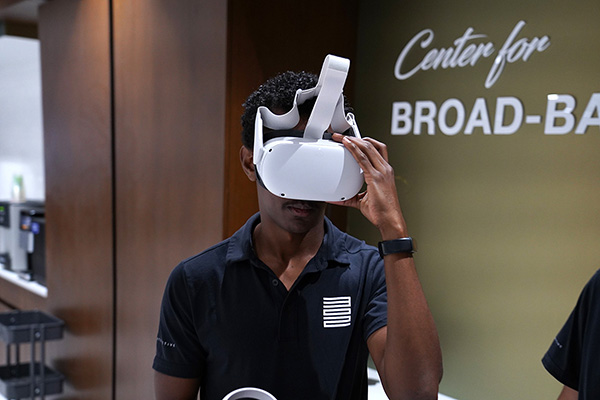 The 800-square-mile map highlights five geographic areas: downtown Orlando, Lake Nona, the Central Florida Research Park in Orange County, Lake Mary-Heathrow in Seminole County, and NeoCity in Osceola County. The digital twin helps the Orlando region stand out to site selectors and corporate CEOs by highlighting developable land, available real estate, areas of interest for a variety of industries, infrastructure connectivity, and talent availability.
OEP has learned that when a company is making a relocation or expansion decision, its planners typically visit three to 10 cities. The digital twin helps executives, consultants, site selectors, and community partners better understand the Orlando region without having to spend multiple days in a car.
Orlando's digital twin could be viewed as a more in-depth version of Google Maps. During demonstrations, site selectors and business leaders can experience a "flyover" of the region with overlays of relevant data points. They can also view heat maps with demographic information, transit routes, rail spurs, and fiber optic cable connections.
Next Steps
Orlando's digital twin currently incorporates operational and sensory data; future versions will include scenario mapping and machine learning. Plans also call for the twin to be stored in the cloud, allowing for access from outside the marketing center.
OEP leaders see the digital twin as the foundation for a platform that will serve as a critical resource for decision makers in the area and play a vital role in Orlando's economic future and smart city planning. For example, stakeholders could use the digital twin to simulate climate change mitigation projects based on historical rainfall totals and flooding patterns. Decision makers could predict traffic bottlenecks using sensor data from stoplights and highways, informing transportation planning. City planners could use historical population data to predict future density for use in transit mapping, housing development, and power grid expansion.
The digital twin is also a way for Orlando to showcase its role as a leader in developing immersive technologies, something city leaders believe more companies will seek as the Metaverse matures.6 OEP leaders believe Orlando's digital twin demonstrates this technology's potential, taking it out of the realm of product and building design and into processes like urban planning, climate-related planning, transportation planning, and utility-expansion projects.7 In short, OEP leaders see a direct link between technologies like digital twins, the Metaverse, and local and regional prosperity.
References
1 "Orlando Is the Modeling, Simulation & Training Capital of the World." Orlando Economic Partnership, 21 June 2017.
2 Roche, Amanda. "Orlando's Simulation Ecosystem Attracts Billions in Contracts." Orlando Economic Partnership, 2 December 2021.
3 Lawton, George. "Orlando Economic Partnership and Unity Partner on First Regional Digital Twin." VentureBeat, 6 April 2022.
4 Chow, Andrew R. "How Digital Twins Are Transforming Manufacturing, Medicine and More." Time, 30 December 2021
5 Rachal, Maria. "What's Next with Orlando's Digital Twin." Industry Dive, 21 October 2022.
6 Poon, Linda. "How Cities Are Using Digital Twins Like a SimCity for Policymakers." Bloomberg, 5 April 2022.
7 "The Use of Digital Twins for Urban Planning to Yield US$280 Billion in Cost Savings by 2030." Cision PR Newswire, 28 July 2021.