Overcoming Challenges to Embedding Sustainability: Part II
Posted July 27, 2022
| Sustainability |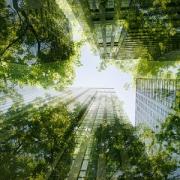 In the third quarter of 2021, Arthur D. Little (ADL) conducted an anonymous questionnaire-based survey focusing on the degree of integration of sustainability into business models and organizations across more than 85 large and medium-sized companies. The coverage was pan-sector and pan-geography, although with a stronger focus on Europe-based organizations. Some 40% of companies come from the process industries (the chemicals, construction, industrial goods & services, and oil & gas sectors).
Drawing on the results of that survey, this two-part Advisor series considers how companies are progressing in embedding sustainability into their strategy, governance, and organization. Part I examined two of the main challenges that companies face and how they can be best overcome. Here in Part II, we explore two other challenges uncovered by the survey, as well as lessons learned.
Challenge: There Is Often a Lack of Practical Planning Around How to Achieve Publicly Declared Sustainability Goals
While ambitious long-term targets and goals are often publicly declared, there is frequently a lack of practical planning around what these goals mean in the short and medium term.
Less than half (48%) of the companies in the survey have set sustainability goals that include both the normal three-to-five-year planning horizon and the longer-term goal of 10-30 years. Only 24% have structured plans, roadmaps, and milestones to achieve the goals. Nearly one-third have set no goals at all.
Setting ambitious sustainability goals and communicating these to stakeholders can be risky if not backed up by a robust strategy and implementation roadmap. There are many examples of companies having to rapidly implement painful internal processes — including divestments — to reassure stakeholders when previously declared targets are not met. At the other end of the scale, some companies adopt a policy of simply reflecting legal obligations (e.g., "net zero by 2050" for Europe-based companies, which may not be enough to drive the necessary changes).
Lessons learned: ensure that long-term goals are supported by meaningful roadmaps.
To avoid these problems, companies need to ensure that five-year-plus goals are supported by meaningful roadmaps with intermediate short-terms goals and actions. Just as importantly, there needs to be a defined and agreed process for monitoring progress versus these goals. This can be more complex than some companies expect.
Danone is a good example of a company that has a well-structured set of sustainability goals. Danone is committed to a sustainable shared value creation model: "One Planet. One Health." Its set of nine long-term goals aligns with both this internal model and the United Nations 2030 Sustainable Development Goals. There is integration also with Danone's broader business, brand, and trust models. The goals are monitored yearly by a company dashboard, with results also communicated externally.
Another example is IKEA, whose sustainability ambitions for 2030 are to become circular and climate positive, regenerate resources while growing the IKEA business, and create positive social impact for everyone across the company's value chain. These ambitions are supported by the IKEA People & Planet Positive strategy, which has a long-term roadmap for positive change entailing investments in new technologies, innovative materials, and ways of generating clean energy, as well as in social development.
Challenge: Nearly All Companies Believe Good Sustainability Is Beneficial to the Business, but Many Still Struggle to Drive Change
Despite the patchy progress in dealing with the challenges of sustainability after many years, even decades, it would be wrong to conclude that business simply lacks true commitment. For the most part, company leaders are smart individuals who are strongly motivated to "do the right thing" for their stakeholders. For example, the survey confirmed that virtually all companies (approximately 80%) believe that sustainability is, as well as being critical for our survival, good business, providing competitive advantage and improving attractiveness to both employees and investors.
However, the survey also showed that only 45% believe good sustainability improves financial results. This is very much connected with the difficulty of reporting the financial impact of sustainability in a meaningful way.
Lessons learned: focus on people and take a broad stakeholder ecosystem view.
There is no simple solution to the problem of translating motivation into change. It requires attention across all the aspects mentioned above, including strategy, governance, planning, organization, monitoring, and reporting. However, one underlying priority that helps ensure success is to focus on people, not just inside the company, but across the whole stakeholder ecosystem.
As with any major change, it is ultimately the behaviors of people that will determine what actually happens. This requires not only implementing new systems and processes, but also providing the right training and coaching in what sustainability means for business managers and winning "hearts and minds" through inspiring initiatives, clear communication, and leadership by example. As we have said, one of the keys to inspiring employees is to deal with sustainability in an open way as an integral part of the success of the business, rather than as an obligatory set of attitudes or form of corporate political correctness. As with all forms of change, approaches that "pull" people to behave differently, for example, through shared beliefs and values and aligned incentives, are much more effective than those that seek only to "push" them through imposing new rules and restrictions.
In working on changing people, it is critically important to take a broad "partner ecosystem" perspective. This was covered in depth in our previous article, "Corporate Sustainability — Using Your Ecosystem to Sustain the Ecosystem." The ecosystem approach means engaging not just with employees and shareholders, but also with suppliers, customers, competitors, government, regulators, communities, and startups, among others. Sustainability is only meaningful when considered in terms of overall impact, which is also key for effective external sustainability measuring and reporting. Companies need to do more than simply adopt one of the many publicly available reporting protocols. Instead, they need to understand better how their impacts take place within the ecosystem, learn from their partners, and design a monitoring and reporting system that is feasible and realistic. Employees who understand the position of their company in the ecosystem, and who are surrounded by like-minded individuals both inside and outside the company, are more likely to buy into sustainability goals and contribute positively.
The ecosystem approach also helps to leverage innovation in sustainability. One typical example among many is the Italian startup ACBC (standing for "Anything Can Be Changed"), which collaborates with global brands such as Emporio Armani, Save the Duck, Philippe Model, and Missoni to produce sneakers designed for the lowest-possible carbon footprint using bio-based or 100% recycled materials.
Small companies, especially, often struggle on their own to make the necessary investment of time and money to embed sustainability, yet collectively their impact is significant. Being part of a partner ecosystem, either through direct links to larger corporates or through industry or professional associations, can make a big difference.
For more from the authors on this topic, as well as survey details, see: "Walking the Talk on Corporate Sustainability." Also, be sure to read the authors' recent ADL report "Overcoming the Challenges to Sustainability: Exploring the State of Sustainability & the Challenges to Adoption."[Questions or comments on this Advisor or other survey findings? Reach out to the authors via email or at experts@cutter.com.]
---

Receive articles like this in your inbox.
Every other Wednesday, in the Sustainability Advisor, you'll find expert insight, guidance, and examples from industry to help your organization achieve a positive impact, identify new market opportunities consistent with the SDGs, and attract employees and investors who value purpose and social responsibility. Register for the Sustainability Advisor and receive articles like this in your inbox.