The Path Toward a Nature Positive Business
Posted December 5, 2022
| Sustainability |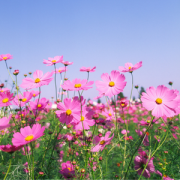 AMPLIFY  VOL. 35, NO. 11
  
ABSTRACT
Margot Greenen and Tom Butterworth examine how the nature agenda is trending in global conversations and emerging as an issue equal to climate. The authors know that the details of nature positive can be hard to pin down, so they offer examples of different definitions focused on targets, processes, or concepts.
Not only is it in businesses' interest to reverse nature loss, they have a key role to play in nature's recovery. Nature is being degraded faster than at any other time in human history.1 With more than half of global GDP directly dependent on nature and its services, its loss poses a significant risk to business.2 In contrast, contributing to its recovery could unlock US $10 trillion and create 395 million jobs by 2030.3
Nature is becoming more prominent on the global agenda. High-profile reports on the biodiversity crisis are increasingly making their way into mainstream news.4 The Post-2020 Global Biodiversity Framework, to be agreed on in Montreal, Canada, in December 2022, will galvanize action not only for governments but for businesses, with Target 15 specifically relating to business assessment, reporting, and reduction of dependencies and impacts on nature.5 In response, the Science Based Targets Network (SBTN)6 and the Taskforce on Nature-related Financial Disclosures (TNFD)7 are being developed to support business action for nature.
Most of us are familiar with the "net zero" concept; we now have "nature positive" added to the mix. What net zero has done for the climate crisis, nature positive aims to do with our nature and biodiversity emergency. Initiatives including the "Global Goal for Nature,"8 "Get Nature Positive,"9 and "Nature Positive 2030"10 have adopted this term to demonstrate their ambition to improve the current state of nature; consultancies are providing nature positive services to their clients;11 and news outlets are using the term in articles.12 Amidst all this, organizations are grappling with developing a consistent, rigorous definition of nature positive.13 This article will describe what becoming nature positive can mean for businesses by exploring how it can be defined, assessed, and delivered.
Defining Nature Positive
Evolution of the Term
At its core, nature positive stems from the idea of "no net loss," which was introduced in public pollution and wetland environmental trading in the US in the 1970s.14 It established the concept of compensating for environmental goods and services that were previously removed from the environment and paved the way for "net positive impact": not just compensating but adding value to the environment that was lost.
Over the years, these concepts have been refined by international organizations into a suite of well-respected methods. These include International Finance Corporation's Performance Standard 6,15 World Bank's Environmental and Social (ESS) Standard 6,16 and Business and Biodiversity Offsets Programme's (BBOP)17 guidance, which set out standards, principles, and/or approaches for delivering no net loss or net gain in biodiversity. In the UK, this idea entered into national legislation through Environment Act 2021 requiring all new developments to achieve biodiversity net gain, which it describes as an approach to development that leaves biodiversity in a measurable better state than before.18
As articulated by Professor E.J. Milner-Gulland, the key to these concepts is the idea of "net": that the overall impacts of an activity, after summing up all individual impacts since the baseline was established, reach a predefined balance (i.e., no loss or gain).19 Implicitly, however, it acknowledges that negative anthropogenic impacts on nature cannot cease in their entirety and that that portion will need to be compensated for.
This has shaped the business narrative around nature in fundamental ways. First, it encourages quantifiable measuring of impacts that can be summarized and analyzed the way other business-related risks and opportunities are framed. Second, if the BBOP's good practice principles are not followed, it sets up the idea of inevitable loss, potentially leading to a lack of ambition and business-as-usual-with-offsetting scenario.
The term "nature positive" began appearing in common discourse in 2020.20 A recent paper suggested the term's popularity stems from: (1) a growing recognition of the economic and financial risks of biodiversity loss and (2) the pervasiveness of biodiversity impact across the value chain.21
Its popularity can also be explained by its increased inclusivity. Nature encompasses all elements of the natural environment, recognizing the interdependence of abiotic (e.g., water, air, minerals, temperature) and biotic (e.g., biodiversity of all living things, including terrestrial, freshwater, marine, and soil biodiversity) elements. The word "positive" is a symbolic, resonant term that engages the general public and avoids technical jargon. We must remember that the way nature positive is defined will have significant influence on how businesses address their nature-related activities.
A Coherent Definition
With the rising popularity of the term "nature positive," it's important to set a singular, clear definition. Such high-level terms can become vulnerable to deviations in and loss of meaning.22
Current definitions can be broadly categorized into three types: target-based, process-based, and conceptual (see Table 1). Each type covers an important aspect of achieving nature positive, but there is a need to ensure rigor. This can be done by mentioning measurability, a baseline, a time frame, and a quantifiable target that will allow for clear action, reporting, monitoring, and disclosure of progress.23 The "Global Goal for Nature" initiative provides such a definition:
 We need to halt and reverse nature loss measured from a baseline of 2020, through increasing the health, abundance, diversity, and resilience of species, populations, and ecosystems so that by 2030 nature is visibly and measurably on the path of recovery.24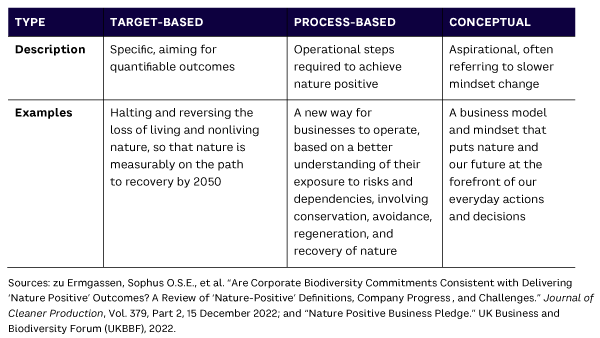 This definition sets out clear parameters for the delivery of nature positive and implicitly carries the concepts around a net balance and inclusivity. However, there are some issues to point out. A 2020 baseline is not appropriate for organizations that were set up after 2020 or with ongoing landholding or range-of-work changes that occur after 2020. In addition, these targets do not mention people and society. Although nature positive's aim is to improve the state of nature, it must be carried out in a way that does not negatively impact people and society and, where possible, synergistically benefits both. If this concept cannot be embedded in the definition of nature positive itself, it must be included in a wider set of principles that supports it.
Assessing Nature Positive
To ascertain the current state of nature-related commitments and ambitions in the business sector, we conducted a small-scale survey that was shared among members of the UK Business & Biodiversity Forum (UKBBF),25 where ambition and action tend to be higher than average. Understanding what is happening at the forefront of the business-nature nexus is important, as this will shape the coming decades of business action for nature. The survey received 38 responses from stakeholders representing a wide range of sectors and business sizes.
The Commitment Landscape
All but two surveyed businesses have made a carbon commitment. Despite the longer history of efforts to address the climate crisis, commitments were defined and implemented relatively recently; 75% of those having made a commitment set it in 2020 or 2021. This recent uptake is not surprising (the net-zero agenda is the first global movement of its type), but we believe it paved the way for faster, more efficient progress to be made with nature positive.
More than half of surveyed businesses have signed up to a nature-related pledge; the majority signed up to Get Nature Positive and/or the Business for Nature Call to Action.26 This focus on business-oriented nature positive initiatives (compared to the broader United Nations (UN) Convention on Biological Diversity Action Agenda or the specific New York Deforestation Declaration) demonstrates businesses' particular engagement with the nature positive movement.
More than half of surveyed businesses have nature-related commitments and targets, and another 20% have plans to do so. As expected, there are diverse degrees of enterprise in this sphere, with some businesses spearheading the work and others letting other businesses and initiatives pave the way. Slightly fewer than 60% of respondent businesses have established corresponding targets. This matches the number of commitments quite closely, suggesting that commitments are likely developed alongside targets, a good indicator of businesses' intent to deliver on their goals.
Around 80% of respondents perceive their targets as being SMART (specific, measurable, achievable, realistic, and time-bound). Out of these five characteristics, measurable and achievable were selected the least, reflecting the challenge of the higher complexity of biodiversity measures and goals compared to those for climate. Furthermore, the targets tend to focus on direct impacts, which are the easiest to track and measure. Our experience suggests that most businesses are choosing low-hanging fruit rather than targeting the areas of greatest impact.
Most of the surveyed businesses use biodiversity net gain (BNG) and area-based measurement approaches. Businesses prefer measurement approaches that are simple, well-established, easy to understand, and easy to measure. Standard approaches like BNG and its associated biodiversity metrics developed in England will likely be crucial for the nature positive movement going forward, as they favor widespread adoption.27 The limited range of indicators used, despite the growing number that exist (e.g., STAR,28 IBAT,29 and natural capital assessment tools), shows a knowledge gap in the business sector.
To give us some perspective, the state of Global Fortune 100 companies were analyzed in 2016 and in 2021.30 In 2016, around half mentioned biodiversity or biodiversity-related issues, with an additional 15% only mentioning forestry or fishing. Around two-thirds of those companies made commitments, and five had SMART targets. Since then, there has been an increase in commitment making, and improvements have been more common than regressions, demonstrating growing engagement.
However, there is still a clear lack of SMART targets, especially around addressing the entire value chain and integrating with climate and social goals. It is crucial for companies to start spearheading goal-setting, measuring, and reporting techniques and for nature-related guidance and tools to gain more traction.
Awareness & Value of Current Guidance
A majority of surveyed business are aware of guidance that supports the development and application of nature-related commitments and targets (see Figure 1). More than 80% of respondents were aware of SBTN, TNFD, the Natural Capital Protocol31 and BNG Good Practice Principles,32 which have arguably been the most successfully advertised.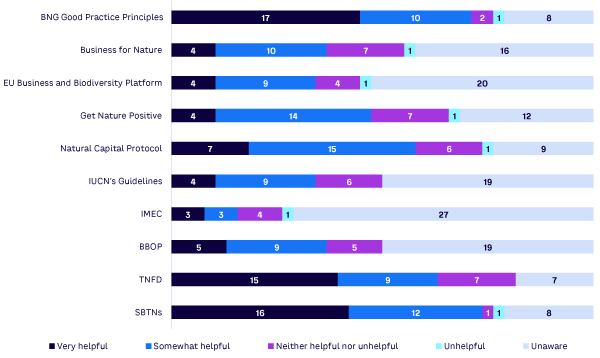 Respondents were least aware of IMEC (Impact Mitigation and Ecological Compensation),33 the EU Business & Biodiversity Platform,34 BBOP, and the International Union for Conservation of Nature's (IUCN) guidelines for planning and monitoring corporate biodiversity performance,35 demonstrating various knowledge gaps around recently released and/or more secondary guidance.
Respondents said they often find guidance documents helpful, but there is room for improvement. Around 70% would like guidance to be more sector-specific and consolidated into fewer and shorter documents. Sixty percent said they would benefit from the provision of more training and better outreach. Forty percent would like the guidance more accessible and advertised. Other improvements mentioned included clarity of intention and possibilities for certification.
Opinions on Nature Positive Principles
In the absence of a standard definition, principles can play a key role in guiding impactful work. They do so by translating nature positive into concepts that businesses already understand and addressing the elements and pitfalls of past nature-related terminology with which businesses are already familiar (e.g., the importance of measurement and issues with the term "net" mentioned above).
A set of nature positive principles were provided to survey participants. These covered core ideas such as ensuring long-term benefits, additionality, the precautionary approach, and the mitigation hierarchy; setting the direction through SMART targets, collaboration, and integration; and delivery through sustainable use and shared benefits of resources, acting at all stages of the value chain, and transparent and traceable reporting.
Overall, businesses largely agreed with this set of principles (see Figure 2). Deemed particularly meaningful (i.e., more than 50% of respondents answered "extremely important") were the principles of ensuring long-term outcomes for biodiversity and ecosystem function, applying the mitigation hierarchy, acting at all stages of the value chain, ensuring sustainable use and shared benefits of natural resources, and requiring transparent and traceable reporting. Most importantly, three quarters of surveyed business would be ready to commit to a nature positive pledge that follows these principles. This demonstrates an overarching understanding of what nature positive aims to achieve and a desire for unified, collaborative, urgent action to take place.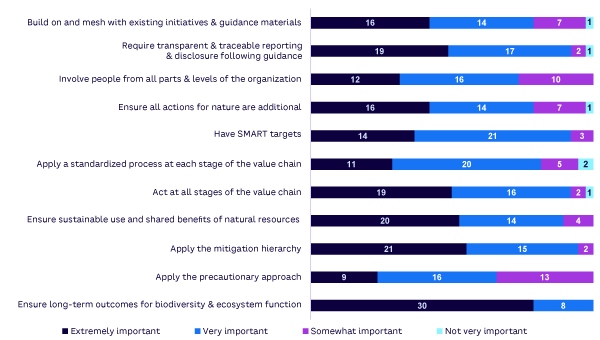 Delivering Nature Positive
The appetite for concrete nature positive action in the business sector is illustrated by the number of nature positive initiatives. Despite this, there are barriers to translating business engagement into concrete action.
The UKBBF's Nature Positive Business Pledge was developed by business for business, with the aim of overcoming this struggle.36 It provides a set of principles (see sidebar at end of article) and a clear, ratcheted process for businesses to robustly achieve real benefits for nature at an achievable pace while contributing to societal and environmental goals.
Crucially, the pledge recognizes that the nature positive journey will not be the same for each business and encourages businesses to contribute to the Global Goal for Nature, align themselves with governmental national strategies, set evidence-based targets based on those released by SBTN, and apply the TNFD approach.
There are a few points to highlight:
The pledge purposefully does not define nature positive and acknowledges the variety of ways in which it can be defined. It provides a set of rigorous principles that translate nature positive into concepts business can readily act on. This avoids the risk of delayed action while the global community tries to agree on a definition.

Unlike initiatives that mostly view nature positive through a single lens (target-based like Global Goal for Nature, process-based like Business for Nature, or conceptual like Get Nature Positive), the pledge combines the approaches. It encourages goal setting, a rigorous approach to delivery, and actioning both fast and slow change.

The pledge relies on a range of existing initiatives, tools, and guidance around nature positive, bringing them into a coherent framework that allows for action to begin immediately.

The ratcheting process helps companies commit to something simple at first, increasing the ambition and extent of their commitments over time. This adds a layer of flexibility by enabling companies to adapt to innovation and policy changes around nature positive.
Conclusion
Six elements are required to achieve nature positive: (1) vision, (2) concrete commitment, (3) framework for action, (4) accountability and transparent reporting, (5) adaptive management, and (6) coherence.37 The international community is in the process of developing a rigorous definition of nature positive along with standard frameworks and measurement approaches. We cannot wait for these elements to start acting — and it is often by spearheading work that we establish the most effective way forward.
By understanding the origin, evolution, and diversity of the term "nature positive" and the commitment aspirations of the business sector, we can establish rigorous frameworks despite the existing gaps. These will help organizations adaptively manage to suit the fast-evolving landscape, including how the Post-2020 Global Biodiversity Framework will provide further certainty about the direction of travel.
We must not let the perfect be the enemy of the good. We must take action now — if we wait for the perfect answer, it will be too late.
Nature Positive Business Pledge Principles
The pledge is for all businesses of all sizes and sectors that want to reduce their negative impacts on nature and make nature positive decisions.1 To accomplish these ambitious objectives, the pledge follows these overarching principles.
Core Principles
The mitigation hierarchy: Apply the mitigation hierarchy to all facets of the business. That is, avoid and then minimize negative impacts on nature, then restore, and finally compensate and offset residual impacts.
Long-term benefits: Generate long-term benefits for nature and the services it provides.
Additionality: All nature positive actions should be additional to what would have happened without these actions, seeking to achieve net-gain or net-positive impact.
The precautionary approach: Where there is a lack of evidence or information the precautionary approach will be applied, meaning that where there may be impacts on nature, realistic worst-case impacts should be assumed.
Setting the Direction
Identify and set SMART targets for delivering nature positive outcomes (outcomes that have a measurable benefit for nature).
Collaborate across the business and between organizations by involving people from all parts and levels of the business and, when possible, promote cross-sector collaboration with government, communities, NGOs, stakeholders, and other businesses to share ideas, ambitions, lessons learned, and experiences.
Integrate by building on and meshing with existing commitments (e.g., net-zero targets, ESG goals, and CSR goals), initiatives (e.g., Taskforce on Nature-related Financial Disclosures, Science Based Targets for Nature) and guidance materials (e.g., BNG Good Practice Principles, IUCN guidelines for planning and monitoring corporate biodiversity performance).
Delivering Nature Positive
Follow a structured, comprehensive, evidence-based approach: All businesses should follow a stepwise approach to deliver nature positive outcomes:
Assess and prioritize all of their possible impacts on nature.

Set goals and targets that address these prioritized impacts.

Identify, select, and roll out actions that are budgeted and sequenced and that describe how they will contribute to achieving targets.

Measure and monitor all subsequent negative and positive impacts on nature and compare them to an established measured baseline to quantitatively and qualitatively record progress toward targets.

Report on delivery and update goals, targets, and actions to reflect and respond to new data and evidence.
Address all stages of the value chain by taking action to halt nature loss and contribute to its recovery at each stage of the value chain, including supply chain, direct impacts, indirect impacts, and services.
Incorporate nature-based solutions at the core of the business strategy. As per IUCN, nature-based solutions are "actions to protect, sustainably manage, and restore natural or modified ecosystems, that address societal challenges effectively and adaptively, simultaneously providing human well-being and biodiversity benefits."2,3
Deliver sustainable use and shared benefits of natural resources, respecting indigenous and local people's rights.
Be transparent in the regular reporting and disclosure of all nature positive activities, including the baseline, impacts, actions, and outcomes.
1  "Nature Positive Business Pledge." UK Business & Biodiversity Forum (UKBBF), 2022.
2  "Nature-Based Solutions." International Union for Conservation of Nature (IUCN), accessed November 2022.
3  "Nature-Based Solutions to Climate Change." Nature-Based Solutions Initiative, accessed November 2022.
References
1  Brondizio, Eduaro, et al. (eds.). "Global Assessment Report on Biodiversity and Ecosystem Services of the Intergovernmental Science-Policy Platform on Biodiversity and Ecosystem Services." Intergovernmental Science-Policy Platform on Biodiversity and Ecosystem Services (IPBES), 2019.
2  "Nature Risk Rising: Why the Crisis Engulfing Nature Matters for Business and the Economy." World Economic Forum (WEF)/PwC, January 2020.
3  WEF/PwC (see 2).
4  Greenfield, Patrick, and Max Benato. "Animal Populations Experience Average Decline of Almost 70% Since 1970, Report Reveals." The Guardian, 12 October 2022.
5  "One-Pagers on the Goals and Targets in the First Draft of the Post-2020 Global Biodiversity Framework." United Nations (UN) Convention on Biological Diversity, 8 June 2021. 
6  Science Based Targets Network website, 2022. 
7  Taskforce on Nature-related Financial Disclosures (TNFD) website, 2022. 
8  Nature Positive website, 2022. 
9  Get Nature Positive website, 2022. 
10 Joint Nature Conservation Committee (JNCC), Natural England, Natural Resources Wales, NatureScot, and the Northern Ireland Environment Agency. "Nature Positive 2030 — Summary Report: Investing for Healthy Nature, People, and Economy." JNCC, 2021. 
11  Examples include the Nature Positive consultancy and The Biodiversity Consultancy.
12 For example, see: Knapp, Alex. "Charging an Electric Vehicle in 10 Minutes, Making Construction Greener and Becoming Nature-Positive." Forbes, 15 October 2022; Madden, Chris. "L'Occitane Unveils Nature Positive Campaign in Hainan." Duty Free News International (DFNI), 11 October 2022.
13 "Summary — Towards an IUCN Nature Positive Approach: A Working Paper." International Union for Conservation of Nature (IUCN), accessed November 2022.
14 Damiens, Florence L.P., Libby Porter, and Ascelin Gordon. "The Politics of Biodiversity Offsetting Across Time and Institutional Scales." Nature Sustainability, Vol. 4, 9 November 2020. 
15 "Performance Standard 6: Biodiversity Conservation and Sustainable Management of Living Natural Resources." International Finance Corporation (IFC), 2012.
16 "Environmental and Social Standard (ESS) 6: Biodiversity Conservation and Sustainable Management of Living Natural Resources." The World Bank, accessed November 2022.
17 "Standard on Biodiversity Offsets." Business and Biodiversity Offsets Programme (BBOP), 2012.
18 Baker, Julia, Rachel Hoskin, and Tom Butterworth. "Biodiversity Net Gain. Good Practice Principles for Development: A Practical Guide." CIRIA, 2019.  
19 Milner-Gulland, E.J. "Everyone's Going Nature Positive — But What Does It Mean?" Interdisciplinary Centre for Conservation Science (ICCS), 6 May 2022.
20 Based on search of the term on Google Trends; a score value of 50, defined as half-popular by the system, was chosen as the point at which the term enters common discourse.
21 Milner-Gulland (see 19).
22 Milner-Gulland (see 19).
23 "The Biodiversity Metric 3.1 (JP039)." Natural England, 7 July 2021.
24Nature Positive (see 8).
25  UK Business & Biodiversity Forum (UKBBF) website, 2022.
26  "Business for Nature's Call to Action." Business for Nature, accessed November 2022.
27 Natural England (see 23).
28 "Species Threat Abatement and Recovery (STAR) Metric." International Union for Conservation of Nature (IUCN), accessed November 2022. 
29  "Integrated Biodiversity Assessment Tool." IBAT Alliance, accessed November 2022.
30 zu Ermgassen, Sophus O.S.E., et al. "Are Corporate Biodiversity Commitments Consistent with Delivering 'Nature-Positive' Outcomes? A Review of 'Nature-Positive' Definitions, Company Progress and Challenges." Journal of Cleaner Production, Vol. 379, Part 2, 15 December 2022.
31 "Natural Capital Protocol." Natural Capital Coalition, accessed November 2022.
32 Baker et al. (see 18).
33 "Impact Mitigation and Ecological Compensation (IMEC)." IMEC, accessed November 2022. 
34 "EU Business @ Biodiversity Platform." European Commission, accessed November 2022.
35 Stephenson, Peter J., and Giulia Carbone. "Guidelines for Planning and Monitoring Corporate Biodiversity Performance." International Union for Conservation of Nature (IUCN), 2021.
36 "Nature Positive Business Pledge." UK Business & Biodiversity Forum (UKBBF), 2022.
37 Milner-Gulland, E.J. "Don't Dilute the Term Nature Positive." Nature Ecology & Evolution, Vol. 6, No. 9, August 2022.