Piloting Sustainability with Drones: A Q&A
Posted August 10, 2022
| Sustainability |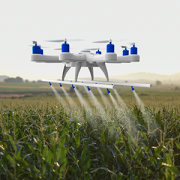 Drones are being used daily to help people and our planet. They are easily maneuvered, versatile, and accessible. There is no pilot to carry aboard, no cockpit, and not much need for special materials, instruments, or safety-critical systems normally required of crewed aircraft. For these reasons and more, drones make great tools in the drive for sustainability. In a recent webinar, Cutter Expert Helen Pukszta revealed how drone technology is being adopted and applied to contribute to the achievement of environmental sustainability goals, while also creating economic value. In this Advisor, we share the Q&A session that followed.
Q: Can you program a drone to follow a long route? How many kilometers?
A: Absolutely, and that really varies by the model of the drone. How many kilometers is a function of two aspects of a drone. One is the communications link; how far you can communicate using that remote control with a drone. And then also, how long the battery or the fuel of the drone is going to take you. Generally, with the standard commercial drones that are battery-only operated, you're going to get anywhere from one kilometer to 15 kilometers. Some drones we're working with, for example a hybrid, can travel as far as 100 kilometers and can last five hours. That's probably a practical limit. Of course, you can always have a process where, as your drone mission progresses, you just refuel it or recharge it. With a lot of the mission control software that automates the process, the drone will return before the battery gets depleted. You give it a fresh battery, and it will continue on the mission that it started. It knows where to pick up from and how to continue.
Q: Could you expand on drone applications in the energy sector and fossil fuel/renewables, and how drones can be used to benefit both?
A: It's a huge area with huge benefits. But particularly, drones are used in the energy sector for asset inspection. Think wind and solar farms being inspected by a drone, electric power towers, before you send someone on a dangerous mission of assessing a situation. Drones are used as an extension of the worker in the field. In cases of damage or weather incidents, before a worker puts in those hazard-pay hours, climbing the tower to correct any issues, drones can do preliminary assessments. Drones are a terrific tool for that. Another good example is methane detection. We have seen drones used where a methane detector is used as a payload on the drone, and it travels along the route of a gas pipeline to detect methane leaks. Methane is one of the major contributors to greenhouse gas emissions and pollution, so methane detection is really important in that regard. There are many, many examples, but mostly asset inspections, diagnosing issues, and as an extension of what the workers are doing in the field.
Q: Can you comment more on American Society for Testing and Materials (ASTM) meetings and defining standards for drone operations and drone design?
A: This is an example of the work that is going on behind the scenes — concepts like unmanned traffic management. This concept has to do with how we manage traffic in low-altitude airspace and making sure that when we have a high volume of drones flying, they don't collide with each other and they don't fall out of the sky. Committee F38 [on Unmanned Aircraft Systems] of ASTM is doing great work and helping in a number of areas that help establish those standards. I think agreeing on standards and frameworks for how to move forward with traffic management for drones is really a key part of what's coming and the hurdle we need to cross in order to really unfold the full potential of drones.