Protecting Species During Industrial Site Revitalization
Posted December 21, 2022
| Sustainability | Amplify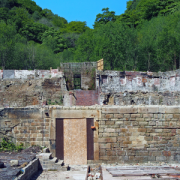 AMPLIFY  VOL. 35, NO. 12
  
ABSTRACT
Christine J. Miller, Benjamin J. Langey, and Scott E. Bush take innovation to the broken places on planet Earth by showing the opportunities for collaboration when endangered species colonize ecosystems on contaminated lands. Protected status need not be an obstacle to development if stakeholders engage in honest dialogue and science supports proposed interventions. 
Legacy industrial sites can be found across the US. In places where industry once thrived, supporting a growing economy and global war efforts through the 1960s, a paradigm shift in global manufacturing processes took hold in the 1970s and 1980s. For instance, there was a dramatic decrease in US manufactured steel during the late 1970s and the 1980s.1 The resulting global restructuring of the steel industry led to abandoned mills, leaving behind large tracts of contaminated industrial land.2
Commonly referred to as "brownfield sites," these properties pockmark major US riverways and urban transport hubs and host a plethora of environmental contaminants. Brownfields are defined as "underutilized properties where the presence or potential presence of hazardous substances, pollutants, or contaminants complicates expansion, redevelopment, or reuse of the properties" by the Pennsylvania Department of Environmental Protection.3
There are an estimated 450,000 to 1 million brownfield sites in the US.4 They are often located within major US urban areas and have established access to transportation, being located near waterways and/or rail lines. With a growing demand for housing and infrastructure to support a fast-paced e-commerce economy, these sites are highly desirable.
Legacy industrial site redevelopment is commonplace in the US, especially along the Eastern Seaboard, a stronghold of former industrial sites. These once-robust economic centers have been underused for three decades or more, and their existence has been identified by stakeholders in both the public and private sector as holding essential real estate value.
Demand for housing in and around urban centers, which were once heavily industrial, has dramatically increased since the mid-1990s.5 In addition, the rising e-commerce industry requires a robust network of warehouse distribution centers. Consequently, legacy industrial sites are in high demand by developers for light industrial, commercial, and residential redevelopment.
Common obstructions to reutilization include environmental contamination cleanup activities and site-preparation costs.6 However, one factor often overlooked when planners and developers consider brownfield sites is the potential for encountering protected species or their habitats.7
Many of these sites have undergone a level of ecological succession during decades of unuse. This, combined with their proximity to major waterways, makes them prime locations for occupation by endemic (local) species. Historic habitat loss and development pressure have resulted in limited available habitats for local wildlife in urban centers. Due to natural succession creating early successional cover types, endemic species are often found utilizing brownfield sites, along with nearby natural habitats.
Site remediation and redevelopment often require site features occupied by local wildlife to be rehabilitated or removed. Conflicts between redevelopment, on-site habitats, and endemic wildlife warrant careful navigation of the legislative environment and coordination of site activities with wildlife resource agencies.
Although legacy environmental contamination remediation is generally well studied and understood, there are important nuances in balancing site redevelopment with conservation of local biodiversity and critical habitats. Every site is unique, but the intersection between environmental site remediation, site redevelopment, and biodiversity conservation can be successfully navigated and benefit industry and society if there's concerted stakeholder effort throughout the process.
In this article, we provide an overview of brownfield redevelopment through the lens of biodiversity and species conflicts. Subsequently, we present a case study illustrating the remediation and redevelopment of a legacy industrial site while meeting the regulatory requirements to preserve protected species and their habitats.
Typical Legacy Industrial Sites
Following the shutdown and decommissioning of industrial facilities, site features like previously managed and maintained stormwater facilities, treatment lagoons, and landfills often undergo vegetational succession — turning former industrial operations into wetland and upland habitats (see Figure 1).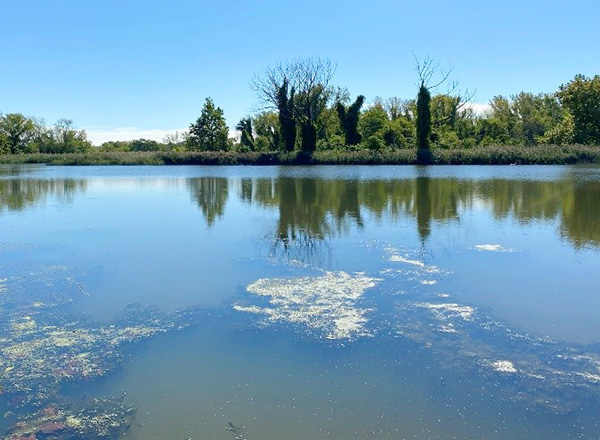 Despite being man-made and degraded, these areas contain favorable wildlife habitats that are subject to colonization by endemic species (e.g., herbaceous and woody plants, mammals, fish, waterfowl, amphibians, and reptiles) from adjoining natural areas. In some instances, site redevelopment requires special attention to state or federally threatened or endangered species.
The Endangered Species Act of 1973 codified the protection of species at risk of extinction due to the "consequence of economic growth and development untempered by adequate concern and conservation."8 Aside from regulatory requirements, a major reason for taking measures to protect species on a legacy industrial site is that in protecting the species, society is choosing to conserve the habitat in which the species resides and, in so doing, protect or enhance associated ecosystem services. For instance, aquatic water bodies, and more broadly wetland habitats, provide US $26.4 trillion per year of ecosystem services; aggregate studies estimate global ecosystem services loss at rates ranging from of $4.3 to $20.2 trillion per year, driven primarily by land use change.9
One important ecosystem service provided by wetlands is flood mitigation and storm surge buffering. Most wetlands, but especially large wetlands along major rivers, naturally act to attenuate floods and lower site flood risk, potentially saving businesses millions in the construction of levees or flood walls, flood damage, and flood insurance.10 Wetlands also give local communities opportunities to actively manage them for public access and enhancing habitats for protected species. Brownfield site redevelopment not only promotes reuse of previously developed and contaminated land, it can also be an economic driver for inclusion of habitat enhancement projects within the overall redevelopment plans.
Regulatory Framework
Although on-site habitats on legacy industrial sites are typically man-made and degraded, they often contain suitable habitat for a variety of species, some of which may be legally protected.
Generally, all states incorporate pre-construction screening requirements for protected species. Parties seeking to develop land, either brownfield or greenfield, must complete an initial screening process to determine potential conflicts with threatened, endangered, or special-concern species. If the initial screening reveals a potential conflict, the presence or absence of the species in question is determined by conducting species-specific habitat assessments and, if suitable habitat is present, presence-absence surveys. If no potential conflict is determined, there is no requirement to complete such surveys. 
Proposed redevelopment projects are generally required to comply with all state laws for remediating legacy contamination to some level of human health and ecological risk standards. During remediation and redevelopment activities, alteration or elimination of man-made habitats occupied by endemic wildlife may be necessary.
Depending on the species in question, the habitat being altered, and the governing resource agency, different approaches can be considered to allow the redevelopment of the brownfield site, despite a species conflict. In certain cases, some parts of a brownfield site may have to be left undeveloped. 
Examples include natural wetlands or streams that don't require remedial work and certain habitat types that might not be able to be replaced. However, for many fauna species occupying degraded man-made industrial habitats, governing resource agencies require a project proponent to capture and relocate any native species from occupied areas prior to remediation or redevelopment.
Engaging stakeholders early in the planning process is critical to meeting project objectives. Stakeholders usually include the project proponent, their engineering and environmental professionals, and regulatory agencies. Reaching a consensus between the stakeholders early in the process on project objectives, design considerations, and species avoidance and conservation requirements up front allows the redevelopment to proceed in a predictable manner desirable for all.
Projects that incorporate habitat features into the design (e.g., including innovative stormwater management facilities and buffers on existing natural habitats) are generally well received by permitting agencies. Replacing degraded habitats with more natural habitats and enhancing or preserving existing natural habitats on a brownfield site also tend to be well received by regulatory agencies.
Independent of regulatory requirements, many large corporations that engage in brownfield redevelopment have their own corporate biodiversity and sustainability goals, often certified by third parties like the Wildlife Habitat Council (WHC).
Conservation, protection, and innovative site designs that incorporate habitat creation and enhancement usually qualify a project, contributing to company certification and corporate goal achievement.
Eastern Pennsylvania Case Study
Our case study is located on a former heavy industrial site along a navigable river, which encompasses a variety of habitat cover types, including areas on former industrial lands and areas outside the former industrial development. The natural habitats include emergent and forested wetlands and uplands. A variety of man-made industrial habitats also occur on the site, including industrial uplands, treatment lagoons, and stormwater management facilities associated with former industrial operations. The site is strategically located near a deepwater port and has ready access to rail and interstate routes, making it desirable for redevelopment.
The site underwent the previously discussed initial screening process to determine whether potential species, habitat, and resource conflicts existed. The screening determined potential conflicts with several species. The project proponent engaged environmental professionals to assist in navigating the protected species and project-clearance process. Through habitat assessments and presence-absence surveys, it was confirmed that several protected species occupied man-made industrial habitats in areas slated for redevelopment on-site.
In Eastern and South Central Pennsylvania, one of the more common protected species encountered on legacy industrial sites in close proximity to deepwater habitats is the northern red-bellied cooter (RBC). RBCs primarily inhabit open water like ponds, lakes, large slow-moving creeks, rivers, and large marshes (see Figure 2). RBC nesting sites are typically located in sandy or loamy soils with a relatively open canopy, features common to many brownfields. RBCs are threatened by habitat destruction, poor water quality, and competition with invasive turtle species that share the species' range and habitat.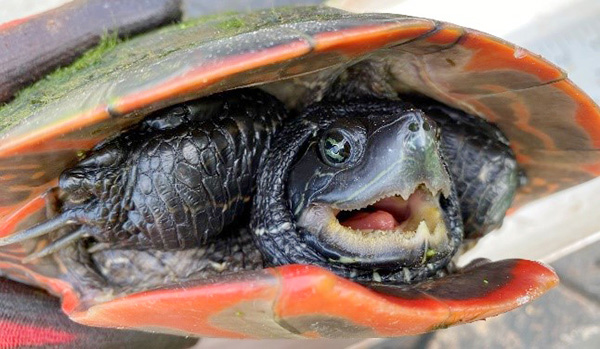 On-site investigations confirmed that man-made water bodies were occupied by RBCs, having entered these areas via overland travel from nearby aquatic habitats. Identified at the screening stage, the project proponent proposed several site redevelopment plans, exploring options with stakeholders and agencies to mitigate the loss of man-made industrial habitats by replacing or avoiding them. These development scenarios minimized habitat disturbances in natural areas while allowing development to proceed in previously developed industrial areas on the site.
As is typical of large projects, some of the man-made industrial open water areas had to be eliminated to accomplish the project goals. Although these areas are man-made, RBCs and other aquatic species were able to colonize the degraded habitats. Due to the RBCs' protected status, avoidance measures had to be implemented for remediation and redevelopment. 
Recognizing the special circumstances regarding this site, the agencies agreed to avoidance measures dictating the relocation of all native species from man-made industrial waterbodies to natural habitats nearby. For the unavoidable habitat loss, compensation was provided in the form of habitat creation or enhancement. All these activities required state and federal permits, which could be obtained through early stakeholder communications and project planning transparency. This allowed the project to proceed while protecting the animals and their natural habitats. The salvage and relocation were conducted in accordance with regulatory agency guidelines.
To understand the effort involved in planning for and executing these types of activities, it is useful to understand the methods. Herpetofauna trapping in aquatic environments usually involves hoop net traps and floating basking traps. These are effective, can be used with a variety of bait, and maintain some portion of the trap above water so the turtles can surface to breathe.
A wildlife exclusion barrier is typically installed prior to trapping to prevent transient individuals and gravid females from returning to the habitat in the time between trapping and remediation/redevelopment activities. Timelines for effective trapping vary by site but can take anywhere from two weeks to several months to complete. For on-site habitats that remain undisturbed, regulatory agencies usually require a wildlife barrier between occupied areas and ongoing redevelopment areas. These include standard wildlife barriers made up of silt fence backed by metal chain-link fence and aquatic barriers consisting of silt curtains weighted with chains to ensure contact with substrate and prevent movement of species into the portions of the open water being impacted. If not installed properly and inspected regularly, these types of barriers can fail, and species conflicts can occur; all of which can lead to costly project delays.
This project resulted in the relocation of more than 400 native turtles from man-made industrial areas to natural habitats. The results met the expectations of the stakeholders outlined at the outset of the project, satisfied the permitting requirements, and fulfilled the project proponent's expectations. 
Conclusion
Brownfield sites can be successfully redeveloped, but early coordination with all stakeholders and special attention to protected species is essential.
Our case study showcases a site that initially met all the requirements for redevelopment, then encountered some challenges with a protected species, and ultimately was able to navigate a pathway to success.
Choosing to remediate and redevelop a legacy industrial site is a complex, multidisciplinary task. However, the redevelopment of legacy industrial sites provides economic incentive for site cleanups, generates local community benefits, and reduces development pressures on undeveloped land (greenfield sites), thereby protecting natural habitats and native species.
References
1  Tarr, David G. "The Steel Crisis in the United States and the European Community: Causes and Adjustments." In Issues in US-EC Trade Relations, edited by Robert E. Baldwin, Carl B. Hamilton, and Andre Sapir. University of Chicago Press, 1988.
2  Westphal, Lynne M., et al. "Brownfield Redevelopment: A Hidden Opportunity for Conservation Biology." In Policies for Managing Urban Growth and Landscape Change: a Key to Conservation in the 21st Century, edited by David N. Bengsten. US Department of Agriculture (USDA), Forest Service, 2005.
3  "Hazardous Sites Cleanup Fund: Key-Abbreviations, Acronyms, Terms, Notations." Pennsylvania Department of Environmental Protection (DEP), accessed November 2022.
4  Paull, Evans. "The Environmental and Economic Impacts of Brownfields Redevelopment." Northeast-Midwest Institute, July 2008.
5  Collaton, Elizabeth, and Charles Bartsch. "Industrial Site Reuse and Urban Redevelopment — An Overview." Cityscape: A Journal of Policy Development and Research, Vol. 2, No. 3, September 1996.
6  Paull (see 4).
7  Westphal et al. (see 2).
8  "Endangered Species Act of 1973 as Ammended Through the 108th Congress." US Fish & Wildlife Service, US Department of the Interior (DOI), 1973.
9  Costanza, Robert, et al. "Changes in the Global Value of Ecosystem Services." Global Environmental Change, Vol. 26, May 2014.
10 Kousky, Carolyn, and Margaret Walls. "Floodplain Conservation as a Flood Mitigation Strategy: Examining Costs and Benefits." Ecological Economics, Vol. 104, August 2014.