Purposeful "Self-Disruption" in the Time of a Pandemic
Posted April 16, 2020 in
Business Technology & Digital Transformation Strategies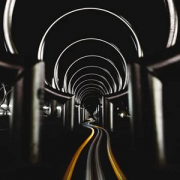 When the going gets tough, the tough get going.
— Attributed to Joseph P. Kennedy
The world order — and life as we know it — has been transformed and altered in significant ways over the past months, caused by a viral threat that doesn't recognize geographic boundaries, economic conditions, ethnic, nor racial divides. As the world comes to terms with this "new normal," it is easy to resort to a mindset of how things will be materially different following this worldwide management and, ultimately, recovery from a significant disruption to how we live our lives. Researching and writing on the topic of the digital disruption, whether purposeful self-disruption or disruption caused by market forces, has been a passion and area of professional interest for me for some time. In this article I'd like to propose two ideas: one, that as executive technology leaders, we have a choice to make about how we react to this disruption; and two, how we can prepare for future disruptions from a data and digital technology platforms standpoint.
My thoughts and thesis of this Advisor are derived from earlier articles I have written on the digital backbone,1  building sustainable platforms for innovation and transformation growth, as well as articles on how technology executives can utilize design thinking as a tool for digital transformation,2  describing conditions and methods where design thinking is an asset in rethinking how to approach digital transformation.
A bend in the road is not the end of the road, unless you fail to make the turn.
— Helen Keller
My father-in-law, a person whom I admire and respect, shared the quote above with me when I started my career, and it has guided my way of thinking about disruption and change ever since. With the current macroeconomic and macropolitical conditions caused by the current novel coronavirus pandemic and the follow-on effects, it is easy to conclude that "life won't ever be the same" and "we won't be able to go back to the way things were." Both statements are true but their significance is only what we put into it. The past 100 years have presented our "way of life" with a multitude of challenges in the form of wars, viruses, economic crashes, and others, and each time we have risen like the phoenix from the ashes, only to improve, innovate, and purposefully self-disrupt our way of life. Disruption, however, is part of our day-to-day lives, whether at a personal or macro level. Those who succeed through this time of uncertainty are those who recognize that ongoing change and disruption are normal and progress takes many forms.
At this moment, technology executives have one of two mindsets: one is a fixed mindset, attempting to fix and mitigate the existing conditions; the other is a growth mindset, looking to positively exploit the conditions and turn this time into an opportunity to innovate and disrupt. I encourage all of us to leverage the opportunity ahead of us as technology executives and apply our "growth mindset," resolving to use this time as the opportunity to promote and present data and digital solutions to the opportunities our companies face.
Our company is in the most competitive position ever....
 You either change and disrupt, or you get left behind.
— Former Cisco Systems Executive Chairman and CEO John Chambers
John Chambers was a master of preparing his company and, at times, his ecosystem for disruption, even pursing self-disruption though innovation-based acquisitions at a time when his own innovation engine at Cisco was not able to keep up with the external pressures. Preparing for and expecting disruption, for the purpose of positive and growth-oriented exploitation, is how business and technology executives can turn this time of uncertainty into both a positive impact to clients, employees, and community like we have seen with COVID-19, but also into momentum that sets them up for future growth.
Technology executives should be engaging with their architectural and strategic talent at all levels of their teams to think about how they exploit this time to bring about innovation as well as how they build their data and digital backbones for the future, ensuring that as major disruption happen, they are not worrying about keeping their critical operating systems up and running or their crown-jewel IP safe. With a well-orchestrated and well-built data and digital backbone, they can use this time to innovate and transform on top of enterprise-grade cloud-based capabilities (e.g., integration, automation, and advanced analytics). (For more on this read the previous series on building your digital backbone.)
It's always darkest before the dawn.
— British Theologian Thomas Fuller
There's no doubt in my mind that what we are currently experiencing in terms of macro disruption across the world caused by COVID-19 is significant and will have lasting impacts on many aspects on our lives and our history. As technology executives, we have the opportunity to apply our "growth mindset" and look at this as an opportunity to advance a data and digital agenda and priorities to best position our companies for the future while leveraging the current conditions to apply innovative and self-disruptive measures to change how we interact with our clients, our employees and our communities. I am confident that disruption is constant, whether at the personal, community, or macro level, and if we resolve to unite around a better future we have the opportunity for amazing things.
As always, please comment at the link below or send any thoughts to my email at Cutter Consortium. If planning for future disruptions and transformation with an architectural mindset is something of interest, please also check out an upcoming book I coauthored with Stefan Henningsson at Copenhagen Business School called Architecting Growth in the Digital Era.
---
1 See: "Scoping, Implementing, and Scaling Your Digital Backbone," "Data's Story: An Enterprise Asset in the Digital Backbone," and "Overcoming the Talent Gap in the Digital Era."
2 See: "Digital Transformation & Design Thinking, Part I: Solutions to Your Company's Wicked Problems," "Digital Transformation & Design Thinking, Part II: A Closer Look at the Method," and "Digital Transformation & Design Thinking, Part III: Overcoming Transformation Challenges."