Reaping the Full Benefits of LC/NC & Citizen Development
Posted April 12, 2021
| Leadership | Technology | Amplify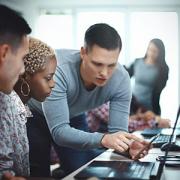 Ronan Hughes says low-code/no-code can be viewed as a low-risk/no-regrets approach to organizational transformation. He describes how citizen development (CD) can improve IT delivery and speed strategic development and operations and then goes into detail about the opportunities CD offers to the business, IT, and combined business/IT applications.
Not a Cutter Community Member?
Register today to read select open-access articles.