Recognizing the Relationship Between Power & Culture in Today's Organizations
Posted March 18, 2022
| Leadership | Amplify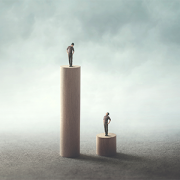 Jim Brosseau explains that culture and leadership are connected by the form in which power is wielded in an organization. He uses John R.P. French and Bertram Raven's five forms of power (coercive, reward, legitimate, expert, and referent) to show how these forms result in certain leadership processes and company culture. Brosseau then uses the Lift-Slab Organizational Model to show why organizations in an unpredictable environment must have a participatory structure and a project-centric approach to succeed.
Not a Cutter Community Member?
Sign up today to read this and all other articles.