Reducing Methane: New Developments in Waste Management & Recycling
Posted May 31, 2023
| Sustainability |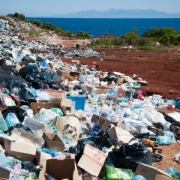 In Part I of this Advisor series on reducing methane, we discussed methane's impact on the environment and human health. We also covered some new developments for reducing methane emissions in agriculture. Here in Part II, we continue the series by examining several developments designed to help reduce methane emissions originating from waste in landfills.
Waste & Methane
Waste (in landfills and water) is the third-largest source of methane emissions globally, after the fossil fuel (e.g., oil, gas, and mining) and agriculture sectors. Basically, when food, wood, paper, and other organic waste decompose, they emit methane into the atmosphere.
Capturing & Utilizing Methane from Landfills
One way to reduce methane from landfills is to capture it before it can leak into the air. This technology is called "landfill gas (LFG) capture."
LFG capture requires covering a landfill with a layer of dirt, clay, plastic, or other materials to prevent the methane from escaping. A series of wells are then drilled into the landfill, from which the methane is extracted using vacuum pump systems and collected in a central location. Here, the methane is processed and treated depending on its intended use. Once processed, it offers a renewable source of energy: the methane can be used to generate electricity, for heat production, or converted into natural gas.
Methane-Capture Optimization Technology
A key issue with renewable energy development (in general) has been cost. This is true with methane capture, too.
LoCI Controls has developed a real-time data-control platform designed to maximize methane capture and reduce emissions from landfills while reducing costs. The company was founded by Massachusetts Institute of Technology graduates and targets its offering at gas-collection system operators whose business is converting methane to renewable natural gas or renewable electricity.
LoCI's solution combines onsite measurement technology with a cloud data platform and automation facilities that monitor and optimize key gas-collection system parameters (e.g., gas composition, gas pressure, flow, atmospheric pressure, temperature) and liquid levels inside collection wells.
The platform is also supported by analysts who monitor the data and respond according to changing conditions. In addition to reducing operating costs, company reps claim its technology can increase gas collection by 10%-20% and that it is now operating in dozens of landfills across the US.
New Manufacturing Materials from Waste
Another way to alleviate methane emissions from landfills is to make sure that waste doesn't end up there in the first place. Today, we are seeing new materials created from waste — new materials that companies can use to substitute less environmentally friendly materials for product manufacturing.
UBQ Materials has developed advanced conversion technology that converts municipal solid waste from landfills into a sustainable substitute for oil-based plastics. The company calls its initial offering, UBQ, the world's first bio-based plastic because it is made entirely from organic and unrecyclable household waste, which can range from banana peels and chicken bones to pizza boxes and mixed plastics.
UBQ is a durable material with thermoplastic properties that manufacturers can use as a substitute for petroleum-based plastics used in various industries. Consequently, it is designed to integrate with minimal adaptation into a company's existing manufacturing processes and materials. When manufacturers use UBQ, it diverts waste from entering landfills (preventing methane emissions), helps reduce their carbon footprint, and supports a circular economy. UBQ is also recyclable. UBQ also helps alleviate the need to sort waste for recycling — a major issue that adds significantly to process complexity and cost.
UK-based furniture company Orangebox is incorporating UBQ into its "Do-Better" office chair to reduce the carbon footprint of the chair's seat pan. Basically, UBQ replaces the mineral talc normally added to the polypropylene (PP), which results in approximately 80% PP and 20% UBQ. The PP contains 75% recycled content, of which 90% comes from post-consumer waste. Use of UBQ is helping Orangebox implement its sustainability strategy of making its existing product line more eco-friendly and not having to create a separate eco-conscious office furniture line.
Conclusion
We are seeing the development of new, innovative solutions to help reduce methane emissions from landfills through better waste management and advanced recycling. Trends include digital platforms employing analytics, artificial intelligence, and Internet of Things for monitoring and optimizing methane capture. The development of new materials manufactured from waste — waste that otherwise would have been discarded in landfills — is another important trend. The use of advanced waste-conversion technology is expected to undergo increasing use over the next five years as companies move to ramp up their sustainability efforts in response to government and industry requirements. The solutions examined in this Advisor were included because they are indicative of the trends and developments around the use of advanced technologies for dealing with the methane problem.
Part III of this series will examine new developments around reducing methane in the fossil fuel industries. Until then, I'd like to get your thoughts on the use of technology for methane reduction and other sustainability efforts. As always, your comments will be held in strict confidence. You can email me at experts@cutter.com or call +1 510 356 7299 with your comments.