Remote Detection and Treatment for Aging Brains
Posted October 9, 2020
| Leadership | Technology | Amplify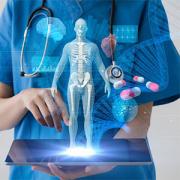 CUTTER BUSINESS TECHNOLOGY JOURNAL  VOL. 33, NO. 9
  
ABSTRACT
With a focus on brain health and neuroscience, Sean Lorenz describes how technology is helping us better assess our brain health journeys with remote detection, diagnosis, and treatment tools. Given the issues surrounding the COVID-19 pandemic, he explores the urgent need that requires the healthcare system to actively look toward telehealth and RPM.
How a Global Pandemic Changed Everything
The COVID-19 pandemic fundamentally changed the paradigm in which we deliver care. The need for change existed long before COVID-19, but the pan­demic clarified the urgency. You have likely come across news articles (and even promotional emails) discussing the switch to remote check-ins with primary care physicians, specialists, and urgent care nurses. And there's a good chance that by now you've already experienced what a telehealth visit entails. Just as schools have been forced to rapidly assemble remote learning plans for our children, the healthcare system is experiencing an urgent need to finally pivot toward telehealth and remote patient monitoring (RPM).
In the first six months of 2020, digital health shattered funding records, with US $6.3 billion raised so far with no signs of slowing in the second half of the year.1 The obvious digital health category forerunner is telehealth, with examples such as Amwell's $742 million IPO2 and the $18.5 billion merger of Teladoc Health and Livongo.3 In tandem with telehealth growth, Rock Health reported a rise in investment for companies offering remote disease monitoring and behavioral health solutions.4
Yet, just a few years ago, investors were slow to invest in digital health products due primarily to lack of reimbursement options. In the US, with healthcare facilities losing revenue during the COVID-19 pan­demic due to peoples' fear of entering a hospital or doctor's office, the codes used to obtain reimbursement for remote care needed to change quickly. Changes to CPT codes (used for reimbursement purposes to describe treatment and diagnostic services pro­vided) in 2020 rapidly expanded Medicare and Medicaid RPM reimbursement coverage, as did the passing of the Coronavirus Aid, Relief, and Economic Security (CARES) Act by the US Congress. Moreover, the Centers for Medicare & Medicaid Services (CMS) proposed changes in August 2020 that may make tem­porary CARES Act reimbursement of telehealth and RPM a permanent addition to the US healthcare system.5
RPM reimbursement changes in the US this year have focused heavily on Medicare and Medicaid due to elderly population vulnerabilities and required isolation during the pandemic, yet telehealth adoption among older adults has been a mixed bag. While baby boomers (individuals age 56-74) have almost ubiquitously added smartphones and tablets to their tech repertoire, members of the "Silent Generation" (individuals age 75-91) have adopted these technologies at a far slower rate, making it difficult to deliver remote care to them. However, a recent AARP survey shows that individuals over 75 are starting to use tablets more regularly to connect with family members and access news.6
Older adult RPM solutions have been percolating for decades across the health spectrum, primarily finding sanctuary in academic and pharmaceutical research. The holy grail for most RPM startups is clinical data validation, yet digital health trials are unable to move at the pace of other software startup verticals that operate under the "move fast and break things" mantra. Add to this that other players in the elder care ecosystem — home health, skilled nursing facilities, and continuing care retirement communities (CCRCs) — often move at an even slower pace of technological adoption, leaving a long trail of aging tech companies that have closed up shop in the past decade. But this dour story is turning increasingly optimistic. In the US, CPT code updates for RPM, paired with exponential investment in digital health endeavors, mean commercialization of elder care technology is sure to become more palatable to CCRCs looking to provide better care for residents in uncertain times. A key area in which this technology can add value is detecting neurological problems in elderly individuals and aiding with treatment.
One example that illustrates the need for older adult RPM solutions in this area comes from a study exploring the importance of physical exercise and stress reduction to improve motor symptoms and quality of life in individuals with Parkinson's disease (PD).7 The pandemic has often prevented elderly individuals with PD from taking daily walks outside, visiting therapists, or attending group fitness classes. Being isolated from the world can increase anxiety and depression, two factors known to exacerbate PD symptoms. The study discusses how self-management strategies that reduce stress, increase coping skills, or increase physical exer­cise can play important roles in the treatment of PD. Thus, RPM solutions that take advantage of smart health devices and tablet applications designed with aging populations in mind will be able to remotely deliver better tools for increasing mindfulness and individualizing cognitive behavioral therapy inter­ventions and home-based training programs.
Collecting Brain Health Data
Before discussing how we collect data about our brain and behavior, we need to first define what we mean by the term "brain health." As important as it is, brain health is more than meditating or playing Sudoku games online. The brain talks with the rest of the body, so if something is wrong with the heart, lungs, or limbs, the brain knows it and attempts to compensate accordingly. Harvard Medical School Neurologist Alvaro Pascual-Leone's "6 Pillars of Brain Health"8 emphasizes this connection and addresses the role of physical exercise, food and nutrition, overall medical health, sleep and relaxation, mental fitness, and social interaction in keeping your brain fit over a lifetime.
Brain health, then, involves every aspect of our daily lives. Testing how we feel mentally and physically in our natural, everyday environment is the best way to measure brain health. That means the technology that surrounds us and is used by us every day should "know" how our brain health is doing. The first challenge? Engaging technology-averse older adults early on with productized RPM solutions that extract knowledge from data collected across multiple types of devices.
Gathering this data requires a keen awareness of where elderly individuals are physically located. Are they still living at home? And if so, do they receive any in-home geriatric care? Are they living within a CCRC? What are residents' brain health needs as they move from independent living, assisted living, or memory care to skilled nursing? Adoption of Internet of Things (IoT) or screen-based devices for elderly individuals in CCRCs depends on whether: (1) the facility provides these devices; (2) the facility can assist with device setup, use, and charging; (3) individuals grant access consent for the facility to collect data from a device; and (4) individuals are capable of using the device in their current cognitive condition.
For example, independent living communities typically market services that eliminate tedious chores like mow­ing the lawn, doing laundry, or cooking at every meal. An independent living resident's RPM strategy might focus more on a long-term, preventive brain health smartphone app that adds fitness tracking or sleep analysis. On the other hand, an older resident that lives at home and requires a daily geriatric home care nurse visit may interact only with technology brought to the home by the visiting nurse. Therefore, the RPM strategy for this person might involve giving the home care nurse a tablet and IoT-connected smart health devices, allowing the nurse to directly administer regular brain tests and take vitals during each home visit.
Whether individuals are aging in place or in full-time memory care facilities, secure authentication, transmission, storage, analysis, and access are mandated for remote data collection of brain health data. Regardless of whether a brain health application necessitates com­pliance with the US Health Insurance Portability and Accountability Act (HIPAA), cloud-based platforms such as Amazon Web Services (AWS), Google Cloud, and Microsoft Azure have made significant strides in making it relatively straightforward for software development teams to handle electronic protected health information (ePHI) in the cloud. However, HIPAA compliance regulation for consumer IoT devices such as the Fitbit or Apple Watch can get a bit murky; regardless, healthcare technology should always be designed and developed with the highest HIPAA (or equivalent) security regulations in mind.
What kinds of data can be collected to assess brain health? Below is a non-exhaustive list of devices used to analyze various aspects of older adult cognitive and mental health:
Smartphones. More ubiquitous among baby boomers than among their parents' generation, the accelerometer in smartphones is a key tool for evaluating gait and balance quality.9 Other obvious benefits made possible by smartphones are telehealth, brain-based game apps, and periodic delivery of cognitive assessment questionnaires.

Tablets. Their larger screen size has made tablets increasingly popular with older adults, who benefit from mental acuity apps and "all in one" family/senior engagement tablets such as the GrandPad.10 The addition of items such as the Apple Pencil allow brain health companies like Linus Health to digitize common neurocognitive assessments such as the clock drawing test.11 Brain health tablet apps are able to easily deliver audio- and visual-based assessments, transitioning standard "pen and paper" tests like the Mini-Cog12 into a simpler, more data-rich tablet version.

Health wearables. To better understand our own cognitive and mental health, we must also know about our body's response to its environment. The consumer health wearables market has sky­rocketed in the past five years, but insights derived from these products are still not perfect. A recent Washington Post article comparing the blood oxygen status numbers delivered by Apple Watch Series 6 and Fitbit Sense found wildly varying results.13 Despite such variances, devices that count steps, measure electrocardiogram signals, track blood pressure, or measure other vitals are continually improving and can provide useful information if tracking and measurement are conducted over long periods of time. The more frequently these overall health measurements are taken outside the clinic, the more they inform us about possible brain health trajectories.

Smart home. Passive smart home devices such as motion and coming/going sensors can track wan­dering patterns for dementia patients. Connected mattress sleep monitors assess restlessness, snoring, and sleep quality, all factors that play into long-term mental reserve and resilience. Smart mats measure sudden weight fluctuations that may be indicative of other health issues.

Electroencephalogram (EEG). Companies like Neuroelectrics14 have taken great strides in commercialization of medical-grade EEG data collection, making it possible to analyze neural functionality in the home with a simple EEG cap and tablet app.

Deep brain stimulation (DBS). DBS is now being used outside a clinical setting to assist individuals with movement disorders. A new study15 used a Bluetooth-enabled DBS electrode system to remotely adjust complex variable frequency stimulation (VFS) for PD patients suffering from freezing of gait.
Remotely Engaging Users
Aggregating data from the latest IoT gadgets and sensors sounds fun to engineers looking for a development challenge, but all those devices are worthless if users don't want or need them. This may seem obvious, but the long line of failed "silver tech" (technology for seniors) digital health startups shows that companies were either not listening to what their users wanted in a product or weren't able to convince buyers their innovative solution was a painkiller and not just a vitamin. Asking elderly users to adopt technology-based solutions can be a very tricky proposition.
There is a great technological divide between the Silent Generation and baby boomers. Parents of boomers are typically far less likely to own smartphones or computers and are especially skeptical of cloud-based services. For example, I spoke with a woman whose mother in assisted living refuses to bank online because she doesn't want the bank to have all her information. When digital health companies bring in a solution that will track mom's movements with cameras and sensors, the answer is often a resounding "no, thank you!" This skepticism is one of the primary reasons many RPM tools for seniors have failed in the past. Mom may already be feeling isolated after moving from home into an assisted living residence with a lot of new faces. Adding cameras and sensors can often make these individuals feel they're being watched under a microscope, instead of being listened to and cared for.
What is the alternative? The best-in-breed RPM solu­tions listen to their users. They take into account the wide spectrum of technical ability and acceptance that differentiates a 55-year-old from an 85-year-old. These companies also account for this spectrum by giving users a variety of methods to interact with their apps and devices, offering UX/UI functionality that may seem horrible to younger users, but welcoming to an older user. Big buttons, larger text, color choice, and photo accompaniment are a few simple ways to account for failing vision, lack of dexterity, and reduced accuracy from shaky fingers. Asking older users to perform complicated gestures and swipes on a tablet can also cause confusion and frustration, leaving the tablet to collect dust on a desk. Software developers should consider cognitive and mental decline when designing apps, giving caregivers an option to change the UI setting as their parent is diagnosed with dementia or other neurocognitive issues.
Increasing engagement needs to consider the many people involved in the daily care of elderly individuals — facility nurses, activity directors, home health aides, family members, primary care doctors, specialists, and so on. Each of these roles has its own unique perspective on how to best care for someone; however, building solutions for each of these users is obviously untenable, which is why forming partnerships with like-minded companies is often beneficial.
Another important point on engagement is that timing matters. For example, if you want people to take a quick mental health quiz on a tablet to assess possible signs of depression over time, you should know their habits. Are they a morning or night person? Do they pick up a tablet when hearing an auditory ping? Do they notice the notifications list alerting them to a new quiz? Eighty-year-olds with mild cognitive impairment may not remember that you notified them of a quiz and might be more prone to remember if they see the notification while looking at photos of their grandchildren.
Remote Detection and Diagnosis
Our brains are the most complex object in the known universe. It's no wonder that moving brain-based RPM solutions beyond the classification of "health and wellness" into regulatory approval is no small feat. Remote detection and diagnosis tools for brain health have been slower to show efficacy than other remote diagnostic solutions that can detect more tangible changes over time. Neurologists and neuropsychologists have developed questionnaires and found ways to read MRIs that shed light on what is happening to our brains over time, but in order to make better diagnoses we need more data outside yearly clinical visits.
Understanding how the brain influences behavior, as well as how our lifestyles affect our brain health, requires domain-specific analysis of all the relevant data we can now obtain remotely outside the doctor's office. There is exponential power in the analysis of multimodal data. Speech recordings from a memory recall task, sleep monitor device readings, and a periodic depression scoring question may individ­ually have features that show significance only when combined with other features across multiple data sources. Underlying this assumption is the idea that more frequent testing equates to more data and, thus, more accurate diagnostics.
The arduous path to regulatory approval requires development of scientifically validated metrics that move beyond the health and wellness approaches of displaying cleanly designed charts and graphs gleaned from the raw data. The end goal is to extract meaning from metrics. This is the case for any artificial intelligence and machine learning (ML) application, but deriving brain-based diagnoses from RPM data requires industry expert involvement. Neurologists, neuropsychologists, and other clinicians must be kept in the loop to balance expert-informed rules with appropriately trained ML models.
Remote Treatment
The brain's ability to adapt to environmental constraints and neuronal injury is called synaptic plasticity. Excit­ing research is being done that harnesses neuroplas­ticity for clinical applications such as stroke recovery, memory improvement, treatment of depression, and so on.16 Interventions for brain-based disorders can leverage the same RPM devices discussed in this article. Noninvasive brain stimulation, DBS, physical training, exercise, and cognitive training interventions all can be performed remotely without worrying about the physical and monetary cost of transporting elderly individuals to and from therapy offices. Outcomes can also be tracked as new detection and diagnostic data is acquired, creating a closed-loop system for detection and treatment of brain-based disorders.
An inspiring example of this closed-loop approach is the use of transcranial direct current stimulation (tDCS) by Neuroelectrics to help patients with major depression at home amidst COVID-19 restrictions.17 The technology from Neuroelectrics monitors the brain's electrical activity by EEG and uses transcranial electrical stimulation (tES) to stimulate brain regions or networks with mild electric currents to directly alter brain func­tion. Once daily home stimulation is completed, part­nerships with companies such as Linus Health that offer neurocognitive assessments can close the loop by delivering a quick, tablet-based cognitive test to gauge efficacy of the stimulation treatment.
Brain-based remote monitoring tools for aging individuals still have a long road ahead, but recent changes in reimbursement policies (CPT codes), increased investment in aging brain tech companies, smarter home health devices, HIPAA- or other privacy regulation-compliant cloud options, and better understanding of elderly users are making it faster and easier to close the loop from remote detection to alleviation of cognitive and mental disorders.
References
1"Despite COVID-19, Digital Health Shatters Funding Records with $6.3 Billion in 1H 2020." Mercom Capital Group, 2 July 2020.
2Kilgore, Tomi. "Amwell Raised $742 Million as Upsized IPO Prices Above Expected Range." MarketWatch, 17 September 2020.
3Kent, Chloe. "Teladoc-Livongo Merger Reflects Wider Trend Toward Telehealth." Medical Device Network, 11 August 2020.
4Chiu, Nina, Alex Kramer, and Aditya Shah. "2020 Midyear Digital Health Market Update: Unprecedented Funding in an Unprecedented Time." Rock Health, 2020.
5"42 CFR Parts 410, 414, 415, 423, 424, and 425." Proposed ruling, US Department of Health and Human Services (HHS)/Centers for Medicare & Medicaid Services (CMMS), submitted to the US Office of the Federal Register (OFR), August 2020.
6"2020 Tech and the 50+ Survey." AARP Research, December 2019.
7Gavidia, Matthew. "How Are Patients with Parkinson Disease Faring Amid the COVID-19 Pandemic?" American Journal of Managed Care, 14 April 2020.
8"6 Pillars of Brain Health." Cleveland Clinic, 2020.
9Zhong, Runting, and Pei-Luen Patrick Rau. "A Mobile Phone–Based Gate Assessment App for the Elderly: Development and Evaluation." JMIR Mhealth Uhealth, Vol. 8, No. 5, May 2020.
10GrandPad, 2020.
11"DCTclock Transforms the Familiar Clock Drawing Test into a Sensitive Measure of Cognitive Function." Linus Health, 2020.
12Mini-Cog, 2020.
13Fowler, Geoffrey A. "The New Apple Watch Says My Lungs May Be Sick. Or Perfect. It Can't Decide." The Washington Post, 23 September 2020.
14Neuroelectrics, 2020.
15Zhang, Jianguo, et al. "Implementation of a Novel Bluetooth Technology for Remote Deep Brain Stimulation Programming: The Pre– and Post–COVID-19 Beijing Experience." Movement Disorders, 1 June 2020.
16Cramer, Steven C., et al. "Harnessing Neuroplasticity for Clinical Applications." Brain, Vol. 134, No. 6, June 2011.
17"Starstim tES-EEG Systems." Neuroelectrics, 2020.