Right Thoughts & Right Action: How to Make Agile Teamwork Effective
Posted March 18, 2022
| Leadership | Amplify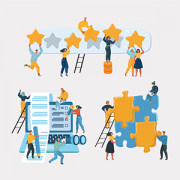 The authors offer their own Agile Teamwork Effectiveness Model via five teamwork components (shared leadership, peer feedback, redundancy, adaptability, and team orientation) along with three coordinating mechanisms (shared mental models, mutual trust, and communication). They describe the three main ways their model can be useful. First, colocated teams can better understand how their team works by reflecting on how well they meet each factor in the model and by using behavioral markers to identify ways to improve. Second, it helps distributed teams, multi-teams, and teams doing safety-critical development to evaluate themselves and make improvement. Third, it's a way for Agile teams not doing software development to better manage themselves, provided they're doing knowledge-intensive work.
Not a Cutter Community Member?
Sign up today to read this and all other articles.