The Role of the Enterprise in a Nature Positive World, Part II — Opening Statement
Posted December 21, 2022
| Sustainability | Amplify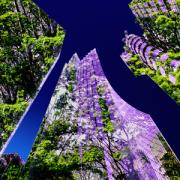 AMPLIFY  VOL. 35, NO. 12

This issue is the second in a two-part Amplify series on nature and private enterprise. Part I focused on policy and introduced the concept of nature positivity and the frameworks that support it.1 This issue explores practice — because at the end of the day, it is the practice of place-based action that will deliver a nature positive future.
Action for nature has many names. It can be called "ecological restoration," "site remediation," "reclamation," and "rewilding." Action for nature can also be contained in protection, preservation, and conservation, as encapsulated in calls for 30% of Earth to be protected by 2030.2 These terms encompass worlds of diverse approaches that share a singular purpose: creating a nature positive world. Action for nature can be as simple as planting a tree or as complex as restoring a coastal wetland, both of which are covered in this issue. But regardless of the words used and the approaches taken, action is where the rhetoric stops and the difference is made.
In this issue's five articles, the reader will explore how business can act for nature and read case studies of robust conservation or restoration efforts in diverse locales across the globe. The case studies explore places like the city of Detroit, Michigan, USA, where historic disinvestment in the city's tree canopy has caused declines in community health and well-being. The case studies also touch on addressing a singular species like the northern red-bellied cooter, a group of species like arboreal mammals, and an entire ecosystem like the US Gulf Coast. Many of the articles touch on the co-benefits of acting for nature, and all highlight a science-based approach to their respective efforts.
In This Issue
There is a key difference between governmental and nongovernmental organization (NGO) actors for nature and the private sector. Fish and wildlife departments in the US and natural heritage agencies elsewhere, for example, are chartered to act for nature. NGOs and other civil society groups are driven by a mission to enhance the natural world — the corporate world is not. On the contrary, for-profit companies must satisfy shareholders and stakeholders. They must be in compliance with environmental, health, and safety regulations. They must meet budgets, address risks, secure their supply chain, and support their workforce.
When it comes to nature, much business action will be beyond compliance and done for reasons that support the bottom line but do not drive it. To overcome these conditions, as Sara Cook highlights in our first article, business must adopt a strategy for nature: aligning corporate ambitions with place-based action that is both stakeholder-informed and fully resourced. Cook provides examples from GM, Holcim, WM (formerly Lafarge), Owens Corning, CEMEX, and others that show the importance of developing a nature-based strategy, providing the toolkits to make it happen, and ensuring sustainability of engagement through management, monitoring, and intersections with community needs and priorities. By identifying these intersections, corporate nature action can deliver multiple co-benefits.
In our next article, Kate Mitchell illustrates this concept by introducing the Detroit Tree Equity Partnership (DTEP) led by DTE, the energy company that serves electricity to 2.2 million customers in Michigan. DTEP brought DTE and its partners together with a goal to plant 75,000 trees across the city, delivering co-benefits like training 300 Detroiters as urban foresters, storing 152,000 pounds of carbon, absorbing 303 million gallons of stormwater, and saving Detroit residents US $12 million in energy costs. 
Using locally sourced trees from Urban Farm Development Managers LLC and working with a local tree group, DTE is planning to plant for impact by installing trees along freeway corridors and areas known for blight. The placement is further informed by the City of Detroit's Planting Priority Index, which explores 15 factors (e.g., canopy inequity, traffic volume, asthma rates, and school locations) to ensure urban forestry investments are directed to the right places.
To support efforts like this across the country and beyond, the Wildlife Habitat Council (WHC) developed Across Fence Lines, a suite of products to inspire action and guide implementation of community-first efforts for forestry.3 As Mitchell states in her article, a major piece of the effort is getting the right trees and putting them in the right place. In other words, the partnership is informed by science.
Next, a group of authors from the Smithsonian Conservation Biology Institute explore the idea of science-informed nature action in more depth. Jessica L. Deichmann et al. use compelling case studies from the cutting edge of the Smithsonian's conservation research to show how problems that impact nature across the lifecycle of a development project can be solved.
Looking through the lens of development projects along the stages of planning, construction, operations, and closure, the Smithsonian article shows that scientific research, creative thinking, and supportive business partnerships can deliver effective solutions like tree bridges over pipelines to address habitat fragmentation in the Peruvian Amazon and data visualization tools to support adaptive management in restored ecosystems in the Andes Mountains. In each case study, the impact extends beyond science into policy, like the Peruvian government requesting tree bridges across all possible pipelines and the Smithsonian producing a white paper detailing waste management protocols in Gabon, Central Africa, to reduce human-elephant conflicts. Innovation, the authors point out, is an integral component of business models. Through the case studies presented, it's clear that innovation is also key to solving conservation challenges.
In an article far removed from Peru or Gabon, Christine J. Miller, Benjamin J. Langey, and Scott E. Bush take innovation to the broken places on planet Earth by showing the opportunities for collaboration when endangered species colonize ecosystems on contaminated lands. Brownfield sites are a classification of contaminated properties in the US; in many cases, their abandoned nature and relative inaccessibility create circumstances for adaptable species like the northern red-bellied cooter (an endangered turtle in Pennsylvania) to establish populations.
Protected status need not be an obstacle to development if stakeholders engage in honest dialogue and science supports proposed interventions. Remedial design that incorporates such nature on-site can deliver benefits such as enhanced water quality and increased community access. Overall, redevelopment projects are covered by a complex web of local, state, and federal regulations, and nature is rarely a key consideration, so early stakeholder intervention is essential, along with scientific monitoring before, during, and after development.
In the final article in this wide-ranging, action-oriented issue, Rob Campbell-Watt explores the Gulf Coast in Louisiana and highlights a different set of co-benefits resulting from restoring coastal wetlands. In this case, a restoration effort becomes a nature-based solution that in turn becomes a carbon offset, achieving a positive ROI.
Marshes, swamps, and other aquatic ecosystems contain a significant store of carbon, with coastal wetlands covering less than 2% of the total ocean but accounting for 50% of the carbon stored in ocean sediments. Add this to the importance of marshes and mangrove swamps for nature and for storm protection — and a strong business case for their restoration can be built.
Campbell-Watt lays out the reasons coastal restoration is a sound investment and shows how, with verification and measurement, the investment can turn a profit by being monetized as an offset. Offsets are a critical part of the climate mitigation equation and, when done properly to meet standards like those set out in the Oxford Offsetting Principles, they can have a measurable result on our global carbon budget.4 When they're done holistically, like in the approach outlined by Campbell-Watt, they deliver both for carbon and a nature positive future.
It's Time for Action
These two Amplify issues seek to highlight the need for business to incorporate nature positive ambitions and actions into corporate citizenship and sustainability portfolios. The Global Biodiversity Framework recently adopted by the Convention on Biological Diversity (CBD) at the 15th Conference for the Parties (COP15) for the first time suggests that businesses report and disclose nature-related risks and dependencies.
But risk reporting changes nothing without attendant action. This second issue of Amplify shows clearly that action can happen, supported by a robust body of scientific research and an enthusiastic cohort of passionate conservation. Connecting the dots from dependencies to delivery of positive biodiversity outcomes is what will move us toward a nature positive future. Action is key.
Nobel Peace Prize Laureate Wangari Maathai noted that "you don't need a diploma to plant a tree" to express how simple the act of nature restoration can be.5 Business can learn from this assertion, using science, planning tools, stakeholders, policy, and best practices like those described in this issue of Amplify to move easily from ambition to understanding and onward to action for nature.
References
1  O'Gorman, Margaret (ed.). "The Role of the Enterprise in a Nature Positive World, Part I." Amplify, Vol. 35, No. 11, 2022.  
2  Dinerstein, Eric, et al. "A Global Deal for Nature: Guiding Principles, Milestones, and Targets." Science Advances, Vol. 5, No. 4, 19 April 2019.
3  "WHC Across Fence Lines Initiative: Connecting Corporate America to Communities Through Public-Private Forestry." Wildlife Habitat Council (WHC), accessed December 2022.
4  Allen, Myles, et al. "The Oxford Principles for Net Zero Aligned Carbon Offsetting." University of Oxford, September 2020.
5  Maathai, Wangari. Unbowed: A Memoir. Anchor, 2007.