Sanofi's Move Toward Prescriptive Data Analytics
Posted April 1, 2022
| Industry | Technology | Amplify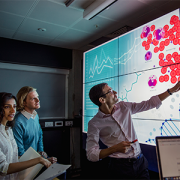 The authors relate how the data science team at Sanofi's Toronto, Canada, pharmaceutical manufacturing site moved from a reactive to a proactive operational mode to enhance data analytics and increase efficiency. They describe the prescriptive analytics solution they developed to significantly reduce reaction times when manufacturing issues occur. Their live data analytics engine accommodates various modeling approaches and performs additional data mining.
Not a Cutter Community Member?
Sign up today to read this and all other articles.