Transitions to Remote Everything with COVID-19
Posted May 7, 2020
| Leadership |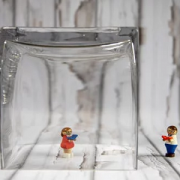 Many of us are still learning to cope with the juggling act that involves working from home and perhaps caring for children at the same time. Transitions can be challenging enough, but these changes have been forced upon us during this COVID-19 crisis. Thankfully, myriad technology solutions are already in place to support remote work. Many organizations, mine included (Houghton Mifflin Harcourt, or HMH), have implemented a 100% work-from-home (WFH) policy amid this crisis. In this Advisor, I share some of my thoughts about how the COVID-19 pandemic is going to fundamentally change the education industry, in particular, and offer some lessons learned for other industries as well.
At the Head of the Class
I recently heard someone use the term "crisis education," referring to educating students during times of crisis. Educators and parents alike are making radical shifts today in how they operate. Eric Gordon, CEO for the Cleveland Metropolitan School District, recently said, "I'm really worried that people think schools and colleges just flipped to digital and everything's fine and we can just return to normal. That's simply not the case." To think that everything is going to be just as it was before the crisis is not a healthy way to view the situation.
K-12 schools, colleges, and universities are all trying to address the COVID-19 crisis by having students do their work "online." This is neither a simple process nor merely a matter of technology. Most of us know that the technology needed to enable online/remote education exists, but it may not be easy for schools to implement. They must establish new processes, procedures, and even policies very quickly. Further, many educators are not necessarily trained in using those systems, much less in facilitating online learning. Instructors moving to teaching online versus traditional classes run the gamut of skill sets. The K-12 space has clearly been flipped on its head, and companies like HMH are doing their best to provide continued support to school districts and teachers across the US.
Certainly, the education landscape is going to look quite different in post-COVID-19 days. Many more schools will bring their programs and curriculums online and offer more hybrid, or fully online, courses. Even K-12 curriculums will be hosted more online rather than continuing the reliance on hard-copy textbooks. And some parents may opt to keep their children home after the lockdown ends. In Massachusetts, we are all still very much in a lockdown state. There is a great deal of pressure on parents here and elsewhere to educate their kids at home. More work needs to be done to keep the pressure on school districts to provide education to students, rather than relying on parents who are now working from home but may not be post-COVID-19.
Some Suggestions for Leaders
We are indeed physically isolated. However, this does not necessarily mean that we must be socially isolated as well. Tools like Skype, WebEx, FreeConferenceCall, Microsoft Teams, Slack, some of which are free, are keeping people connected via videoconferencing and texting. Indeed, the use and reliance of such collaboration tools has skyrocketed during the pandemic, while many people and organizations have had to figure out ways to make working remotely work. HMH's IT department, for example, enabled many employees who normally do not work from home to do so very quickly, provisioning more than 400 laptops in a matter of a couple weeks when the shutdowns began.
One fear that I repeatedly hear from leadership centers around employee engagement: the belief that when people are working from home, they are not as engaged as they would be onsite, and productivity suffers. When people at HMH began working remotely, this concerned some leadership team members as well, but they have come to realize that their WFH staff members are still very much engaged in work and with their colleagues. People are doing the best that they can given the current situation.
Another lesson we've learned is the importance of daily check-in meetings. There's no reason why any of us should feel disconnected from our teams while working remotely. At HMH, we have implemented some Agile practices, like "stand-up" meetings every day. These check-ins have been beneficial for our teams, allowing them to not only communicate with each other on work-related issues but also to hear each other's voices and see how people are doing on a personal level. It's an excellent way to stay connected. These meetings help people feel less isolated and disconnected. Even if your organization is not following Agile practices, make sure that every employee is checking in with a colleague or his or her manager once a day, or at least several times per week.
HMH has also implemented a COVID-19 pulse survey sent out every two weeks. The survey collects feedback from employees about how the company is responding to the crisis. Our leaders have clearly taken an interest and are using the feedback to adjust project work. Our CTO also holds weekly update meetings and shares positive things and accomplishments by the different teams. Among the many changes the leadership team has made are sharing team accomplishments, offering status updates on projects, and holding Q&A sessions about HMH's response to COVID-19. A couple recent examples of these sessions include questions about how much longer it might be before people can return to the office and how many staff members have received a confirmed diagnosis of COVID-19.
Getting feedback from employees about how the company is handling the crisis may be beneficial to your own teams. And daily stand-ups provide an opportunity for ensuring that everyone stays connected to the organization. The key is to help people feel less isolated in a very isolated world.