Toward Accelerated Value Delivery: 3 Pillars
Posted April 1, 2021 in
Business Agility & Software Engineering Excellence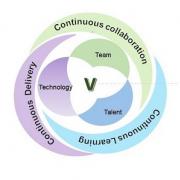 In times of dramatic change, such as during a pandemic, business models shift at incredible speed. This requires a complete transformation in the way software is delivered. Therefore, it's no surprise that organizations are looking for new ways to deliver value at high speed. Of course, this kind of transformation requires a fundamental change in how people work.
Agile is a cultural movement, and embracing the principles of value-oriented delivery is steeped in the Agile mindset. DevOps, in contrast, is a technology movement enabled by people with an Agile mindset. DevOps further enables the delivery of value by facilitating continuous development, integration, security, and deployment. Together, Agile and DevOps enable digital, which is about delivering value to the end customer. Even with Agile, DevOps, and digital, it takes people to make value-oriented delivery happen.
Figure 1 shows the key focus areas for accelerated value delivery in digital transformation. To successfully accelerate transformation, digital leaders must be tightly aligned in three pillars: 1) team (for continuous collaboration), 2) talent (for continuous learning), and 3) technology (for continuous delivery). In this Advisor, I provide insight into these three pillars and explore how to use each to support organizational transformation.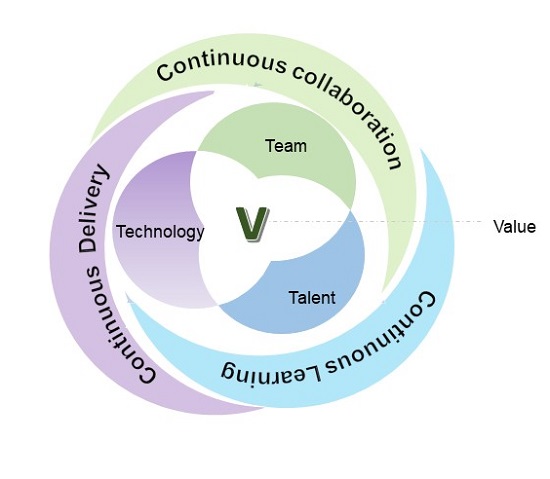 The Team: Continuous Collaboration
Continuous collaboration is at the heart of transformation, and emphasizing a team culture is the foundation for bringing people together. Establishing communities of practice (CoPs) breaks the silos that occur across teams, but it is also important to measure the outcome of sessions and meetups. To create a culture of fearless engineering, teams across the organization should be coached to collaborate, communicate, and contribute — the "3Cs." Leading organizations are moving toward a focus on inner source development, which requires the 3Cs. To cultivate inner source development and enable digital transformation, teams should be encouraged to participate in community contributions such as hackathons. They should also be coached on open source community adoption and, to help allay cultural anxiety, to:
Celebrate failures by learning from them

Be vulnerable by contributing toward community-based initiatives

Take risks through experimentation

Believe in team success rather than individual contributions

Trust others and mentor new entrants

Foster innovation through diversity of thought

Give and receive feedback
In addition to coaching, organizations must also provide a framework that measures the culture across the various dimensions of fearless engineering, and they should strongly incentivize teams that participate and contribute.
Ensuring teams' participation and engagement requires a team of leaders focused on driving fearless engineering adoption. Working closely with transformation leaders, some roles that can enable a team to drive fearless engineering adoption include:
Fearless engineering culture champion. Inspires ownership, collaboration, and high performance; enables psychological safety for teams.

Guild lead. Anchors the guild meetup, identifies the speakers, reviews the content, measures meetup outcomes.

Fearless engineering coach. Coaches the team during community activities, hackathons, and open source/inner source adoption.

Fearless engineering manager. Contributes to the themes and briefing content for guild meetups and hackathons.
The Team Transformation
Table 1 illustrates a sample of objectives and key results (OKRs) for team transformations. In practice, organizations should create as many OKRs as needed. To summarize the team transformation pillar:
The situation (why you need to focus on team transformation). Intervention implemented in one cross-functional team is not visible to teams across the organization.

The solution. Accelerate the information flow to reflect not only the team's culture but also the organization's culture. This is only possible through community building.

The value. Increases speed to delivery and maximizes the contribution to the community (both internal and external).
Table 1 — Snapshot of OKRs for team transformation.
| | |
| --- | --- |
| Objectives | Key results |
| Team culture | Establish CoPs |
|   | Identify interventions for reuse from monthly CoP meetups |
|   | Teams volunteering for hackathons |
|   | New ideas emerging from hackathons |
|   | Open source/inner source contributions |
The Talent — Continuous Learning
A growth mindset enables continuous learning that fosters mastery. Inculcating a growth mindset requires an approach that is deeply rooted in diversity, equity, and inclusivity. Organizations must establish a learning framework that covers both structured learning (academy-based) and innovative learning (acquired through continuous collaboration).
A configurable approach to a learning framework encompasses learning, training, and assessment and should include the following steps:
Establish a configurable skills-to-role-mapping framework that accommodates expiring, evolving, and emerging skills. Provide flexible options to create new roles.

Curriculum design (constantly revisited for new skills, internal training, and external training) should all be configured to accommodate the different levels of learning.

Assessments should evaluate employees across structured learning and innovative learning. Take advantage of industry-leading assessment tools, and consider a jury-based review across all learning dimensions for final certification.

Build an intelligent talent transformation platform to provide an end-to-end view of the talent transformation (Steps 1 through 3) across the organization.
A well-established learning framework will enable employees to continuously up-skill, cross-skill, and prepare for the future.
The Talent Transformation
Table 2 provides a snapshot of OKRs for talent transformations. As with team transformations, organizations should create as many OKRs as needed. To summarize the talent transformation pillar, I have outlined a common situation we have come across in transformation programs:
The situation (why you need to focus on talent transformation). The infrastructure manager in a data center is competent in full-stack development, but there is no incentive for him/her to move into a value-creation role.

The solution. Frequently scan for talent, building on next-generation roles to stay relevant and be ready for the future. Provide a structured approach for up-skilling and cross-skilling.

The value. New ways of talent redeployment reduce dependency on the external market. Employees in legacy roles will have equal opportunities to be deployed for value-creator/value-enabler roles. Thus, the employee happiness index improves and talent retention percentage increases.
Table 2 — Snapshot of OKRs for talent transformation.
| | |
| --- | --- |
| Objectives | Key results |
| Talent | Number of employees up-skilled per quarter |
|   | Number of employees cross-skilled per year |
|   | Talent redeployment percentage on next-generation roles per year |
|   | New curriculums designed per year |
|   | Percentage of decrease in market hire for value-creator and value-enabler roles |
The Technology — Continuous Delivery
Continuous value delivery is possible only by enabling a continuous delivery pipeline. The real value enabler in digital transformation is DevSecOps. Key questions associated with DevSecOps are essential for accelerating digital transformation and include:
How much of the waste in the software development lifecycle (SDLC) has been removed?

How can you reduce the risk of production release?

How much of automation has been enabled in end-to-end testing, security testing, and accessibility testing?

Do you have a digital wall of reference, where all the stakeholders in the organization can look at the speed of delivery across products?

How well is the technical debts list maintained?
Every quarter, engineering transformation leads should carry out a DevOps maturity assessment and flow of value assessment (assessing the non-value-added activities across the SDLC). The assessment results must be synthesized for new engineering interventions and reuse of engineering interventions. The assessment results should drive the sessions for CoPs, hackathons, and tech stories creation.
Engineering transformation leads across value streams work hand in hand with the fearless engineering leads to synthesize the assessment results. This is where the team transformation pillar links to the technology transformation pillar. Without talent, team and technology transformation will not be successful. The intertwining of team, talent, and technology thus drives the organization's value and digital transformation agendas.
The Technology Transformation
Table 3 provides a snapshot of OKRs for technology transformations. As with the other pillars, organizations should create as many OKRs as needed. To summarize the technology transformation pillar, I have outlined a common situation in transformation programs:
The situation (why focus on technology transformation). Static application security tests (SAST) are carried out in one part of the organization, and dynamic application security tests (DAST) are carried out in others. There are value streams where both SAST and DAST are happening. The inconsistent security process leads to unknown vulnerabilities that are exposed when the product hits the market.

The solution. Enable fearless security comprising intertwining security and software across the product development lifecycle. The DevSecOps pipeline must enforce security throughout the SDLC.

The value (what is the value). Increases organization credibility and reduces cost of delivery.
Table 3 — Snapshot of OKRs for technology transformation.
| | |
| --- | --- |
| Objectives | Key results |
| Technology | Cycle time reduction |
|   | Value creation |
|   | Ideas implemented per annum |
|   | Accelerator/assets created |
|   | Interventions implemented per quarter |
Conclusion
In this Advisor, I have explored how to unlock value across the three transformation pillars: team, talent, and technology. Keep in mind that an organization might have as many as 30-50 scrum teams contributing to digital transformation delivery, and it can take two quarters to settle on cross-functional collaboration. By setting a rhythm, an organization's culture champions can support progressive maturity across these transformation pillars.
[Disclaimer: The ideas expressed in this Advisor are based on the author's industry experience. Wipro does not subscribe to the substance, veracity, or truthfulness of said opinion.]