Transforming Banks with a Systems Engineering Approach
Posted June 7, 2023
| Technology |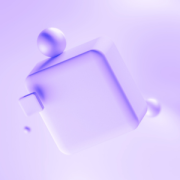 Banking was among the first industries shaped by IT, but following the digitization wave of the 1990s, many people expected traditional banks to disappear. Yet, basic banking functions changed very little — today's banks continue to provide transaction execution, pool resources, transfer economic resources, manage risk, and offer pricing information. Traditional banks have used digitization to improve their existing processes but have not undergone a digital transformation of the type that would create differentiation.
Today, problems stemming from this myopic approach are becoming apparent: we have only to look at the number of legacy IT systems being used by banks, not to mention applications that haven't been updated in years. Meanwhile, the fintech revolution has led to new products, and as customers spend more time on digital devices, they expect their financial institutions to have a strong mobile presence. Satisfying all these needs is a tall order, which is why banks need to take a much more systematic approach to digital transformation.
Banks have long used technology as a means to achieve their business goals. However, as digital technologies like cloud-service platforms, artificial intelligence, and distributed ledger gain momentum, a new level of digital agility and acuity is becoming necessary.
Currently, most of the digital transformation work taking place in banks is still managed heuristically. We argue that banks (and indeed companies in every industry) should instead pursue a systematic digital transformation using systems engineering principles.
Using this approach, banks can look at value creation in a more goal-oriented manner. This will allow them to successfully transform their business models by integrating stakeholder goals and technologies across an extended partner ecosystem. Of course, this methodology must be underpinned by management optimization concepts.
A Systems Engineering Perspective
A system-oriented management approach typically includes analysis, synthesis (integration), realization, execution, and evaluation. These steps follow each other chronologically in traditional waterfall models but are evolutionary in Agile models. When the pressure to innovate is high, a hybrid approach allows banks to proceed to the next iteration while downstream activities are designed and implemented for the current iteration and previous development iterations are validated.
Hence, stakeholder requirements are translated into goals, activities, and system requirements and passed to parallel product and technology development. System verification, validation, and deployment of previously developed artifacts take place simultaneously.
This type of implementation leads to new organizational structures that are stronger and more stable. As shown in Figure 1, successful digital strategy requires an interplay of analysis, synthesis, and realization, plus a feedback loop from execution and evaluation to reanalysis and resynthesis. In volatile digital environments, these cycles can happen quickly, but they should always include all steps.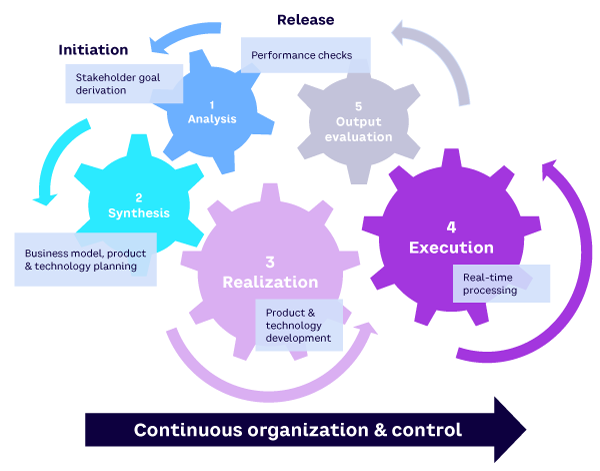 As we see in Figure 1, each activity begins with needs assessment and goal setting (analysis). It then moves into objective structuring (synthesis), product and technology development (realization), and continuous execution and output evaluation. The five steps are very closely linked; imagine gears moving back and forth between each stage. In particular, synthesis and realization are very closely intertwined; they should take place mostly in parallel. 
[For more details on each of the five steps, see: "A Practical Guide for the Digital Transformation of Traditional Banks."]