Trends in the Automotive & Mobility Industries — Opening Statement
Posted September 20, 2022
| Industry | Amplify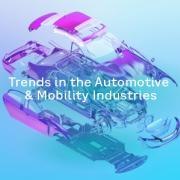 AMPLIFY  VOL. 35, NO. 8
  
The automotive industry suffered significant sales losses during the COVID-19 pandemic, and its manufacturing supply chain is still recovering. All told, this is perhaps the greatest crisis the industry has ever faced. At the same time, the pace of innovation in both the automotive and mobility sectors has accelerated — and new business models have emerged.
Decarbonization, digitalization, and the reshaping of the global supplier and automotive market has disrupted the industry like never before, giving rise to a climate of renewed innovation. Creating a competitive advantage requires businesses to reimagine and/or differentiate themselves — adopting new digital business models, collaborating with partners in redefined ecosystems, leveraging customer data, and implementing sustainable practices and solutions.
In particular, innovation has been driven by a popular demand for more sustainable and climate-friendly technologies. Cars have run on fossil fuels since their invention and have shaped the face of our cities and transport infrastructure for decades, not to mention our social behaviors.
Today, vehicles are not just transitioning to electric power; the very nature of car ownership is changing. For instance, an ever-increasing number of people are turning away from individual car–based mobility in urban environments. In fact, the "peak car" concept — where private car usage is at its peak and now spiraling downward — is in full effect in the Western world, and the industry needs to respond robustly to this development.
Alternatives to privately-owned vehicles and transportation are becoming more widely available, meeting consumer needs for accessibility, convenience, and affordability. Mobility-as-a-Service (MaaS) platforms, in particular, such as on-demand ride services, ride/car sharing, and autonomous vehicles (AVs) like robo-taxis not only benefit consumers and the environment, but are providing opportunities for industry newcomers with innovative mobility payment systems and apps to facilitate these services.
It is becoming very clear that, with growing populations and urbanization around the world, both the automotive and mobility sectors must find new ways to prevent the collapse of traffic and transport ecosystems. Manufacturers and service providers should enter into new, cross-industry partnerships and be open to changes in business models — for example, managing the shift away from hardware sales to hardware operation and/or services.
For mobility and automotive players, this is a period of major structural change. Huge investments in transformation are required, which will inevitably coincide with a decline in revenue for some players. This will cause some businesses to exit while new ones emerge.
In This Issue
Cutter Fellow Robert Charette starts us off with an in-depth look at the electric vehicle (EV) market in the next decade. Currently, automakers are focused on dethroning Tesla, which disrupted the auto ecosystem with its skateboard battery and advanced autonomous driving capabilities. Where charging will take place and how the world can produce enough EV batteries are major considerations in this initial skirmish. But the real battle begins around 2025, when EV makers shift their focus to production efficiencies and lifecycle sustainability as they battle against ICE vehicles for market share. Around 2030, the winners will emerge into a world of new technological competitive threats: billions of dollars will have been spent on battery technology, automated driving capabilities, and alternative fuels. Not to mention that convincing families to buy two EVs (instead of one EV and one ICE) will require designing affordable EVs that meet a range of family, work, and leisure needs.
Next, we shift gears to focus on MaaS. Arthur D. Little authors Olivier Pilot, Francois-Joseph Van Audenhove, and Mickael Tauvel have been studying the reasons traditional approaches to MaaS have failed (i.e., a failure to take all stakeholders into account), and they offer a model for a mature, value-creating MaaS initiative. It starts with digitally enabling organizational authorities to manage multi-modal mobility and connect users' digital experience (e.g., account management and trip planning) with physical access. As the authors suggest, account-based ticketing is key to this transition, decoupling a MaaS user account from the mobility-access device; simplifying account management; and allowing sophisticated, multi-modal back-end fare rules. They also argue for moving beyond the traditional plan-book/ticket-pay approach in favor of know-and-go, in which users know what they need to know about their journey when they need to know it and can go without worrying about mobility access, fare, or journey alternatives.
Our third article takes us back to vehicles, this time autonomous ones. Cutter Expert San Murugesan says now is the time to examine the potential effect of autonomous vehicles on climate change so we can take appropriate steps before widespread adoption is upon us. We need to examine the potential positive and negative environmental impacts of AVs, look at whether they can help reduce the transport sector's carbon emissions, and consider how we can minimize their carbon footprint as they become mainstream. After explaining the six levels of automation as defined by SAE International, Murugesan describes several potential AV benefits, including fewer road accidents, making elderly populations more mobile, and solving the last-mile-delivery dilemma with autonomous trucks. After a careful examination of the possible environmental impact of AVs, he offers recommendations for creating an autonomous future that will not only be safer and more convenient, but also better for the environment.
Next, returning contributor Ralph Menzano takes us on a fascinating journey into the world of smartphone-based tolling — a way to increase road-based revenue, help cities control peak-time congestion, and (at long last) enforce  high-occupancy vehicle (HOV) lane use. Next-gen toll systems not only cost less than RFID-based ones, but have the potential to reduce the number of cars on the road, replace gas-tax revenue lost due to EVs, and provide a mountain of information to transit authorities to help them better manage traffic. Menzano offers a success story from a pilot program in Texas, USA; looks at how the US has fared against Europe and Asia in tolling; and helps us understand why much of the world is looking to the US for leadership in usage-based road pricing for light vehicles.
Our final article is from Cutter Expert Curt Hall, who explains how machine vision systems using machine learning (ML) and other artificial intelligence techniques are gradually spreading from use in large auto manufacturers to being incorporated in aftermarket businesses. Increased accuracy of ML-based cameras, edge computing systems, machine vision startups targeting the market, and MaaS are all driving the expansion. One main area of use, Hall explains, is in camera-based robotic systems to automate basic maintenance operations like tire changing. Another area is automated vehicle inspection that can be used by repair shops, dealership service departments, online vehicle marketplaces and auction sites, and auto parts recyclers. Hall says the trend is just getting under way, so we'll see a steady rise in the use of these systems in the near future.
The changing face of the automotive and mobility industries is thrilling, but the challenges are many. To stay in the game, business leaders must be willing to invest heavily in R&D while keeping in mind fluctuating consumer behaviors, emissions compliance, security and privacy concerns, supply chain shortages, and more.