Unlock Value and Create Competitive Advantage with Sustainability
Posted December 8, 2021
| Sustainability | Amplify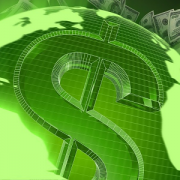 As we explore in this Advisor, there are tangible benefits to basing corporate purpose on sustainability drivers, and sustainable business models are gaining pace. Therefore, businesses should rethink their role in the context in which they operate and adapt their strategy, organization, resources, processes, and culture accordingly.
Doing Good, Doing Well
A sustainability goal can be the lever to unlock new sources for business differentiation and value creation, helping to:
Develop new sustainable products, services, and business models and accelerating the transition toward long-term value creation for all categories of stakeholders

Refocus current product/service portfolios toward faster-growing sustainable products, which typically have lower risk profiles and higher long-term remuneration
These approaches can be deployed both in reshaping business for existing corporations (e.g., Enel, which in 2015 adopted a sustainable business model, seizing opportunities related to decarbonization and electrification trends) or creating new business based on sustainability purposes (e.g., Seventh Generation or A Good Company). There are tangible benefits in basing organizations' activities on sustainability drivers.
Better Financial Performances
Investors are rewarding companies with better sustainability performances, underpinned by a growing trend of indexed climate change–related thematic investing. Players of the "old economy" are being left behind by the "new sustainable economy."
Risks Prevention
A proper risk management system is an essential tool in driving innovation and value creation. Corporations that truly embed sustainability principles into their strategy can integrate advanced methodologies into daily operations, thus allowing for timely identification of risks and the ability to address risks in a consistent manner across the organization. Good sustainability practices further protect organizations from cases where insurers have used ESG criteria to refuse insurance coverage. A recent example is AXA, which is dropping German energy company RWE over its coal operations.
Talent Attraction, Engagement & Retention
Talent management is a key factor for success, impacting the bottom line — due to hiring costs and loss of efficiency — as well as the top line — boosting innovation processes and supporting required transformational changes. Millennials and members of Generation Z highly value meaning in their work and are attracted and kept by organizations that demonstrate a sustainable purpose at the core of their business.
Attracting Investments
Sustainable finance has grown rapidly over the past decade, as an increasing number of institutional investors and funds have created different investment forms incorporating ESG investing criteria. The Organisation for Economic Co-operation and Development estimates that the value of professionally managed portfolios integrating key elements of ESG assessments exceeds US $17.5 trillion globally. Investment firms such as BlackRock already have made sustainability a core goal of their investment decisions, and soon all commercial banks will need to judge whether a company's ESG performance is good enough.
Awareness is rapidly changing, and I believe we are on the edge of a fundamental reshaping of finance. The evidence on climate risk is compelling investors to reassess core assumptions about modern finance.… In the near future — and sooner than most anticipate — there will be a significant reallocation of capital.

— BlackRock CEO Larry Fink's 2020 letter to CEOs
Opportunities from COVID Recovery Plans
In addition to the benefits we've highlighted so far, the unprecedented amount of government expenditures to support economy recovery is an occasion to leave business-as-usual unsustainable investment plans and to focus resources on fighting global social and environmental emergencies.
Sustainability for Competitive Advantage
Tackling sustainability concerns creates opportunities for long-term competitive advantage for companies willing to rethink their purpose and to create value for the society they operate in and for their stakeholders. There are already many mature circular businesses, and some may represent the new way of doing business in place of old corporations.
Benefit Corporations & Benefit Companies
A benefit corporation (B Corp) is an organization that wants to make a profit while simultaneously addressing social, economic, and environmental needs. Being a B Corp is a way to rethink business, implementing a "B economy" — a global movement of people using business as a mean to compete to be best for the world and the people living in it. Many companies, including large ones, are joining the B Corp movement, both as certified B Corps and through other accessible options to be like a B Corp.
A benefit company (BC) is a legal structure for a business, empowered to pursue positive stakeholder impact alongside profit. Some companies are both certified B Corps and BCs, with the BC structure fulfilling legal accountability requirements of B Corp certification. BCs are regulated by laws in Italy, 36 US states, Colombia, Ecuador, British Columbia (Canada), and France, while legislation is moving forward in Australia, Argentina, Chile, and Canada. These laws usually define a "common benefit" as the creation of positive effects (or reduction of negative ones) for individuals, communities, environment, cultural heritage, entities and associations, or other stakeholders.
Circular Ecosystems
The current global economic model is causing an unsustainable depletion of resources and missing significant economic opportunities that are possible by adopting approaches based on circular production and end-of-life management. To address these concerns, circular ecosystems were developed to turn "make" processes into a circular loop and decrease waste. Adoption of a circular economy model has proven to have benefits to any entity pursuing it, including financial and socioeconomic ones. Several examples of circular ecosystems are found in the refining, chemicals, and furniture sectors.
3 Steps Toward New Sustainable Mindset
Corporations must rethink their mission and role in the context they operate in and define new operating modalities and mechanisms. This positive rethinking process requires a new mindset that can be deployed into a three-step approach: anticipate, innovate, and transform (see Figure 1).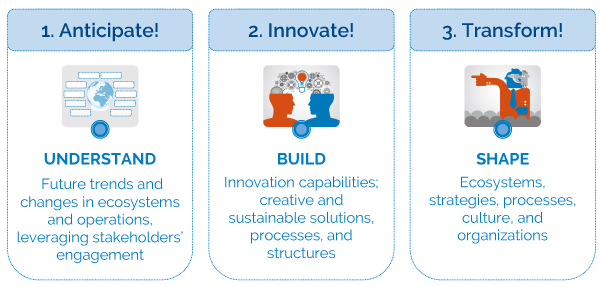 [For more from the authors on this topic, see: "Opportunity to Rethink Role for Sustainable Future."]