Women in Leadership: Challenges and Expectations
Posted May 13, 2021
| Sustainability | Leadership |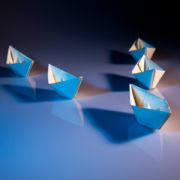 In this interview, transformational coach Areej Khataybih offers a psychological perspective on women leaders and what contributes to their success and their challenges. She highlights the challenges that come from internal obstacles and beliefs of not being good enough and the battle of competing with male counterparts and, in the process, denying women's full selves, the emotional and the logical.
Not a Cutter Community Member?
Register today to read select open-access articles.