World Environment Day 2022: Protecting Earth for Better Living and Progress
Posted June 1, 2022
| Sustainability |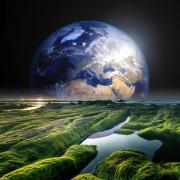 The environment is everything for everything — people's livelihood, business and industry, species, and nature. So, we need to protect and improve our environment.
5 June is World Environment Day, held annually since 1974. Each year, World Environment Day takes on a theme that focuses on a pressing environmental concern, and this year's theme is "Only One Earth." This theme reinforces the need and possibilities for embracing more sustainable, greener lifestyles. It also focuses on "living sustainably in harmony with nature." Each year, a host country is chosen to represent the day, and this year's host is Sweden. Led by the United Nations Environment Programme (UNEP), World Environment Day motivates and inspires us to look at our world through a more environmentally conscious lens and to protect it from the worsening climate degradation.
Regrettably, our environment is at risk. Evidence of climate change is all around us — devastating wildfires, stronger hurricanes, intense heatwaves, severe cold waves, dreadful snowstorms, major floods, unseasonal rains, rising sea levels, and more. Climate change is a global societal crisis. It wreaks havoc across the world, threatening lives, the economy, health, and food availability. UN Secretary-General António Guterres calls it "a code red for humanity." Despite some ongoing mitigation efforts, greenhouse gas (GHG) emissions continue to rise. To limit global temperature rise to below 2°C, we must cut 30 gigatons of GHG emissions annually by 2030. While progress is being made toward meeting this goal, it is insufficient and we need to step up our efforts.
Every industry, every country, and every one of us can be — and should be — part of the solution rather than being a contributor to the ongoing problem we face. In this Advisor, we look at the potential impact of the climate crisis and identify promising options that we have to address the worsening environmental problem.
Environmental Crisis and the Need to Tackle It
As we can very well recognize and realize, climate catastrophe continues to ravage our planet. There is no denying that climate change is a humanitarian crisis.
The UN Global Assessment Report on Disaster Risk Reduction warns of catastrophic climate risks and outlines ways we can mitigate the risks. It also emphasizes that we need to incorporate and address disaster risk in how we live, build, and invest.
As climate change makes extreme heat waves and harsh monsoons more common, the human and economic costs will rise steeply and result in a loss of work hours. For instance, according to a December 2021 study published in the science journal Nature, India stands to lose over 100 billion work hours every year if heat waves persist. This year, farmers in India were forced to harvest their crops early because of the high temperatures they encountered, and got, in some cases, only less than half of a good crop year's produce.
Climate change is also disrupting the global supply chain as extreme weather is increasingly interrupting the functioning of ports, highways, and factories — as well as damaging them. It's expected to get worse, and we need to address the problems.
The effects of climate change are expected to cut off 11%-14% of global economic output by 2050 compared with growth levels without climate change, according to a report from Swiss Re. This translates to US $23 trillion annually in reduced global economic output. The climate crisis also has serious health consequences, warns the World Health Organization in its recent COP24 Special Report. Surprisingly and worryingly, inflation and climate change are linked, and to fully tackle inflation, we must also address environmental degradation.
So, it's high time to address our environmental problems. As a new UN report warns, if the climate crisis is not addressed now, the future will increasingly be a disaster zone and humankind will be stuck in a "spiral of self-destruction." 
We're on the Right Path: Transitioning from Awareness to Action
Public climate concern, particularly among youngsters, is high. For instance, driven by 2021's extreme heat, wildfires, hurricanes, and floods, there has been a remarkable increase in the American public's understanding and concern about climate change.
We're, however, on the right path, transitioning from just being aware of the climate problems to addressing them.
Feeling the pressure, internally and externally, companies have begun to address the environmental impact of their operations and adopt environmentally sustainable practices. In a recent Advisor, Cutter Expert Curt Hall outlines some of the key areas and projects where organizations are focusing their carbon reduction and other environmental sustainability initiatives.
Supply chain sustainability is gaining increased corporate and government interests. Major international companies have begun to adopt environmentally sustainable operations throughout their entire supply chain. For instance, General Motors (GM) is asking its global suppliers to sign a pledge for carbon neutrality and implementation of sustainable procurement practices in their supply chain. Many of its suppliers such as Bosch have already set their own carbon-neutrality targets, and others, such as Magna International Corporation, are aiming for carbon neutrality in European operations by 2025 and globally by 2030. Suppliers that constitute more than half of GM's direct material annual purchase value signed the pledge last year.
A recent World Economic Forum white paper outlines regulatory developments in supply chain sustainability, ranging from international guidelines and free-trade agreements to national laws and financial disclosure requirements. It highlights corporate trends and challenges in delivering sustainable supply chains and perspectives on government actions to support this agenda.
Interest in the development and adoption of green technologies, also called "clean technologies," is growing. Green technology refers to products, processes, applications, and practices that are created and used to conserve natural resources and the environment. The global green technology and sustainability market is expected to grow at a significant CAGR of 27.2% by 2029.
To bring clean-burning fuel into the mainstream, the US Energy Department is supporting a project to create the world's largest hydrogen production and storage facility in Utah for Delta Airlines with $504.4 million in debt financing.
On a positive note, on the demand side, we see consumer attitude driving sustainability initiatives. Gen Z is willing to pay more for a product if the brand or retailer promotes environmental initiatives. Their interest in sustainability is influencing everything — the emergence of recycled clothing, bans on single-use plastics, and a push for shared resources, to name a few.
Much More to Do
Despite the growing awareness of the climate crisis and its impact, and pressing calls to address the worsening environmental problems, the real progress in addressing the crisis in practice is far from satisfactory. We need to do much more. We can — and we must —address the challenge in multiple ways, both collectively and individually. Everyone — businesses, governments, researchers, scientists, professionals, investors, politicians, and individuals — has a role to play.
As outlined in last year's Executive Report, "Greening IT: Need & Opportunities," we can — and should — exploit the power of IT in innovative ways to address mounting environmental problems and also make our IT systems, and their use, greener. Green IT is not just about creating energy‐efficient, low-carbon footprint IT systems, though this is an important component. It is also about the application of IT to create energy‐efficient, environmentally sustainable business processes and practices.
We can embrace artificial intelligence, the Internet of Things (IoT), digital twins, drones, robots, cloud computing, data science, and distributed ledger technology to address climate change and create a greener planet. Researchers are developing smart materials, next-gen batteries, autonomous vehicles, carbon capture and storage (also known as carbon sequestration), hydrogen-powered fuel cells, precision agriculture, and 4D printing that developers and industry can embrace in the coming years to address environmental problems.
For instance, as I outlined in an Amplify article, IoT can address sustainability in several ways such as making energy systems more connected, improving their operational efficiency, and reducing the carbon intensity of buildings, manufact­uring, and transportation. IoT can also lower energy consumption through smart operations and improve resource utilization.
We need to accelerate the development and deployment of tech-enabled solutions to address environmental problems caused by several sectors of our society: energy, agriculture, industry, health, transport and logistics, supply chain management, smart cities, and others.
Aided by technology-led creative business model transformations, businesses can facilitate growth while meeting their sustainability goals. Organizations need to reposition and transform to survive and succeed in the new era of sustainability.
Though information and other technologies leave their environmental footprint, they are often small compared to their positive contribution toward creating a green planet. IT solutions can help cut nearly 10 times more CO2 than they emit, according to an estimate by the Global e-Sustainability Initiative. Nevertheless, as outlined in the Report, we can, and should, reduce technology's environmental impact.
Furthermore, we need to devise measures and systems that improve our ability to measure, analyze, or take decisive action on carbon emissions. We also have to reduce the volume of and demand for materials that create the biggest waste footprint and encourage and incentivize reuse, repair, and recycle options.
Decarbonization, Cleantech, and Climate Politics
The quest to decarbonize the environment by 2050 and limit global warming to 1.5 to 2°C above pre-industrial levels is making a sizable shift in investment toward "cleantech" and "sustainable investment" options. Achieving this goal will, however, require at least $4 trillion of annual spending on the development and deployment of cleantech by the year 2030.
But despite the need to decarbonize, geopolitics will continue to influence the behavior of state and non-state actors. Climate politics will drive "how and where cleantech is developed, produced, traded, and how it will be leveraged as a political and economic tool." A recent Hinrich Foundation report outlines the impact of climate politics in three key areas: infrastructure geopolitics, carbon-related market dynamics, and rule frameworks.
Charting a New Direction: Coping with Environmental Change
Besides trying to address climate change by minimizing carbon emissions and also absorbing carbon dioxide in the atmosphere through several measures, we must also now work toward coping with the environmental impacts that can't be addressed or minimized further. Recently, some work had begun in this direction, and there is more to come.
For example, we have begun to use our knowledge of DNA and biology to craft food sources that survive at higher temperatures and use less water. We could use CRISPR gene editing, a genetic engineering technique by which the genomes of living organisms can be modified, to tackle climate change. A similar process could be used to allow living organisms in soil or water to store more carbon dioxide as well. Scientists at the University of California Berkeley are attempting to modify the genetics of rice to be more resistant to droughts and emit fewer GHGs. Though realizations and adoption of these ideas are further away, they could have a significant broader impact.
We also need to plan for potentially massive migration from areas that are becoming uninhabitable. Extreme weather events linked to global warming are forcing tens of millions of people from their homes every year. At present, there are three times more "climate refugees" than people forced to flee due to armed conflict, and their number is forecast to top 200 million by 2050.
Parting Thoughts
If we don't care about our environment and the sustainable future of our planet, then who will? What we do in the next 10 years to address climate change and enhance environmental sustainability will determine how well the planet will remain fit for human habitation.
Transformative change will only happen if the wider enabling conditions, such as mindset, strategy, technology, policy, financial and other forms of support, and collaborative efforts are in place. To change course, new approaches are needed. (For more on this, see Cutter's two-part Amplify series on defining systems change in sustainable business.)
World Environment Day is meant to remind us of the need to protect and improve our environment. Protecting the environment is not a one-day affair; it calls for prolonged action. So, by recognizing every day as an environment day, let's create a sustainable environment and a greener future by doing what we can, individually and collectively, by innovating and embracing technology and sustainable environmental practices.