Execute strategy and drive change with business architecture.
Today's business leaders are charged with creating a bespoke strategic vision that helps their organization compete in the digital economy. Whether the goal is to double the focus on core markets, expand into new product areas, acquire smaller manufacturers, improve customer service, or compete using some other strategy, achieving this new vision requires change—and change is particularly challenging when it comes to tools, platforms, applications, and architecture.

How can business architecture help execute strategic vision? This two-day workshop led by Cutter Consortium Senior Consultant Brian Cameron explores the ways you can structure your business architecture practice and thinking to effectively facilitate strategy execution.
Learn how to create a sound business architecture that helps everyone better understand your organization's business and operating model. Discover how to identify the business capabilities that are required to support the business as well as how to measure and demonstrate the value of business architecture as a facilitator of business strategy execution. Understand the impact of BA on technology, people, processes and information.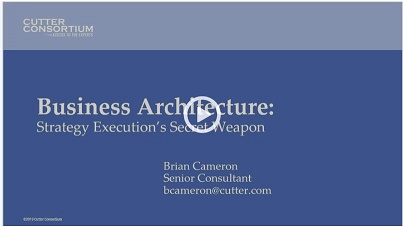 "Organizations leverage business architecture not only to articulate their business strategy, but also to create guidance that drives business and IT execution toward that future-state vision."

—Brian Cameron, Senior Consultant, Cutter Consortium
Your BA practitioners will learn how to:
Guide business leaders on how to articulate and communicate their business strategies and corporate vision
Engage with business leaders (including strategic planning) early in the planning life cycle
Adopt a combination of techniques, tools, and practices to develop diagnostic and actionable deliverables that address BA's critical business and IT leadership questions
Create a capability map that identifies capabilities that provide market differentiation
Collaborate and integrate with other business and IT disciplines, including business process management, strategy planning, application architecture and portfolio management
Create a marketplace for innovation and new ideas
Develop metrics that make sense for your organization and provide the most "value" for the effort required
Know where you are, where you want to be, and your desired end goal. Bring the Propel Your Strategic Vision with Business Architecture workshop to your organization today!
What's Next?
For more details on how Cutter can help your organization execute strategy and drive change with business architecture, complete the form below, send an email to your Cutter Account Executive, or call +1 781 648 8700.