January 20, 2016 — Arlington, Massachusetts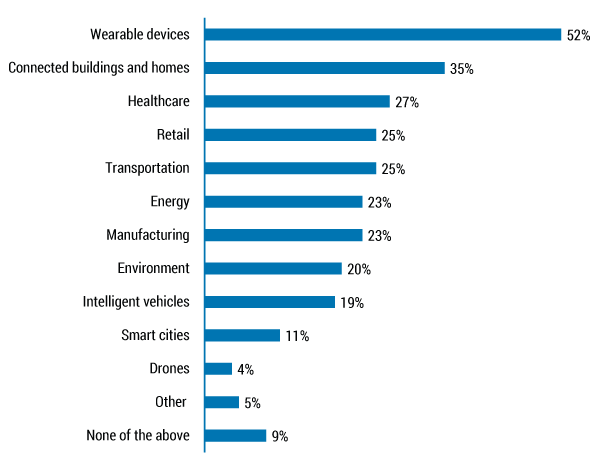 The IoT applications and devices that organizations are currently most interested in are wearable devices like smartwatches (Apple Watch, Samsung Gear, etc.), activity/fitness trackers (Fitbit, Misfit, etc.), and smart badges (for location tracking and security), according to a recent study by Cutter Consortium.
According to Cutter Senior Consultant Curt Hall, who wrote and analyzed the study, "More than half of respondents believe wearables hold the most promise for their organization. This makes sense because wearables are a technology we can apply across multiple categories, ranging from healthcare and fitness to manufacturing, energy and retail.
"An up-and-coming area for wearables development is textile sensors, which developers are embedding within the fabric of clothing to create 'smart fabrics' and 'smart clothing' that can function as biometric, data-gathering devices. Examples include shirts, sports bras, smart socks, and shoes, among other items. Such garments capture and relay heart rate, activity, running form, fitness levels, and more. Some very innovative clothing designed for consumer fitness, healthcare, business, sports, military, and other uses in this hot application area are hitting today's market."
For analysis on the other categories of IoT connected products/solutions that show promise for organizations, see "The Internet of Things, Part IV: The Most Promising Connected Devices and Applications" Data Analytics & Digital Technologies Executive Update, Vol. 15, No. 23.