Special Offer from Cutter Consortium
Drones: Enterprise Mission Ready
by Helen Pukszta
In this article, Helen Pukszta outlines several potential enterprise applications of drones in different industry sectors with illustrative realworld examples. She briefly highlights how Part 107 of Chapter 14 of the US Code of Federal Regulations redefines commercial drone use and the risks drones pose. Pukszta also discusses the challenges and limitations of today's drones and how those concerns are being addressed. The barriers to employing drones for business are quickly melting away, and it's time to pursue the opportunities that drones present, she advises.
Download your complimentary copy of Drones: Enterprise Mission Ready when you fill out our special offer form below.
Already a Cutter client? Read it now.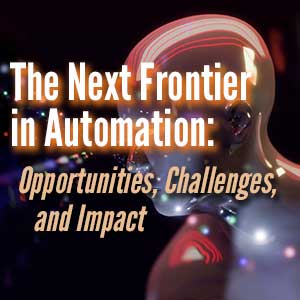 Drones: Enterprise Mission Ready is one of eight articles in the report, The Next Frontier in Automation: Opportunities, Challenges, and Impact. Click here for more information. Use Coupon Code AUTO20 to Save 20%.
Don't miss another issue — subscribe to the monthly Cutter Business Technology Journal today!