January 13, 2015 — Arlington, Massachusetts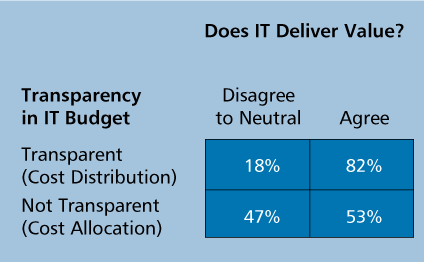 Cutter's annual IT Budget survey has for nine years looked at how IT organizations allocate cost. According to author Bob Benson, business unit managers lacking a view into or control of IT costs may see IT as "'much less important a factor in how I manage my business.' (As an aside, this may also explain why enterprises obtain so much IT outside of the IT organization.)"
As a result, "transparency, in the form of how enterprises structure the IT budget, makes a difference in how business unit managers perceive the value of IT delivered to them. Those for whom costs are transparent (i.e., offering them the ability to manage their IT exposures) believe they are receiving IT value."
Benson continues, "It is important that IT organizations are transparent with their users, in general, and with business unit managers, in particular. Cost represents decisions about IT and reflects how well the IT organization matches its activities to business requirements. If business unit managers don't know cost (e.g., with budget and cost transparency), they are limited in their ability to manage their IT and, consequently, in their views of IT's value to them."
* Excerpted from "I'll Say It Again: The IT Budget Matters!," (
) Cutter Benchmark Review, Vol. 14, No. 3