July 28, 2015 — Arlington, Massachusetts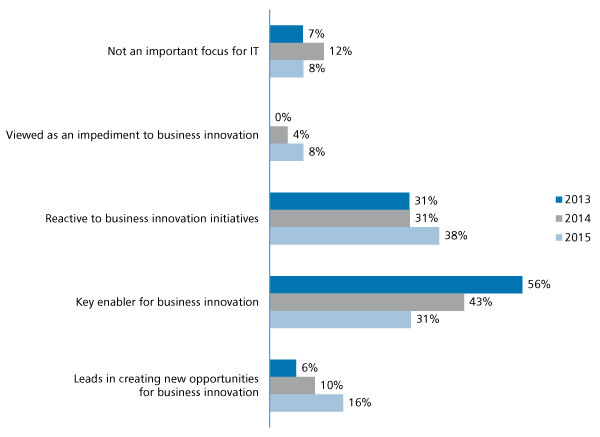 The number of respondents that see IT as a key or leading enabler for business innovation has dropped -- from 53% last year to 47% this year (see Graph 1). If we go two years back, the drop is even greater. In 2013, 62% regarded IT as a key or leading enabler of business opportunity. According to Jim Love, "This steady decline -- and a belief that runs counter to what we know -- is of growing importance. In fact, the sad news is that more and more companies see IT as "reactive" (38% this year versus 31% last year) or, worse, perceive it as an actual "impediment" (8% this year versus 4% last year)."
Love continues, "No matter how you stack it, these numbers are moving in the wrong direction. After all the talk about alignment and becoming a more strategic player, IT may indeed be less and less aligned with business and regarded as less strategic. I would love to report these findings as a strange anomaly that runs counter to my experience, but in other research I have done and participated in, the same trend emerges. Despite years of work, we in IT appear to be losing the race."
* Excerpted from "Can You Hear That Soft Alarm? Challenges Loom," (

) Cutter Benchmark Review, Vol. 15, No. 1