10 Key Skills Architects Must Have to Deliver Value
Posted September 30, 2008 in
Business & Enterprise Architecture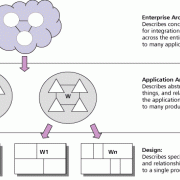 As the complexity of IT grows, more and more organizations are realizing the need for architecture. But the definition of what architecture is, the titles that architects have, and the role of an architect vary widely from one organization to another. Business, IT, management, and even architects don't necessarily know what a good architect does to add value in his or her organization. This Executive Report by Michael Rosen discusses the role of the architect and describes 10 activities that architects should perform to add value to projects.
It seems that nobody knows what an architect does. In this Executive Report, we look at this issue from two different angles. First, we look at common architectural titles and roles and describe what responsibilities we typically see associated with those roles across the industry. Then, we look at the skills that all architects have in common and describe 10 things that every architect can do to add value to his or her organization. (Not a client? Download your complimentary copy of this report here.)
Not a member?
Gain Access to the Cutter Experts today —
register now to read select open-access articles.