3 Strategies to Help Tech Firms Navigate Geopolitical Storms
Posted September 13, 2023
| Technology |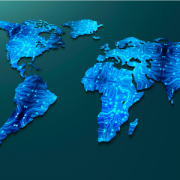 The resurgence of export controls and industrial policy presents technology firms with the pressing question of how to navigate the treacherous geopolitics of today's international business. US technology firms, including electronic design automation toolmakers and artificial intelligence chip vendors, must be concerned about losing out on large markets, particularly China, through effective and onerous export controls. There are three main strategies companies can try to avoid being damaged in these geopolitical storms: lobbying, bandwagoning, and corporate de-risking.
Many firms have lobbied for looser export controls and other new geopolitical constraints on trade. For example, Nvidia President Jensen Huang has complained vociferously about export controls even though they have yet to negatively impact his firm's performance. He may simply be anticipating future controls that would constrain his commercial opportunities.
Other semiconductor firms affected by the new policies have tried to do the same in less public ways. Unfortunately for them, there is little evidence of gains, especially under the Biden administration, which exhibits far more strategic coherence than the previous administration. What goes for US firms is even more true for foreign firms. Huawei has unsuccessfully lobbied the US government almost continually since 2019. In areas with plausible direct and indirect large national security implications, the US government and certain allies have continued to move toward ever tougher export controls.
The new reality is not all gloom and doom, however. As the EU, Japan, and the US reinvigorate their domestic semiconductor industries, Korea and Taiwan have doubled down on their support for their large chip industries, and India has decided to jump into the chip game. Thus, US chipmaking firms and many others may find opportunities in markets easier to operate in than China. In fact, bandwagoning with governments in support of the proactive industrial policies outside China helps shift market demand to safer geopolitical countries for multinationals headquartered in the US or one of its allies. Similarly, the wisest choice for Chinese firms is to move into closer alignment with the Chinese state. Huawei has embraced new markets with significant Chinese state procurement because the Chinese state wants to support Huawei, especially now that it is under attack by foreign governments.
Corporate de-risking dovetails nicely with bandwagoning. As US multinationals (and others) see the risk of relying too much on Chinese demand and operations increase, they will embrace initiatives that enhance demand and operations outside of China. They may also de-risk by moving operations outside the US to the extent possible, given the lure of bandwagoning with US industrial policies.
For example, China moved against Micron in retaliation for US export controls on Chinese chipmakers, so Micron took advantage of Indian subsidies to expand operations in India even as it tries to convey to the Chinese government that it is a good corporate contributor to China by announcing future investments there. Intel exited manufacturing in China by selling its plant to SK Hynix at the same time it squeezed another US $3 billion in subsidies from the German government and announced new investments in Israel. These moves allowed Intel to achieve a larger operational footprint in non-Chinese and non-US locations.
Some policymakers and pundits may view these strategies as violating the ideals of economic efficiency. But new geopolitical realities dictate more corporate flexibility in pursuing healthy bottom lines. Maximizing operational efficiency and market presence in strategic markets was a smart way to sustain profitability in the world of peak globalization. Today, ignoring the heightened risks of operational efficiency and strategic market presence will have the opposite effect.
[For more from the author on this topic, see: "Navigating the Chip War."]