AI and Intelligent Robotics: Beyond Automotive and Manufacturing
Posted July 16, 2019 in
Data Analytics & Digital Technologies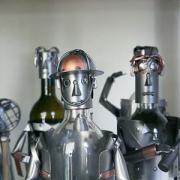 The field of robotics has benefited considerably from advances in various artificial intelligence (AI) technologies — most notably deep learning neural networks, computer vision, intelligent guidance and control systems, and voice and speech recognition.
The biggest advances are being realized from developments in deep learning algorithms and machine vision technologies, which are allowing the creation of robots featuring advanced autonomous navigation and intelligent object recognition capabilities. This includes image-sensing functions utilizing pattern matching, shape detection, bar code reading, and color identification. Such functionality is significant because it is finally making robots more practical for use in commercial scenarios, such as for automated inspections (e.g., inventory tracking, measurement, and sorting) and for autonomous deployment in buildings and locations like shopping malls, stores, airports, and parks.
Machine learning (ML) is enabling robots to monitor and respond to patterns and anomalies detected in operational data generated by their ground guidance systems, and to take corrective measures in real time to optimize autonomous navigation. ML is also enabling robots to analyze and learn from customer usage patterns in order to improve their performance when engaging with customers.
Voice and speech recognition (typically in concert with touch-screen technology) is increasingly being used to support more natural interaction between robots and humans, such as answering customers' questions by listening and speaking or when conducting a transaction.
As a result of these developments, we are seeing many efforts by companies, universities, and research organizations to advance the use of robots beyond their current domination in automotive and manufacturing to other industries and commercial applications, including:
Agriculture — autonomous tractors and harvesters (e.g., picking lettuce and other produce)

Entertainment — robotic toys, games, and hobbies

Healthcare — robotic-assisted surgery and for helping elderly patients and those with limited mobility

Hospitality — to transport luggage, act as automated concierge services, and so on

Restaurants — fast food preparation, food delivery, cleaning, table service

Retail — warehousing, inventory, package delivery, greeting and guiding customers, and providing directions

Security — robotic surveillance/patrolling of critical infrastructure, stores, shopping malls, and so on

Smart homes — household chores, entertainment, companionship

Military/defense — troop resupply in the field, armored combat
The biggest area today for applying robots (after automotive and manufacturing) is to automate warehouse operations — especially those supporting large retail concerns like Amazon. This is a trend that is almost certain to accelerate. As warehousing, distribution, and shipping centers become more complex, and robotic systems more intelligent, companies will increasingly turn to the latter to handle more complicated tasks like order selection, fulfillment, unloading, and so forth.
Brick-and-mortar retailers are also investigating how robots could help automate retail operations and help reinvigorate the in-store shopping experience. This includes using intelligent robotic systems to help automate inventory analysis and tracking associated with managing store inventory. Such systems can provide visibility and insight into the state of store merchandise, including proactive alerts for low or out-of-stock items. Robots can also be trained to perform autonomous inventory audits, allowing store associates to better serve customers. As an example of commercial developments in this area, SoftBank Robotics America and Simbe Robotics have been collaborating to integrate Simbe Robotics' autonomous shelf auditing and analytics platform with SoftBank's Pepper line of robot offerings.
Retailers are also using intelligent robots to serve as a sort of in-store, goodwill ambassador intended to attract customers, handle routine questions, recommend items, and help shoppers locate what they want — all in an effort to drive sales and provide an enhanced and unique in-store customer experience.
Conclusion
Advances in various fields of AI have resulted in an outburst of innovation among companies and research organizations seeking to develop commercial robots that organizations can practically apply in a number of industries and domains beyond automotive and manufacturing. Warehousing and retail are two areas that are currently paying a lot of attention to robotic innovations, but other industries are likely to turn to robots as well in the not-too-distant future.
Indeed, interest in adopting intelligent robots is considerable — especially given how new the technology actually is. According to findings from a survey-based report we did last year examining AI adoption in the enterprise, over 30% of surveyed organizations indicated they were interested in adopting robotic technologies.
Finally, I would like to get your opinion pertaining to AI's impact on robotics and, especially, the use or potential use of robots in commercial and business environments. You can comment at the link below, email me at chall@cutter.com, or call +1 510 356 7299 with your comments.