Beyond Automation: AI, ML & RPA — An Introduction
Posted June 24, 2020 in
Cutter Business Technology Journal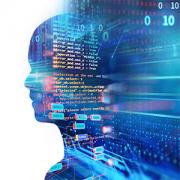 Automation is no longer being applied only to industrial manufacturing processes; it now extends to several other areas across different domains. Automation is also becoming smarter, with added intelligence, and more sophisticated, with extended capabilities. It is rapidly advancing in a few new directions and being widely adopted in more ways than ever before. It helps enter­prises to become agile and flexible and to collaborate across business units. In addition to enterprises, con­sumers are also embracing advanced automation in their everyday lives through the growing use of voice assistants and smart home ecosystems.
Traditionally, automation employed "feedback control" to perform a task or to keep a parameter of interest within a specified limit. It transformed industries, replacing much manual work. Then, robotic process automation (RPA) helped to automate and speed up key business workflows. Now, driven by artificial intelligence (AI), machine learning (ML), autonomous operational capabilities, smart materials, GPS data, and other technologies, traditional automation is being enhanced with several advanced features. These features include intelligence, the competency to deal with unknown or uncertain environments, and the ability to perform satisfactorily even with partial information and under a sudden increase in workload.
This enhanced automation, also known as smart auto­mation, hyper automation, intelligent automation, and intelligent RPA (IRPA), is generating significant interest among researchers and developers in both business and industry. It is transforming all aspects of business, whether supply chain management, financial services, customer service, transportation and logistics, or mar­keting. While both promising and encouraging, it also raises a few technical, organizational, managerial, social, ethical, and regulatory issues and challenges that need to be satisfactorily addressed. In this issue of Cutter Business Technology Journal (CBTJ), we examine the emergence of the new face of automation and explore novel ways to address the various issues and challenges we encounter.
The Need for Intelligent Automation
Traditional simple automation faces limitations in modern enterprises: it is incapable of meeting sophis­ticated requirements or handling the intricacies of the environment in which it operates. The increasing complexity of enterprise operations, interdependence among processes, a growing need to comprehend what to do in advance, demands for better performance and real-time operation, and a requirement for awareness of the context in which it operates have stymied simple automation.
Intelligent automation, which uses AI, ML, and other technologies, can address these limitations and manage unforeseen challenges, such as those issues enterprises have faced recently due to the COVID-19 crisis. The three use cases outlined below illustrate how IRPA and bots help to address the unusual demands enterprises have faced:
An airline company received 120,000 ticket can­cellation requests from passengers in the early weeks of the COVID-19 pandemic due to travel restrictions, border closures, and flight cancellations — a 4,000% increase from its typical 3,000 cancellations per month. The company used IRPA tools to build a bot to process claims. With the deployment of these bots, it was able to work through the vastly increased number of cancellation requests and also free employees to work on complex cases that required human decision making.

The pandemic posed a major unforeseen challenge to a biopharmaceutical company, which now had to manage enough supplies to ensure continuity of a large number of global clinical trials. The company quickly created a bot to monitor the growth of the crisis and manage its inventory and supply chain readiness. The bot automatically generates reports, pulling data from the World Health Organization (WHO), and allows the company's leadership to make decisions in real time.

Takeda, a pharmaceutical company, sped up the clinical trial process for a promising COVID-19 treatment by adopting RPA and using software bots. The company reduced the processing time, which involved collecting prospective patients' information and determining their suitability for the trial, to days instead of weeks.
Intelligent Automation Drivers
Intelligent automation is gaining considerable interest due to both business drivers and technological drivers. Business drivers include operational cost reduction, improvements in process agility and flexibility, resil­ience to demand and supply variations, remote or autonomous operations, and desire for online fault detection and correction. Technical drivers are advances in AI, ML, and deep learning; continuous intelligence, which enables organizations to use real-time and historical data for critical decisions and actions that need to be taken in near-real time, ranging from milli­seconds to minutes; availability of large data sets needed for training and validation of learning algorithms; conversational bots; Internet of Things; computer vision; blockchain; and cloud, fog, and edge computing.
Automation Strategy
For successful implementation and realization of the intended benefits of automation, enterprises need to develop and implement a holistic automation strategy. An enterprise's automation strategy should be part of — and aligned with — its IT and AI strategies.
Business values and the desired benefits of automation, not fanciful desires, should drive enterprise automation strategy. Not all that can be automated has to be auto­mated. An enterprise's automation strategy should also consider other salient factors such as viability, supporting systems and infrastructure, technological and business risks, technology maturity, other related business processes, organizational readiness, and the potential impact on employees. Employee re-skilling or upskilling and relevant training is an important aspect that should be part of an automation strategy. The strategy should also consider ethical aspects and regulatory requirements, where relevant.
While formulating their automation strategy, enter­prises should be mindful that, as Bill Gates has been attributed as saying, "Automation applied to an efficient process will magnify the efficiency.… [A]utomation applied to an inefficient operation will magnify the inefficiency."
In This Issue
We present in this issue of CBTJ a set of five articles that provide actionable insights on topics of current interest to professionals and executives. Our first article begins by demonstrating an intelligent enterprise. Joseph Byrum describes an intelligent enterprise as one that embraces AI to guide all its functions and decisions, small or large. However, this business is not run by the all-knowing, utopian artificial general intelligence (AGI) that science fiction writers and some commentators envision, which is a distant dream. Rather, it is an enterprise run by augmented intelligence — humans using AI and decision support tools that are enriched to the extent that is currently realistic and feasible. Byrum discusses the advantages of enterprises embracing augmented intelligence but cautions that making the entire enterprise "intelligent" requires concerted effort.
In our next article, Namratha Rao and Jagdish Bhandarkar outline the concept of intelligent auto­mation using AI, ML, and RPA. A case study from the financial sector highlights the benefits gained through RPA. The authors explain how an intelligent bot can be trained and deployed over a period of a few months, and they emphasize establishing a roadmap, applying the right security measures, and setting up robust governance as three key tenets for scaling automation.
Currently, in most enterprises, business processes are automated in isolation, creating "automation silos" — a major barrier to realizing the fuller potential of enterprise-wide integrated automation. In their article, Aravind Ajad Yarra and Danesh Zaki address this issue. They differentiate between first- and second-generation smart automation and identify key imperatives to ensure desired integration across an entire business process. Furthermore, they present a detailed architecture for, and a pathway toward, smart automation 2.0, which enterprises can adopt to enable their automation bots to cooperate across the value chain.
Our next article discusses an interesting paradigm: human-machine hybrid intelligence. In their article, Tad Gonsalves and Cutter Consortium Senior Con­sultant Bhuvan Unhelkar argue that while machine intelligence facilitates smart automation and autonomous operations, yielding benefits, it cannot handle decisions that need to account for subjective factors, such as satisfaction, perceived quality, or joy, which cannot be parameterized in an ML algorithm. The authors recommend judicious superimposition of human natural intelligence (NI) on machine intelligence as a better way to facilitate business decisions that factor in customer value. In their discussion of how to achieve this goal, they also present a few use cases that embrace this hybrid intelligence.
Our concluding article focuses on another important issue facing enterprises and society: the governance and regulation of intelligent automation. Daniel J. Power, Ciara Heavin, and Shashidhar Kaparthi argue that a better governance mechanism is necessary to minimize the dangers of rushing to adopt AI and automation without due consideration of the risks. They present a governance framework for intelligent automation that includes all key stakeholders and offer policy prescriptions and guidelines for successful intelligent automation.
In addition to these articles, we recommend you also look at last year's CBTJ issue on automation, which features eight articles that cover the technologies that drive and support new frontiers in automation, such as blockchain, AI, and security, and automation strategies and design considerations.
A New Automation Mindset
As we start to implement smart technologies to automate enterprise processes and activities, we must look at automation with a new mindset, holis­tically, broadening our vision. To gain dramatic benefits across an organization's activities, we need to move from traditional opportunistic auto­mation of processes, which offers incremental benefits, to systematic, organization-wide automation of proc­esses. However, we shouldn't blindly pursue and embrace automation without first examining the need for it, its relevance, and its consequences. Furthermore, to work along with machines, humans have to know the capabilities and limitations of machine intelligence and automation and change their own mindset and behavior to be compatible with machine behavior and activities.
To raise intelligent automation to higher heights, we need to pursue further development in the following areas: collaborative automation, where two or more systems work collaboratively, sharing insights and working toward a higher-level shared objective; human-machine interaction and transfer of roles when the situation warrants it; security and reliability; standards that facilitate integration and coordination between different processes; and governance and regulation.
We hope the articles in this issue present perspectives and ideas on intelligent automation that you'll find insightful. We also hope these articles inspire and encourage you to harness advanced automation in your domain of interest.
---
Beyond Automation: AI, ML & RPA
This issue of Cutter Business Technology Journal examines the emergence of the new face of automation and explores novel ways to address the various issues and challenges we encounter. Available for purchase in the Cutter Bookstore.