Boost Customer Trust with Corporate Transparency; Enhance Decision Making with Prescriptive Analytics, more!
Posted September 26, 2023
| |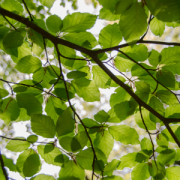 26 September 2023
Welcome to The Cutter Edge. In each free issue, you'll find research, insight, and advice crucial to helping you navigate the spectrum of challenges technology change brings.

In a recent focus group study on corporate transparency, participants revealed that candid and transparent disclosures significantly influence consumer and shareholder perception, be it positively or negatively. More!

Explore how Sanofi's data science team initiated a shift towards prescriptive analytics, aiming to enhance process monitoring, diagnosis timeliness, and transition from a reactive to a proactive operational mode. More!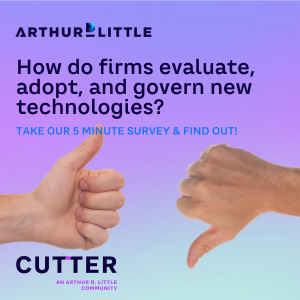 Help us explore how firms assess, implement, and manage new technologies and see if your strategies align with global practices. Take the survey!

Gain expert insight and valuable guidance for repositioning and thriving in the era of sustainability. Sign up now for the bi-weekly Sustainability Advisor!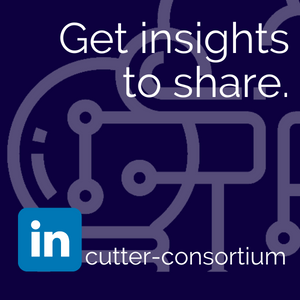 Join our community of forward-thinking professionals and stay updated on the evolving business landscape with our exclusive content posted weekly on LinkedIn — start following Cutter today!
The Cutter Edge is a free biweekly email service that gives you information and advice that you can put to work immediately for your organization. Issues are written by Cutter Consortium's Senior Consultants, Fellows and journal authors.