Clarifying the Role of the CEO and Leadership Team in Digital Transformation
Posted October 24, 2018 in
Business & Enterprise Architecture
---
Governance is about what decisions need to be made, who gets to make them, how they are made, and the supporting management processes, structures, information, and tools to ensure that decisions are effectively implemented, complied with, and achieving the desired levels of performance. This requires that the accountabilities and responsibilities be well understood and clearly and unambiguously assigned, the reward system be aligned, and relevant performance metrics be in place.
Working with business leaders, we have developed a simple yet powerful framework to help them navigate the digital landscape. It is based on four business-focused questions that are at the core of effective governance of digital and that every business leader should have in his or her head. We call these questions the four "ares" (see Figure 1).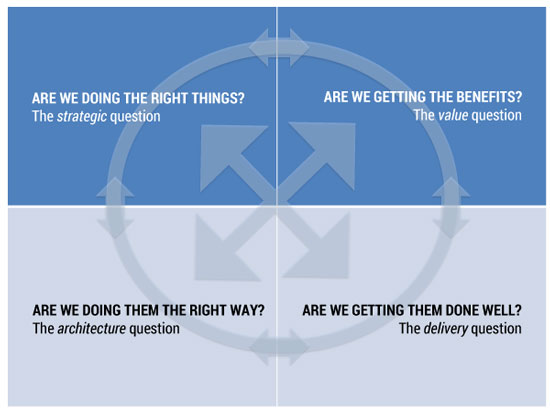 Table 1 summarizes the primary areas of focus for each of the four "ares," indicating where accountabilities lie and highlighting proven processes and practices to support effective governance. The key elements include:
Articulating a clear strategic intent for digital
 
Managing digital transformation investments as a portfolio of business change programs
 
Developing comprehensive and consistent business cases describing: the expected outcomes; ownership of, and accountability for, the outcomes; the full scope of the changes required to achieve the outcomes and accountabilities for making sure those changes happen; the expected contribution of each change to the outcome(s); risks to the achievement of outcomes; and metrics
 
Objective evaluation criteria enabling prioritization and selection of investments
 
Inclusive and ongoing engagement of all the stakeholders affected by the change
 
Ongoing management of the journey, including:
​- Use of the updated business case as the key management tool
- A strong gating process for progressive commitment of resources to ensure that, when things are not going to plan, timely corrective action can be taken, including changing course, revisiting/changing the outcomes, or cancelling the program
Capturing, reviewing, and acting upon lessons learned so that mistakes are not repeated and value continues to be maximized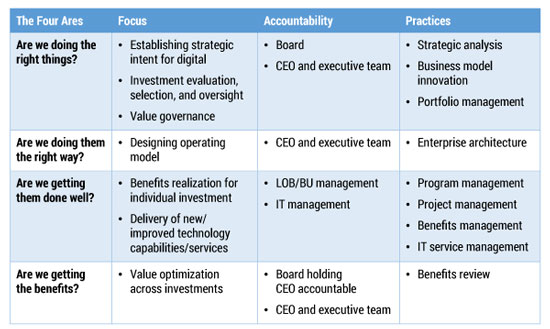 CEOs and their leadership teams often balk when we present this list to them. Yet CEOs need to recognize that IT is increasingly embedded in all aspects of their business and falls within their realm of responsibilities. This doesn't mean that CEOs need to have a detailed knowledge of technology, any more than they need to be experts in HR or construction, but they do need to know enough to guide and direct their organization's investments in IT-enabled change such that they create and sustain business value. Nor should this be seen as creating a large, time-consuming bureaucracy in a world where the need for agility has never been greater. Rigor here is not measured by the weight of documentation, or the time taken to develop it, but by the quality of the thought processes, the conversations, and the decisions made.
We are not suggesting the CEO take a hands-on approach to all IT investments — that is just not possible. However, CEOs do need to be confident that proper governance is in place across the organization to ensure that appropriate rigor is applied to governance choices and their outcomes, and that compliance with and the effectiveness of the governance are regularly audited, reported on, and improved where necessary.
The member of the executive team or LOB manager assigned the role of business sponsor for a particular program has overall responsibility for the realization of benefits. LOB and IT management each have accountability for delivering the required business and technology capabilities from business and technology projects constituting the program. Program management requires joint engagement between business and IT management, while project management is not the sole responsibility of IT management, as LOB managers also have business change projects to manage.
[For more from the authors on this topic, see "What Every Business Leader Should Know and Do About Digital."]