Crossing the Agile Divide: Scrum or Kanban?
Posted April 22, 2014
| Technology |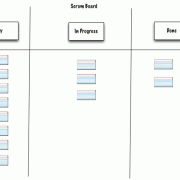 This Executive Report is an opinion piece on Scrum versus Kanban. Lead author Johanna Rothman sets forth her argument that one is not necessarily better than the other; they are just different and it's up to the organization to figure out which method is best under which circumstance. In response, seven of Cutter's Agile experts discuss their views on crossing the Agile divide.
Don't have a login?
Make one! It's free and gives you access to all Cutter research.