Design Thinking for Digital Transformation: 4 Success Stories
Posted May 23, 2019
| Leadership |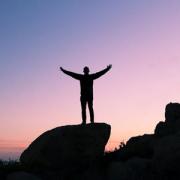 How can organizations compete in a digital world? Design thinking may be the answer.
Digital transformation is a top priority for organizations and CEOs/CIOs alike because it promises to help organizations stay relevant and create value by saving time, fostering improved decision making through data, and improv­ing customer experience. A recent World Economic Forum report states that digital transformation has the potential to add US $100 trillion to the world economy by 2025.
Pursuing a digital transformation strategy to position an organization as a market leader can be challenging, as both internal and external factors can significantly complicate and hinder progress and delay achieving aspirations. These challenges may include resistance to change, lack of a clear vision, data overload and utility, inflexible development processes, and business models that are constantly being reevaluated.
Design thinking has emerged as a key forward-thinking tool and mindset to help overcome these challenges and accelerate the timeline for transformational work. Design thinking is a human-centric, collaborative, action-oriented process with a set of techniques and tools that help an organization drive change.
Successful Applications of Design Thinking
Let's take a closer look at four organizations that have been successful at applying the design process as a core business strategy.
Salesforce.com, a market leader in the cloud-based customer relationship management (CRM) industry, is constantly threatened by new, value-based startups across the globe. To maintain its leadership position and create a deep­er level of consumer loyalty, Salesforce uses a human-centric approach to help clients solve some of their most challenging problems. The company develops customized solutions and innovative products, which enable customers to get closer to consumers. For example, Salesforce helped transform the online consumer engagement for Adidas by combining data and technology to personalize content at scale.
Enterprise software company SAP is a pioneer in applying a human-centric approach to drive innovation. In 2003, Hasso Plattner, the cofounder of SAP, helped launch the Hasso Plattner Institute of Design (d.school) at Stanford University. He then sent his leadership team to train there in order to diffuse a design thinking mindset throughout the organization. SAP's design journey led it to become early adopters of Agile, a revolutionary software development framework.
Coca-Cola is one of the most recognized global brands in the world and with that come many challenges, including how to execute a vision across 200 countries while simultaneously developing localized prod­ucts. In the early 2000s, Coca-Cola made the strategic decision to use design thinking principles to transform into a nimble organization with a seamless brand experience throughout a global portfolio. One solution that emerged is a digital visual identity system that transformed the creation and marketing of products. This digital transformation of internal systems has led to localized products that also communicate a single global brand.
DBS Bank redefined the consumer banking experience in Southeast Asia and is now considered one of the most innovative banks in the world. DBS realized in 2010 that the digital revolution will inevitably impact the banking industry. The company's leadership embraced this challenge and transformed the organization from end to end, including internal systems, consumer experience, and data use. From co-creation, to journey mapping, to design spaces, the company has incorporated design toolkits throughout its value chain to transform consumer interaction.
[For more from the authors on this topic, see "Digital Transformation & Design Thinking, Part II: A Closer Look at the Method."]