Digital Shift — Opening Statement
Posted February 26, 2020
| Leadership | Technology | Amplify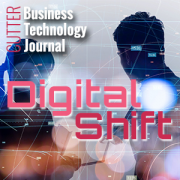 CUTTER BUSINESS TECHNOLOGY JOURNAL VOL. 33, NO. 2
The integration of digital technologies into the working environment over the past 20-30 years has led to seismic changes in how businesses operate and interact with customers. From the early beginnings of basic email and simple databases, digital is now integral to every department within every enterprise. Modern business simply couldn't function without it.
However, digital exists on a sliding scale of adoption and acceptance. There may be computers on every desk and phones in every pocket, but fully embracing digital is about much more than just using new work tools. Of course, technology is the driver behind this digital revolution, but for companies to truly benefit from what it offers — to become businesses of the future — they must embrace transformation across multiple dimensions: changes in skills and capabilities, governance and process, and mindset and culture.
To effectively manage this "digital shift," enterprises must not only consider how business processes need to evolve, but also how the people within the enter­prise can become its advocates. More so even than technology, it is the human factor that ultimately determines the success or failure of such a project. In this issue of Cutter Business Technology Journal (CBTJ), we examine the challenges that arise, along with the opportunities presented by the digital shift from a variety of viewpoints, with particular focus on the human factor.
The key question that any enterprise should be asking is, "What should our company look like in the age of digitalization?" There is clearly not a one-size-fits-all solution, with the nature of the digital shift dependent on what the enterprise is trying to achieve; in other words, the right degree of digitalization is that which optimally supports company goals. The digital shift is also not a "big bang" — rather, it requires an iterative approach to achieve sustainable growth. This necessitates well-defined, long-term ambitions; measurable targets per business unit; and a roadmap with concrete actions.
To be truly successful and to derive the greatest benefit, the digital shift must be a holistic process. We have to move beyond the era of siloed technology blocks within companies and the perception that the digital shift is something solely managed by the IT department. This shift is not just about technology; it's about what that technology can enable the company to do tomorrow that it can't do today. Every aspect of the enterprise — its business model, processes and organization, employee skills and culture — must be viewed, and potentially renewed, through the prism of the digital shift. Changing market dynamics and customer expectations demand it.
Of course, realizing the potential of the digital shift is not easy, with some industries better suited than others to undertake this journey. Traditional working practices may be more entrenched within some companies, or a complicated internal power structure may hinder innovation. Yet, it is imperative that steps are taken within even the most recalcitrant enterprise if it is to remain competitive. In those companies, the only way to begin the digital shift is to start small and analyze where benefits are expected. If the first stage of such an initiative can be shown to be a success, this should act as a spur for further innovation.
Perhaps the most crucial aspect to address during a digital shift involves the company's people and culture. If traditional enterprises do not properly manage the transition process, employees can become one of the biggest obstacles to a digital shift. Companies must help and encourage all employees to develop the necessary digital skills through a program of training and on-the-job learning. While today's workforce needs to be more flexible and willing to continually invest in and develop their capabilities, the enterprise must ensure that its employees fully understand why the digital shift is taking place and what their roles are in it; in other words, they have to buy into the process for it to suc­ceed. Sharing the enterprise's digital strategy, vision, and goals with employees builds a feeling of shared purpose and a spirit of innovation. It can also help minimize any potential resistance to change.
The organization of the company itself is also important if the digital shift is to happen as smoothly as possible. For starters, organizations need to break down silos, because end-to-end processes should be the main drivers for creating the organizational structure. The enterprise also needs to be set up in a way that encourages collaboration, with a clear focus on results and benefits. Standardization is also key to establishing digital processes, which, initially at least, will require focusing on ground-level competencies rather than simply introducing new technologies. For instance, mastering these new technologies requires reliable data, which is a problem in many companies today. A crucial foundation for a successful digital shift, therefore, is defining good data structures and supplying high-quality data.
Finally, let's not forget why making the digital shift is so important. The business landscape has changed dramatically due to the inexorable spread of the Internet and the constant march of technology, as well as significant changes in customer expectations. Customers now have a much stronger role in the value creation of companies. In the digital world, new busi­ness models need to be flexible enough to adapt to changing environments or changing customer expec­tations if they are to offer full customer journeys and provide an end-to-end experience. This is a big change; for most traditional companies, business models have been static for long periods. However, just like the digital shift itself, they are now in constant motion and should be reevaluated regularly.
Today, every company needs to become digital, but what this entails will differ depending on industry, company size, and competitive landscape. Focusing on the right aspects of the digital shift — and getting the balancing act right between maintaining productivity and accelerating change — is vital if a company is to thrive rather than fall by the wayside. We hope that this issue of CBTJ will help you navigate what could be the most important journey your business will ever take.
In This Issue
We feature five articles in this CBTJ, covering a wide range of issues relating to the digital shift — from securing executive-level buy-in during the transition and overcoming organizational/cultural inertia to creating a holistic overview of the enterprise and mapping the digital value-creation process.
In our first article, Cutter Consortium Senior Consultant Paul Clermont predominately examines the front end of the digital shift process; namely, the work at the C-level and why the impetus for this process must come from that level. His secondary focus is staying "on track in managerial, not technical, terms." As Clermont asserts, "Meticulous preparation is essential to success." Start­ing with perspective and examples, Clermont addresses the lifecycle of a digital shift, beginning with the questions "Why?" and "Why now?" He then addresses ways of both building and sustaining the momentum of the digital shift.
Next, Richard Veryard looks at the internal organi­zational and cultural changes that are required at consumer-facing organizations that want to use digital tools to engage better with their customers. He points out that in terms of making the digital shift, "It would be odd to think that employees who have smartphones and fitness bands on their persons at all times, who have an array of smart devices at home, and who check their Facebook accounts before getting out of bed are somehow 'resistant' to digital." He believes that "often the problem isn't individual stubbornness, but organizational inertia." He examines three aspects of this issue: agility, collaboration, and trust.
In our third piece, Samuli Pekkola and Maija Ylinen move on to the importance of enterprise architecture (EA) to the digital shift. Given that a successful transition requires a comprehensive overview of the organization, including its operations and IT, the authors believe that EA is an ideal tool to provide such a holistic understanding. However, Pekkola and Ylinen also point out that no CIO, director, or manager can succeed without help; an organization needs to have the necessary competencies in depth. Their article analyzes the skills needed to advance an enterprise's EA, skills they believe are crucial to the successful output of digital shifts.
Next, Athula Ginige and Marie D. Fernando look at the idea of value creation in the digital shift era. In particular, their interest lies in how current Web- and mobile-based applications support what they term the "social computing" model, a new computing paradigm that stands apart from preceding computing paradigms. Their article presents a model for human needs fulfillment, which helps organizations map out their digital value-creation process and reveals the underlying information flow pattern required to secure trust.
Finally, Elizabeth Ervin focuses on the challenge of over­coming resistance to change during the digital shift process and advocates for every organization to build a culture of continuous learning and education into its strategy of innovation and performance development. Ervin emphasizes the importance of leading by example, communication, and a strong leadership team to facilitate change. Honesty and transparency are also key to maintaining the morale of an enterprise as it progresses through the often-difficult stages of digital change management.
Embracing the Digital Future
Technology implementation within the enterprise is comparatively easy; effectively managing all the different dimensions of a digital shift — particularly cultural and organizational ones — is not. Such a transition is not a self-driving process but requires vision and commitment; it needs a lot of groundwork, investment, and training to make the entire organization mature and ready to benefit from new technological possibilities. Organizations must turn their focus to the development of a company culture that is flexible enough to continuously adapt to new surroundings, whatever the sector. Breaking down silos is vital, as is the establishment of end-to-end processes and greater alignment between the IT department and all other business departments.
Digital should never be an end in itself. Instead, the digital shift must be driven by more agile ways of working and new ways of doing business with customers. It may be challenging, but across multiple projects in multiple industries, it is clear that, although a digital shift journey may be fuzzy at first, adopting a holistic and structured approach can produce a significant impact on business value.
We hope the articles in this issue of CBTJ present interesting perspectives on the digital shift and act as both a practical guide and inspiration to starting or continuing this journey in your own organization.
---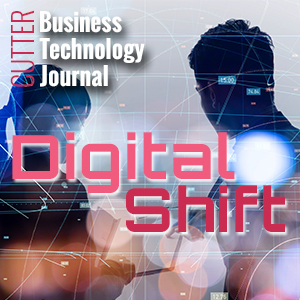 Digital Shift
The five articles in this issue of CBTJ cover a wide range of issues relating to the digital shift — from securing executive-level buy-in during the transition and overcoming organizational/cultural inertia to creating a holistic overview of the enterprise and mapping the digital value-creation process. Available for purchase in the Cutter Bookstore. Cutter Members and Subscribers access here.