Fintech: COVID-19 Impact & Opportunities for Economic Growth — Opening Statement
Posted November 24, 2020
| Industry | Leadership | Technology | Amplify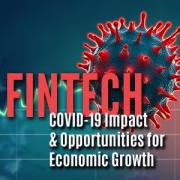 CUTTER BUSINESS TECHNOLOGY JOURNAL  VOL. 33, NO. 11
  
COVID-19 has had a devastating impact on our society, the scale of which has not been experienced in our lifetime. A year ago, nobody could have predicted the effect the global pandemic would have on our lives. The fortunate among us have adjusted to working from home, reducing our social contacts, wearing masks, sanitizing our hands, and missing out on such milestones as weddings, graduations, and birthdays. Sadly, those less fortunate have lost their jobs and their loved ones to this disease.
As governments around the world tentatively look to reopen businesses, fintech is seen as an enabler for economic growth. While our economies have become increasingly digitized in recent years, COVID-19 has significantly accelerated this movement. E-commerce platforms have experienced sharp increases in activity; indeed, an OECD report highlighted that the crisis has "expanded the scope of e-commerce, including through new firms, consumer segments (e.g., elderly), and products (e.g., groceries)."1 The use and acceptance of contactless payment solutions have become commonplace, 48 countries increased the spending limit on contactless transactions, mobile payment solutions such as Apple Pay and Samsung Pay are expected to be valued at over US $1 trillion by 2024,2 and organi­zations including the US Centers for Disease Control and Prevention (CDC) recommend using contactless payments whenever possible as a means of prevent­ing the spread of COVID-19 while shopping. Also, as customers were unable to visit branches, digital-only banks have continued to grow in popularity. It is apparent that a strong digital infrastructure is essential to survive and thrive in a post-COVID-19 economy.
In this issue of Cutter Business Technology Journal (CBTJ), we examine the role that fintech will play in facilitating economic recovery and growth. As researchers in the FINTECHNEXT project at University College Cork, Ireland,3 we have noticed that the business landscape is evolving rapidly and people's behavior is noticeably changing due to the pandemic. We hope this issue of CBTJ will inform both research and practice by identifying how organizations have adapted during the crisis and how they will continue to operate and innovate into the future.
Fintech is an exciting area due to the range of technol­ogies involved and the diversity of industries it can impact. The Financial Stability Board (FSB) defines fintech as "technologically enabled innovation in financial services that could result in new business models, applications, processes, or products with an associated material effect on the provision of financial services."4 Fintech refers to an array of applications, including (1) credit, deposits, and capital-raising services; (2) payments and clearing and settlement services, including digital currencies; (3) investment management services (including trading); and (4) insurance.5 Fintech is not just about emerging technol­ogies; just as important is how people and processes adjust to accommodate technological advancements and reap the benefits they afford.
In this issue, our authors provide an insightful dis­cussion on digital transformation across the financial services industry through a combination of technologies and strategy. Digital transformation refers to changes digital technologies can bring about in a company's business model, which result in changed products, organizational structures, or in the automation of processes. Digital transformation is a complex issue and therefore relies on a clear strategy in order to be successfully operationalized.
In addition to examining fintech from a strategic perspective, this issue's authors also explore high-potential technologies and services, including artificial intelligence (AI), blockchain, and cryptocurrencies. The disruptive potential of these technologies has been a cause for concern for many who feel that the automation that these technologies afford will lead to job losses in many industries. Our authors address these concerns, highlighting that emerging technologies can serve to support decision makers, create new specialized roles in financial services, and create opportunities for new business models.
We are excited for the potential impact of this issue, as the articles within cover multiple areas of financial services, including e-commerce, banking, and investment management. Additionally, this issue offers a broad geographical scope, taking a global perspective in several articles, while also focusing on specific regions and economies, including the US and Ireland.
In This Issue
Although the financial services industry has become increasingly digitized with the emergence of new technologies, Bhavik Pathak argues in our first article that we have yet to see disruption in financial services parallel to what we have seen with Netflix, Uber, and Airbnb to the entertainment, transportation, and lodgings industry, respectively. The contrast is primarily due to restrictive regulations and infrastructure that favor the incumbents and limit the potential of emerging fintechs to niche product/service offerings. Pathak discusses how COVID-19 has disrupted this constraint by forcing governments to relax certain regulations. He goes on to suggest what this could mean for the digitalization of financial services in the years ahead.
Next, Cintia Guerrero-Castanon, Reema Jan, and Mahesh Raisinghani also look at the advances of technology in the banking sector in recent years. The key research question they seek to answer is whether this technological advancement facilitates or complicates the banking industry. Their insightful discussion examines a range of changes in banking, from what we may now consider to be modest developments like the introduction of ATMs, to the adoption of mobile banking, and more recently the advent of open bank­ing and digital-only banking. However, the benefits of these technological developments also bring challenges, including cultural and infrastructural barriers, as well as information security concerns. While COVID-19 has accentuated the importance of digitalizing our banking systems, the associated challenges must also be given due diligence.
As we move to an increasingly data-driven society, many of us speculate on the future role of AI in our daily lives. In particular, we wonder if AI will lead to redundancies in different industries, and financial services is no exception to this concern. In our next article, Joseph Byrum provides a unique perspective on how investment managers can use AI tools based on the US military's OODA loop to assist in their decision making in periods of uncertainty in the market. Rather than replacing investment managers, Byrum illustrates that when there is an organizational culture willing to embrace the transformative power of AI, it can be harnessed to support expert practitioners and reshape organizations for the better.
Continuing the discussion of the transformative potential of AI, Denis Dennehy examines how AI can power a sustainable recovery for the Irish economy following COVID-19. He addresses common concerns associated with AI and shows that it will not just eliminate jobs through automation, but rather will create many new roles in specialized areas to support AI. Additionally, Dennehy discusses how AI can be used for social good to address several societal issues. In this thought-provoking discussion, he focuses on four strategic areas that he believes AI can support, namely: (1) agriculture, (2) smart manufacturing and supply chains, (3) education, and (4) smarter products and services. Dennehy concludes with a call for action that focuses on the development of a national AI and data strategy for Ireland but also has clear implications for countries across the globe.
Blockchain is commonly discussed as a high-potential technology in the fintech domain. However, it is often criticized as being a solution looking for a problem. In their article, Zion Schum, Isaiah Morales, and Roger Yin seek to address this issue by providing readers with an understanding of blockchain-enabled technologies and the gig economy, and how blockchain can be harnessed to develop innovative business models to facilitate growth post-COVID-19. They touch on several exciting opportunities blockchain affords, including crypto­currencies, tokenization, decentralized applications, and smart contracts. Through the lens of Alexander Osterwalder and Yves Pigneur's Business Model Canvas,6 the authors illustrate how leveraging blockchain and the gig economy can both cut costs and increase revenues.
Next, Manjul Gupta, Carlos Parra, and Eduardo Salcedo focus specifically on the potential of cryptocurrencies by asking the timely question, "Are Americans nowadays more willing to use Bitcoin-like cryptocurrencies?" Specifically, they want to know whether Americans would be more willing to use cryptocurrencies over credit cards to complete different e-commerce trans­actions. To answer the question, they surveyed 195 US participants about their willingness to use a hypothetical cryptocurrency called "DIGIcoin" to pay for 11 different products and services. While results indicate that credit cards are still the preferred payment mech­anism, the authors present an interesting examination of customer willingness to adopt cryptocurrencies, which appears stronger depending on the nature of the purchase. They also suggest ways to increase willingness to adopt cryptocurrencies in the future.
The forced closure of businesses across the globe during the pandemic has meant many of us have become more accustomed to shopping online. In our final article, Luke Merriman discusses the accelerated growth of e-commerce, which has been brought about due to COVID-19. Specifically, Merriman focuses on online classified marketplaces and looks to identify the changes required by these marketplaces to capitalize on the growth in e-commerce. He presents detailed results of a survey carried out by Trustap, an Irish startup specializing in escrow-style payments for online marketplaces. The results indicate that there is a need for online classified marketplaces to provide both buyers and sellers a secure, online payment solution. Trustap looks to provide such a solution that reduces fraud in online transactions and capitalizes on the growth of e-commerce, while also offering a valuable source of detailed analytics for online classified marketplaces.
Conclusion
COVID-19 has undoubtedly had a transformative impact on our society that will persist for some time to come. As we look to rebuild our economies, we believe that fintech can support businesses to not only reopen but to develop a robust digital infrastructure that will support growth into the future. The articles in this issue of CBTJ illustrate how we can harness emerging technologies, adapt organizational processes, and adjust our perceptions of these technologies to achieve economic growth.
References
1"E-Commerce in the Time of COVID-19." OECD Policy Responses to Coronavirus (COVID-19), 7 October 2020.
2Lulic, Miron. "The Future of Contactless Payments: Three Predictions for the Next Five Years." Forbes Technology Council Post, 28 August 2020.
3FINTECHNEXT, 2020.
4"FSB Report Assesses FinTech Developments and Potential Stability Implications." Press release, Financial Stability Board (FSB), 14 February 2019.
5Thakor, Anjan V. "Fintech and Banking: What Do We Know?" Journal of Financial Intermediation, Vol. 41, January 2020.
6Osterwalder, Alexander, and Yves Pigneur. Business Model Generation: A Handbook for Visionaries, Game Changers, and Challengers. John Wiley & Sons, 2010.