Has Agile "Crossed the Chasm"?
By
Johanna Rothman
,
Israel Gat
,
Esther Derby
,
Brent Barton
,
Hillel Glazer
,
Alexandre Rodrigues
,
Dave Rooney
,
John Heintz
,
Peter Kaminski
,
Patrick Debois
,
Freddy Mallet
,
David Spann
Posted July 22, 2012 in
Business Agility & Software Engineering Excellence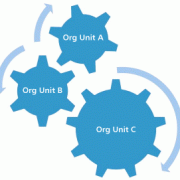 In this issue, we depart from our usual Executive Report format to bring you multiple viewpoints on a contentious topic: whether agile has transitioned from being an upstart methodology adopted in innovative organizations to being the methodology of choice for the "early majority" of Geoffrey Moore's chasm. Have organizations indeed "crossed the chasm" in viewing agile as mainstream and in adopting it?
Not a member?
Gain Access to the Cutter Experts today —
register now to read select open-access articles.